BBSRC Bioinformatics and Biomathematics Training Hub
Supporting bioinformatics and biomathematics training across the UK's National Institutes of Bioscience.
The Bioinformatics and Biomathematics Training Hub (BBTH) is a collaborative project to coordinate the development and sharing of training materials and expertise across the UK's National Institutes of Bioscience (NIB) for the increasingly important areas of bioinformatics and biomathematics.
Guided by our NIB partners, researcher surveys, and interactions with interested bodies such as Elixir-UK, we will work to ensure that best use is made of existing assets and capabilities, that best practice is shared across the NIB, and that redundant effort is minimised going forwards.
Bioscience is evolving: the advent of 'Next-Generation' sequencing, advanced imaging and other 'big data' disciplines has changed the research landscape. As a result, bioinformatics and biomathematics can no longer be viewed as separate research disciplines; the skills they comprise are required by increasing numbers of researchers every day.
The development of parallel training courses in bioinformatics and biomathematics by research organisations represents a significant waste of time and therefore money. To minimise this, the BBSRC has required the UK's eight National Institutes of Bioscience (NIB) to share course materials and training expertise in a coordinated fashion. This coordination will be provided through the Bioinformatics and Biomathematics Training Hub (BBTH).
The three basic goals of the BBTH are as follows:
To facilitate access to training resources for bioinformatics and biomathematics;
To foster communication to limit the redundant generation of training materials;
To support the BBSRC's goal of improving the skills of UK-based bioscientists.
Regular meetings between training coordinators from the eight National Institutes of Bioscience, an audit of available materials and resources, a survey of current and future training needs and the development of a plan of action to make best use of existing assets and capabilities, share best practice and minimise redundant effort, in part through the provision of project website and search tool (the BBTH website), will ensure that NIB researchers are equipped for the 'big data' age.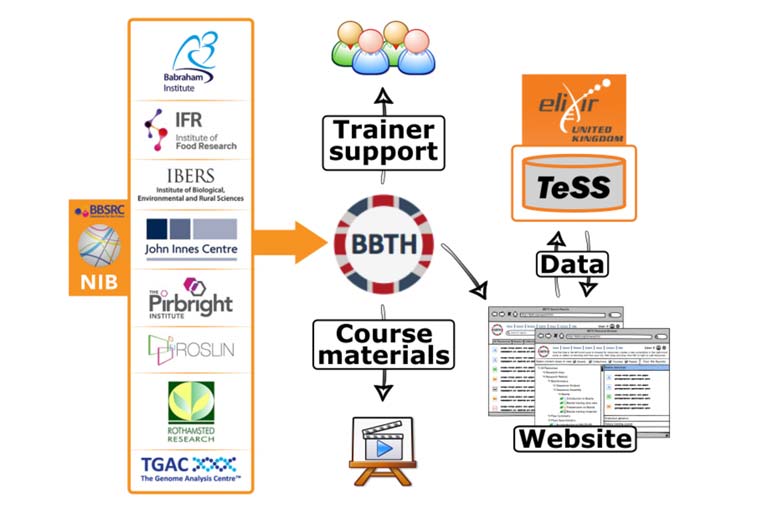 BBHUB Website
The BBTH website, developed by the Earlham Institute in collaboration with Elixir-UK and our National Institutes of Bioscience partners, is a search engine and community curation hub supporting the discovery, sharing and enhancement of the training resources catalogue maintained by Elixir-UK for their Training e-Support System (TeSS), which lists courses and assets held in GOBLET and at various other sites around the UK, Europe and the rest of the world.
In addition to the core functions as described above, the combined use of Mozilla's OpenBadges and services provided by the ORCID initiative as part of the website will enable the rewarding of additional desirable behaviours in a career-relevant manner.
Those behaviours include:
Rating and commenting on training materials;
Contributing new records for training materials;
Creating themed collections of training materials.
Interacting with the ORCID initiative also allows us to utlise their implementation of the OAuth protocol, which greatly simplifies registration, and removes the need to remember login details.
In summary, the BBTH will provide support for bioscience trainers by propagating expertise, simplifying access to resources and adding value to the catalogue of those resources (maintained by TeSS) by capturing ratings, comments and the collection building activities of their peers.
The credit awarded to BBTH users for adding value, made visible via their ORCID records, will also enhance their career prospects by demonstrating their preparedness to contribute to their community's resource bank -- a virtuous circle with the Hub at its centre.
The Bioinformatics and Biomathematics Training Hub
Discovery, sharing and enhancement of bioinformatics and biomathematics training materials.
The Dictionary of Research Areas and Methods
A controlled vocabulary to describe scientific activity and tag resources.
People working on the project.