Genome 10K and Genome Science
Federica Di Palma, Amanda Chong, Wilfried Haerty, Emily Angiolini, Dawn Turnbull
Early Bird Registration deadline 30 April 2017. Registration closes 31 July 2017.
Standard Early Bird £250; Standard Late £330; Student Early Bird £150; Student Late £200; Day Delegate Early Bird £70 (per day); Day Delegate Late £100 (per day)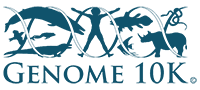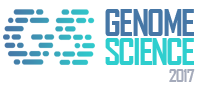 We are delighted to host both the Genome 10K 2017 conference and the Genome Science 2017 conference in parallel here in Norwich.
For the first time, Norwich, UK will host two distinguished conferences - Genome 10K 2017; the biannual conference exploring critical topics essential for understanding how complex animal life evolved through changes in DNA and how we can use this to help save dying species; and Genome Science 2017 - an annual meeting exploring advances in genomics technology and computational methodologies as well as innovation in its application.
The growing Genome 10K Community of Scientists (G10KCOS), made up of leading scientists representing major zoos, museums, research centers, and universities around the world, is dedicated to coordinating efforts in a major tissue specimen collection that will lay the groundwork for a large-scale sequencing and analysis project.
The mission of the Genome 10K COS is to assemble a genomic zoo of some 10,000 vertebrate species to help to understand how complex animal life evolved through changes in DNA and use this knowledge to become better stewards of the planet.
The Genome 10K Project was founded by David Haussler, Oliver Ryder, and Stephen O'Brien, who launched the project in April 2009 at a three-day meeting at the University of California, Santa Cruz.
The Genome Science meeting started out life in 2011 as the UK Next Generation Sequencing meeting, hosted by the DeepSeq facility at the University of Nottingham. Since then it has evolved and grown to be a successful event attracting in the region of 250 delegates each year. This meeting represents a fantastic opportunity for both academia and industry to engage, sharing advances, innovations and challenges in working with -omics data.
In addition to a programme packed full of interesting sessions, we have some fantastic invited speakers who will epitomise the prestige and strength of these conferences. There will also be plenty of networking opportunities, such as the social mixer and conference dinner, as well as the poster sessions. We believe training is crucial to the success of all research projects, including the G10K project and its long-term attainment of objectives. Alongside training for early career researchers we will also include parallel Special Interest Group sessions, which will monitor progress in the sector and set new milestones of the G10K project.
Abstract
To understand the evolution of animals, we must understand genomes and development. One of the most important discoveries in 20th century biology was the finding that widely different animal species use similar genes, such as homeobox genes, to build their embryos. But if the genes are conserved, why do animal species look so different? Does evolution subtly change the regulation of key genes, or change the number of genes, or change their protein coding sequences? Examples of all three routes have been revealed through comparative genomics, including some surprising examples of how evolution changed the number and function of homeobox genes in mammalian evolution.
About Professor Peter Holland
Peter Holland is the Linacre Professor of Zoology at the University of Oxford, UK. After a degree in Zoology from Oxford and a PhD in Genetics from London, he has held academic posts at the Universities of Reading and Oxford. His research into animal genomes and evolution, spanning marine invertebrates, fish, insects and mammals, has been recognized by award of the Kowalevsy Medal, De Snoo Medal, Linnean Medal, Frink Medal and Genetics Society Medal. He was elected to Fellowship of the Royal Society in 2003.
Abstract
Kathy's research team have demonstrated that Tasmanian devils have extremely low levels of genetic diversity at the Major Histocompatibility Complex (MHC) providing an opportunity for Tasmanian Devil Facial Tumour Disease (DFTD), a rare contagious cancer, to spread through devil populations without encountering histocompatibility barriers. They continue this research by studying the relationship between MHC type and disease susceptibility in devil populations, as well as the impact of the emergence and evolution of DFTD strains using genomics technologies.
About Professor Kathy Belov
Professor Kathy Belov is based in the Faculty of Veterinary Science at the University of Sydney. Kathy's research expertise covers comparative genomics and immunogenetics of Australian wildlife. As well as core research into the Tasmanian Devil Facial Tumour Disease and the genetic management of the Tasmanian devil insurance programme, Kathy's research team have participated in the opossum, platypus and wallaby genome projects where they have gained insights into genes involved in immunity and defense.They are now working on the koala and echidna genomes. Kathy has received two Eureka awards, the Crozier medal and the Fenner medal for her research.
Registration is now open, you can secure your place by clicking the button below.
Registration includes:
Access to all lectures
Access to poster sessions
Access to a choice of special interest groups, training and CPD sessions
Conference Dinner
Optional transport to the conference venue from UEA accommodation (15 minutes' walk)
Please note: Accommodation is not included in the registration fee. Accommodation at Paston House, UEA is optional at registration and will be added to the registration fee if selected.
Registration opens: 1 February 2017
Early Bird registration closes: 30 April 2017
Abstract submission deadline: 30 April 2017
Late registration closes: 31 July 2017
Registration details:
| | | |
| --- | --- | --- |
| | Early Bird Registration (1 Feb 2017 - 30 Apr 2017) | Late Registration (1 May 2017 - 31 Jul 2017) |
| Standard Registration | £250 | £330 |
| Student Registration | £150 | £200 |
| Day Delegate (per day) | £70 | £100 |
Deadline for submission of abstracts is 30 April 2017.
Abstract submission:
1 February - 30 April 2017
You may submit an abstract during early bird registration only. You will be permitted to submit your abstract for consideration for:
Oral presentation
Poster presentation
Oral and poster presentation
During submission, you will be required to identify the most appropriate theme aligned to the session topics. The chair persons for that session will form the reviewers panel for your abstract.
Why submit?
Peer review of your work
A track record of your successes for your CV
Opens opportunities for networking
Can support manuscript preparation
Eligible abstracts will be subject to selection to receive travel bursaries to allow individuals to attend the conference (details to follow).
Hosted at the Earlham Institute (EI), a cutting edge, contemporary research institute and registered charity, working in an area of rapid technological development and innovation. Established in 2009, EI is strategically funded by the BBSRC to lead the development of a skill base in bioinformatics and a genomics technology platform for UK bioscience.
The Institute is located on the Norwich Research Park, together with its partners: the John Innes Centre, the Institute of Food Research, The Sainsbury Laboratory, the University of East Anglia and the Norfolk and Norwich University Hospital. The Research Park has an excellent reputation for research in plant and microbial sciences, interdisciplinary environmental science and food, diet and health, to which EI contribute strengths in genomics and bioinformatics.
Close links exist between the NRP partners and new opportunities for collaboration in exciting new initiatives are under development. The NRP recently received £26M of government investment to facilitate innovation and further develop infrastructure to attract science and technology companies to the Park to enhance the vibrant environment and realise economic impact from research investment.
The JIC Conference Centre.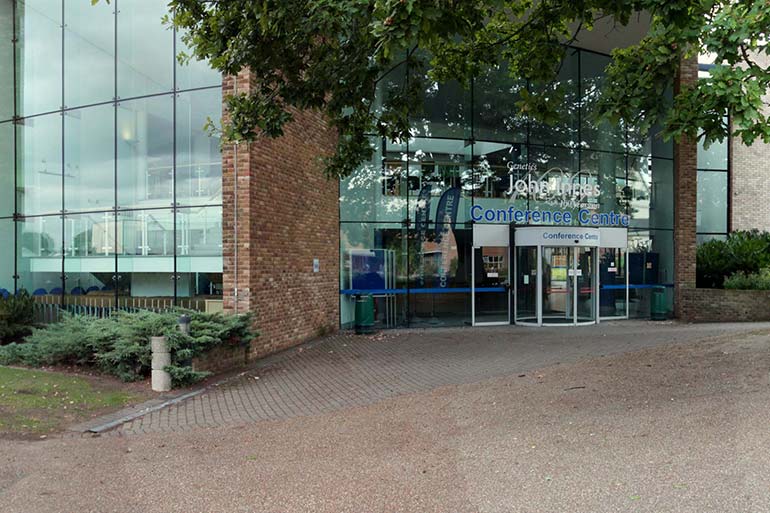 Earlham Institute at night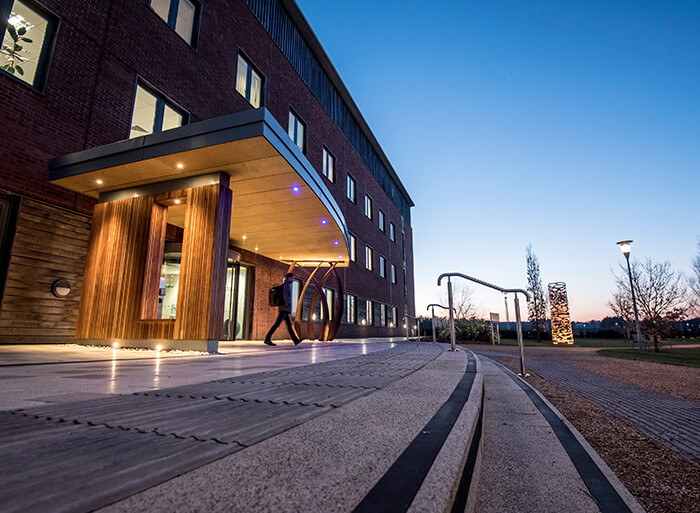 Accommodation is reserved at Paston House, University of East Anglia (UEA), a short 15-20 minute walk from the conference venue. The cost of this is £34.00 per night, including breakfast. This is en-suite student accommodation on the UEA campus with access to shops as well as buses to Norwich city centre.
Earlham Institute has also negotiated rates at the following hotels and facilities. When booking a room, please mention that you are attending the 'Genome 10K Conference' to ensure that you receive our negotiated rates:
Park Farm Hotel, Hethersett is 4 miles from Earlham Institute to the south of Norwich. This hotel has leisure facilities including a pool and the preferential rate is £90 per night bed and breakfast. A taxi would be required and costs approx. £12, but could be shared at this price.
Maid's Head Hotel, Norwich is 4.6 miles from Earlham Institute in the centre of Norwich, next to the Cathedral. Here we also attract a beneficial rate of £90 per night bed and breakfast. A taxi, if pre-ordered, would cost around £10.
Transport is arranged to take you from the conference to the conference dinner venue on Wednesday evening at 18:00 for pre-dinner reception at 19:00
Limited transport operating on a first-come, first-served basis is available from the accommodation at UEA to the conference venue.
Conference Dinner:
https://www.thehallsnorwich.com
The conference dinner will be held on 30 August 2017 at 19.30pm in St. Andrew's Hall which is the centrepiece of The Halls and is the name by which many people refer to the whole complex of buildings.
It has a fine, high-beamed ceiling, beautiful stained glass windows, limestone columns and a large polished maple floor. It was originally the nave of the friary and was completed in 1449. The size and beauty of its proportions are impressive without elaborate decoration in keeping with the friars' rule of simplicity.
The stained glass, stone carving and deeply-coloured portraits add richness to the simple backdrop of the building, adding a contemporary feel to this incredibly historical building of civic tradition - the best of both worlds.
Coaches will take you from the conference venue at 18:00 to St Andrews Hall for the conference dinner which is in the very heart of the City of Norwich.
The Norwich Arcade, in the heart of the city centre.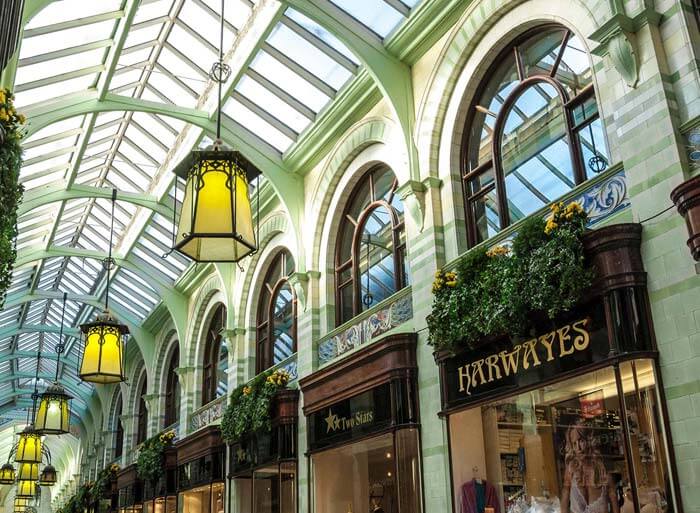 About Norwich.
Norwich as a city has a lot to offer with high street shops, two shopping centres, restaurants, bars, pubs, cinemas, a bowling alley, theatres and much more. The city is also known for Norwich Cathedral (Church of England) and the Cathedral of St John the Baptist (Catholic Church) as well as Norwich Castle which is now an art gallery and museum.
You can find more information about Norwich here.
Just a short journey out of the City and you can also enjoy the Norfolk coast which spans 93 miles with a variety of beaches and coastal landscapes.
You can find more information about what Norfolk has to offer here.
Scientific Organising Committee
Local Organising Committee
Genome 10K Organising Committee
Genome Science Organising Committee
The venue.
Hosted by Earlham Institute on the Norwich Research Park, UK, enjoy world-class facilities at both EI and the John Innes Conference Centre. We also welcome you to Norwich, a city steeped in history and culture set in the middle of East Anglia.
Address and map.
John Innes Conference Centre
Norwich Research Park
Norwich
NR4 7UH
UK
Have any questions?
We'll be happy to support you however you need, just get in touch with our organising team.
EI Genome10K Team, training@earlham.ac.uk