Research faculty office.
The research faculty office facilitates communication with our researchers, their partners and collaborators both locally and internationally.
The team are responsible for the complete life-cycle of all the Institute research grants, in particular large or consortium grants. We raise and maintain the quality of the grant submissions by horizon scanning for funding opportunities.
We also support the development and implementation of our science strategy. We oversee the recruitment of faculty and support career development, including our studentships and fellowship programmes.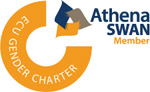 EI strongly values equality and diversity across our workforce and is committed to the principles of the Athena SWAN charter. The research office developed an application for an Athena SWAN Bronze Award, demonstrating our support to the career progression of women in science and putting into practice policies that support all our researchers to reach their full potential.
If you have any queries relating to the research faculty office, please contact us: