Earlham Institute Policies.
The EARLHAM INSTITUTE (EI) is committed to achieving the highest standards of excellence and integrity in our research.

In the pursuit of excellence, it is our responsibility to ensure that our research is conducted according to appropriate ethical, legal and professional frameworks, obligations and standards. EI provides a research environment that is underpinned by a culture of integrity and based on good governance, best practice and support for the development of researchers. Should allegations of misconduct arise we will ensure a transparent, robust and fair response. Through support, policies and procedures we can provide assurances on the suitability and appropriateness of the mechanisms in place to ensure the excellence and integrity of our research.

EI has a responsibility to ensure that the funds it disperses are properly spent, in accordance with the law, funder requirements and in the public interest. Researchers have a duty to their profession, to EI and to research funders, to conduct their research according to best scientific practice and the highest professional standards.

To maintain the high standards of research practice, EI will uphold the commitments outlined in Universities UK's Concordat to Support Research Integrity.

The EI expects all researchers, be they staff, students or visitors, to abide by national, European and international professional standards of research integrity. This includes:


Honesty and fairness in:

- reporting on research methods and procedures
- presentation of research goals, intentions and findings
- gathering data, conveying valid interpretations and making justifiable claims based on research findings
- use and acknowledgment of the work of other researchers
Accuracy and rigour in:

- conducting research and using appropriate methods
- adhering to an agreed protocol where appropriate
- record keeping of primary data
- drawing interpretations and conclusions from the research
- communicating the results and clarifying what conclusions are based on
Openness and Transparency in:

- making research findings widely available, including sharing negative results as appropriate
- presenting the work to other researchers and to the general public
- declaring conflicts of interest beyond their own scientific integrity
- the reporting of research data collection methods
- the analysis and interpretation of data accountability for actions
Independence in:

- conducting research in keeping with academic freedom, regardless of funder of the research
Respect for:

- the independence of other colleagues and team members
- all participants in and subjects of research, including humans, animals, the environment and cultural objects
- the stewardship of research and scholarship for future generations
- cooperation and collegiality in scientific interactions


EI researchers are supported to uphold these core principles through the Institute's positive action to:

- provide clear policies and procedures, and where necessary, training and guidance on research integrity
- ensure automatic checks are built into our scientific data integrity processes, and data is backed up and stored appropriately if held on central drives.
- ensure there are suitable mechanisms for reviewing ethical issues raised by research
- use transparent, robust and fair processes to deal with allegations of research misconduct
- reasonably defend researchers who abide by high standards, and any individual who reports misconduct

Read our Research Integrity Policy.

If there is a matter regarding our research integrity policy you wish to raise with us please contact EI's Director of Operations sarah.cossey@earlham.ac.uk or Head of Research Faculty Office Christine.fosker@earlham.ac.uk
December 2021
Anti-bribery and Anti-corruption.
It is our policy to conduct all our business in an honest and ethical manner. We take a zero-tolerance approach to bribery and corruption and are committed to acting professionally, fairly and with integrity in all our business dealings and relationships wherever we operate and implementing and enforcing effective systems to counter bribery.
We will uphold all laws relevant to countering bribery and corruption in all the jurisdictions in which we operate. However, we remain bound by the laws of the UK, including the Bribery Act 2010, in respect of our conduct both at home and abroad.

The purpose of our policy is to:
(a) set out our responsibilities, and of those working with or responsible for EI, in observing and upholding our position on anti-bribery and anti-corruption; and
(b) provide information and guidance to those working for us on how to recognise and deal with anti-bribery and anti-corruption issues.
EI's policy applies to all individuals working at all levels and grades, including Trustee Directors, senior managers, officers, directors, employees (whether permanent, fixed-term or temporary), consultants, contractors, trainees, seconded staff, homeworkers, casual workers and agency staff, volunteers, students, agents, sponsors, or any other person associated with EI, or any of our subsidiaries or their employees, wherever located. A copy of our policy is provided to all our staff, students, and contractors. A copy is available on request from enquries@earlham.ac.uk.
Modern Slavery and Human Trafficking Statement.
The Earlham Institute is a research institute focused on exploring living systems by applying computational science and biotechnology to answer ambitious biological questions and generate enabling resources. We are proud to attract talented scientists from all over the world, who bring with them vast experience in genomics, bioinformatics and scientific computing. Led by expert group leaders, our ever-expanding research groups are at the forefront in modern life sciences.
As a world-leading research organisation, we ensure that our research is conducted according to appropriate ethical, legal and professional frameworks, obligations and standards. We provide a research environment that is underpinned by a culture of integrity and based on good governance, best practice and support for the development of researchers.
Earlham Institute staff recruitment policies ensure that employees are legally entitled to work in the UK with the necessary and appropriate checks undertaken. Staff undertake mandatory training in equality and diversity to safeguard employees from abuse. The institute also maintains a whistleblowing policy which is clear and easily accessible to staff.
As a registered charity, Earlham Institute has a responsibility to ensure that the funds it receives are properly spent, in accordance with the law, funder requirements and in the public interest. We support the requirements of the Modern Slavery Act 2015 and we are committed to carrying out procurement activities in an environmentally, socially, ethically and economically responsible manner.
Our supply chains fall mainly under five 'super-categories', which are:
Laboratory Consumables and Equipment
Library Resources
Professional Services
ICT Equipment and Services
Estates Goods and Services
The principal categories deemed as carrying material risks with respect to Modern Slavery are laboratory consumables, ICT equipment and some estates services, such as cleaning and security services. A significant amount of our procurement is undertaken through our membership of the London Universities Purchasing Consortium (LUPC), a non-profit professional buying organisation which is part of the UK University Purchasing Consortia.
LUPC is a leader in promoting respect for human rights in public supply chains and is committed to supporting the UK Government's National Action Plan, to implement the UN Guiding Principles on Business and Human Rights. LUPC has focused on these highest risk categories by running pilot due diligence projects in laboratory gloves, cleaning services and security services, and by maintaining its affiliation to monitoring organisation Electronics Watch.
In line with Home Office guidance, we aim to make progress over a period of time across a broad range of potential exposures. During the financial year ended 31 March 2021, we have:
Continued to improve awareness of staff of the Modern Slavery Act and its impact on businesses, supported by an eLearning suite from LUPC, available on our Intranet's purchasing pages;
Ensured that any new suppliers are compliant with the Modern Slavery Act and where applicable collate this information for reference;
Enhanced the 'Responsible Procurement' award criteria in our tender documents which includes identifying, preventing and mitigating the risks of human rights abuse in the supply chain; and
Continued to review our agreements to ensure that obligations to comply with the Modern Slavery Act are included where appropriate and to ensure that due-diligence is in place to mitigate any risk.
During the financial year ending 31 March 2022, we will:
Ensure that Modern Slavery awareness training is completed by employees who are involved in the procurement of services and products with the LUPC's eLearning suite available on the Purchasing & Stores Internet pages;
Contact our top suppliers to ensure their compliance with the Modern Slavery Act statement;
Continue to ensure that all prospective employees are legally entitled to work in the UK and to safeguard employees from any abuse or coercion as an Institute employee using our recruitment and management processes;
Continue to review our agreements to ensure that obligations to comply with the Modern Slavery Act are included where appropriate and to ensure that due-diligence is in place to mitigate any risk;
Continue to use our purchasing consortium's frameworks for large orders where possible, thus benefiting from due diligence undertaken with these suppliers; and
Introduce key performance indicators to measure effectiveness of steps being taken.
This statement has been approved the Board and signed on its behalf by the Chair:

Professor Dame Janet Thornton, Trustee Director
14 June 2021
Conflict of interest & Gift and hospitality.
It is the duty of all members of EI staff to declare details of pecuniary, family or other personal interests which may result in a conflict of interest with the charitable or business activities of EI or its subsidiaries companies. Any potential conflict must be declared that may influence their judgment in undertaking their duties.

All staff and Trustee Directors are asked to make a declaration of whether they have any areas that may be deemed a conflict, or to indicate that they have no conflicts to declare. EI holds a register of interests, and any changes in the information declared on the register should be made as soon as practical after the change. The ruling principle of declaration is for staff and Trustee Directors to ask themselves whether members of the public, knowing the facts of the situation, could reasonably conclude that a conflict of interest could arise or that the interest might influence their judgment. Staff should also consider including relevant known interest of members of their households or close family members.

EI has a policy on Gifts and Hospitality, which sets out our responsibilities, and of those working for or responsible for Earlham Institute, or undertaking work for one of our subsidiaries, in observing and upholding our position on gifts and hospitality; and provides information and guidance on how to record and deal with gifts and hospitality offered or provided to others.
Environmental Policy
We are committed to minimising adverse environmental impacts from our research and operational activities. We will utilise current best practice to ensure the risk of environmental pollution is kept to a minimum. We seek to promote a high standard of environmental awareness and good practice among our staff. We are progressively pursuing the following policies and practices:
Minimising the environmental impact of all research undertaken at our sites.
Addressing the implications of sustainable development in our business plans, site development and operational strategy.
Evaluating and minimising the environmental impact of new building development, ensuring design and construction is consistent with best environmental practices.
Efficient use of energy and natural resources, minimising waste and encouraging effective re-use and recycling.
Promoting environmentally responsible purchasing through product sourcing that minimises environmental impacts.
Working with contractors to promote best environmental practice.
Promoting the use of the most fuel efficient, clean and environmentally friendly forms of transport on site and when on NBI business.
Promoting best farming practice and countryside conservation at NBI.
Communicating on relevant environmental issues with external stakeholders, including commercial tenants, contractors, suppliers, local communities, Norwich Research Park, local authorities and other organisations as necessary.
Promoting staff awareness and training in environmental best practice to ensure effective resource management, and train personnel in the correct procedures for use and disposal of chemical, radiological and biological material.
Complying with relevant environmental legislation.
We will monitor and review environmental management with the aim of continually improving environmental performance. We will regularly review this policy as new sustainable development programmes or new BBSRC policies emerge.
We believe that our people are our greatest asset, and we want you to have the freedom to achieve your very best work here. As a young and vibrant organisation, you will have the opportunity to make your mark. We work on difficult problems and look for the brightest minds to solve them, but we also like to have fun and enjoy the work that we do and the lifestyle that comes with it.

Since we began in 2009, we have created a culture that we are proud of, centred on openness, technical excellence and innovation. We attract staff from all around the world who benefit from an environment that enables them to deliver world-class science alongside a supportive and social community. We are committed to the principles of the Athena SWAN charter, and value equality, inclusivity, and diversity across our workforce. We have a range of HR policies to support and protect our staff.

The Health and Safety of our staff is key to our environment, and we have rigorous standards and policies to support a staff working environment.
To protect staff and reduce the risk of coronavirus transmission, the Institute is undertaking regular risk assessments in line with Government advice and as part of its support is offering free Covid-19 to staff working on site.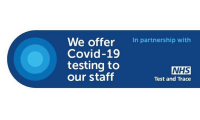 You can read the latest risk assessment here.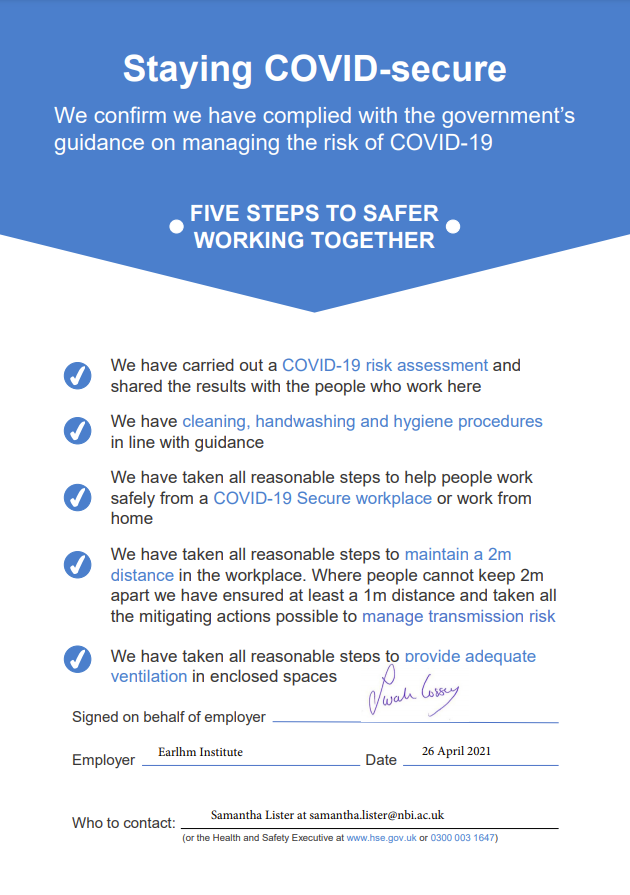 We are committed to providing a high quality, responsive and accessible service to all the people and organisations with which we interact.

Despite this we recognise that things can sometimes go wrong and we want you to have the opportunity to raise any problems or complaints with us. Any complaint will be taken seriously and treated in the strictest confidence.

How to register a complaint with Earlham Institute

In the first instance we ask you to try to resolve your complaint directly with the member of staff dealing with the issue. If the matter is not resolved and you wish to escalate your complaint please contact us: enquiries@earlham.ac.uk. The complaint must be made in writing. Any telephone complaints will need to be followed up in written form to be formally investigated.

Information to include in complaint

In order for us to investigate the complaint in a timely and effective manner we request that the following information is provided:

• Full contact details of complainant
• The section/team within Earlham Institute and the name of the Earlham member of staff (if known) dealing with the issue
• A clear description of the complaint
• Desired outcome of complaint, if appropriate.
The complaint will be acknowledged within five working days with a full response made within 20 working days thereafter. If a full response is not possible within this time we will provide details of progress made and a target date for resolution or further point of contact.

Standards

The following standards will be applied when considering any complaint:

• Treated in confidence and within current information legislation
• Handled fairly, sensitively and respectfully
• Treated in a competent and timely manner.

Appeal

If you are not satisfied with the outcome of your complaint you may appeal in writing against the outcome. The appeal should set out the basis for the appeal and be sent to the Earlham Institute Director of Operations within 10 working days of receiving notification of the outcome of the investigation. The Director of Operations will assign someone who was not involved in your original complaint to look at your appeal. The outcome of the appeal will be provided within 20 working days. Please note that any appeal investigation will be based on the way that your complaint was handled against stated Earlham Institute Complaints Procedures and there will not be a new investigation into your original complaint.