Research Group Leaders.
Come and do your best with us. We'll give you and your team the supportive research environment and resources to deliver cutting-edge research.
To expand our research portfolio, the Earlham Institute is looking for new Research Group Leaders. As an international centre of excellence in data-driven bioscience and innovative technologies, we invite applications from early-career or established researchers using bioinformatics, modelling, computational biology or engineering (synthetic biology) to investigate biodiversity and biological systems.
A collegiate and innovative research environment with a strong focus on genomics, computational-, systems- and synthetic-biology
A working culture centred on openness, innovation and excellence
Significant support including professional development, research and administrative assistance
State-of-the-art laboratory space and capabilities such as access to platform sequencing facilities (including single-cell), the Bio Foundry and numerous automated platforms
Access to high-performance computing
Access to excellent graduate students through the highly-competitive Norwich Research Park Doctoral Training Programmes
Research excellence in a beautiful region of the UK
EI has state-of-the-art laboratories with the latest sequencing technologies, automated platforms and HPC infrastructure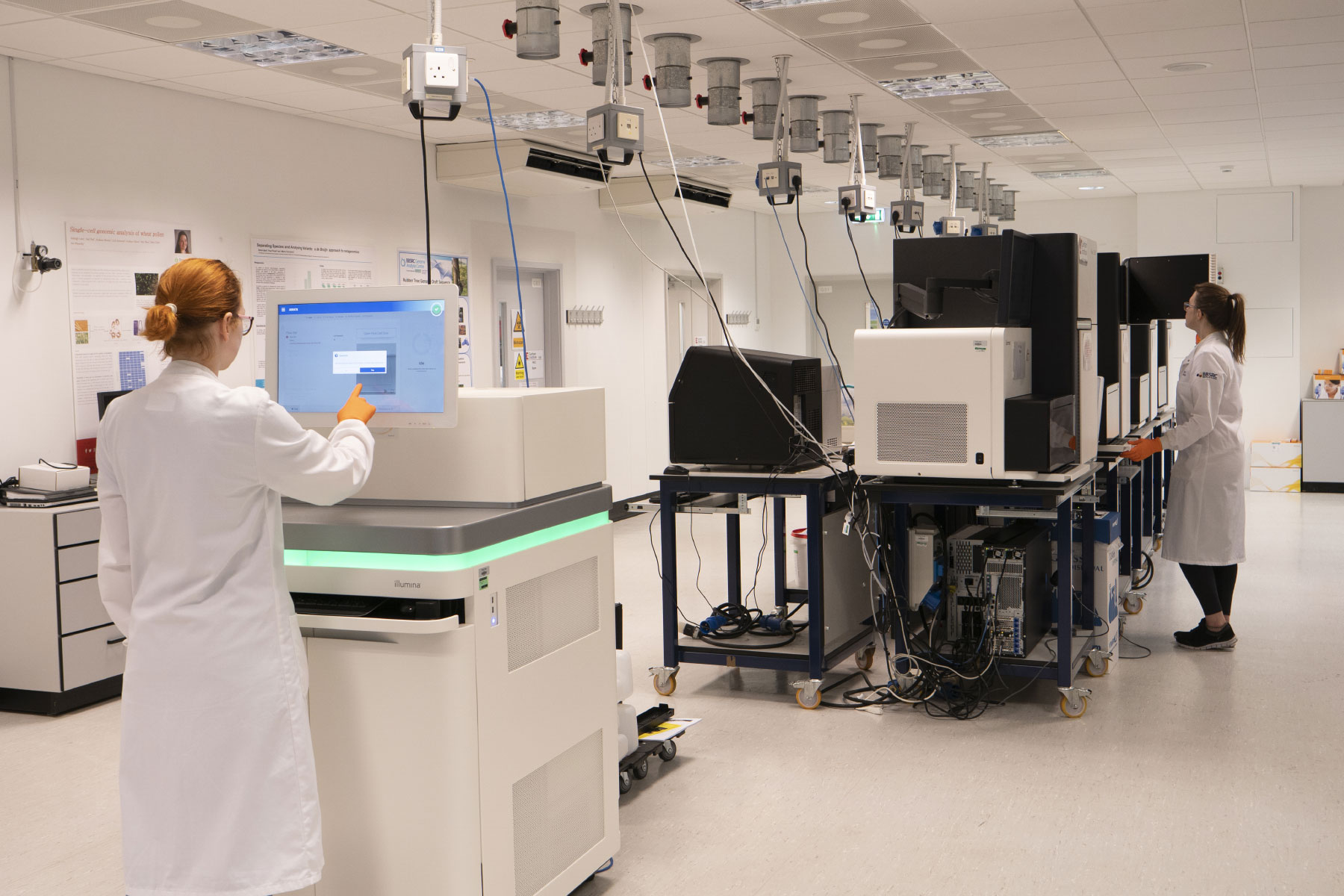 The Role of a Research Leader.
Establish and lead an internationally recognised programme of innovative research in data driven bioscience, genomics, computational biology or synthetic biology.
Build, manage and develop a team of research staff and students.
Contribute to an inclusive and collegiate culture at the Earlham Institute.
Foster strong and mutually beneficial relationships and collaborations within the Earlham Institute, with other academic institutions and with industry, government and the wider community
Obtain external financial support for your research programme and effectively manage your research funding
Darwin traininng suite at Earlham Institute.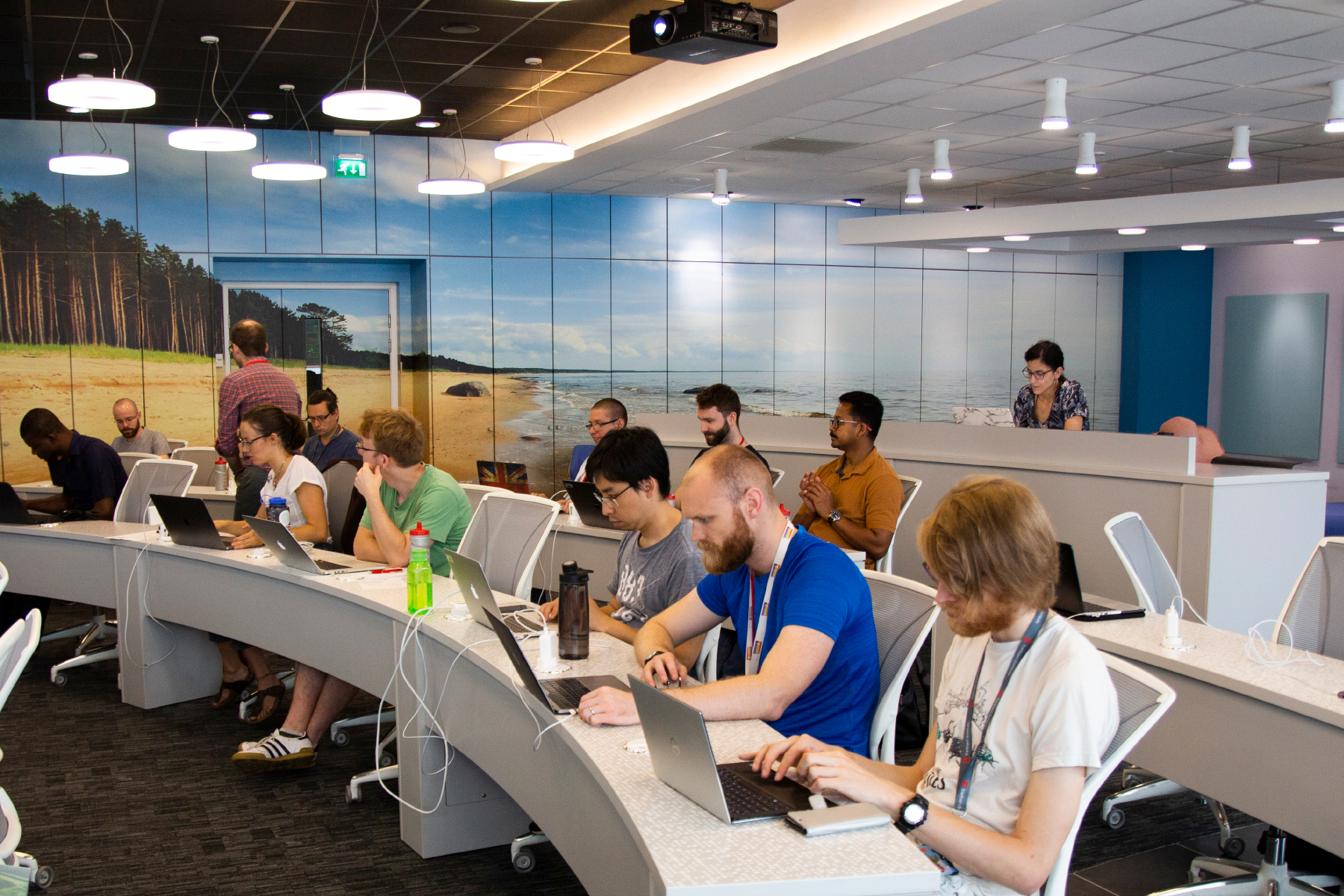 Working with others and delivering impact.
The Earlham Institute is committed to supporting the translation of research into applications that can deliver solutions to industrial challenges in global food security, improving human, animal and plant health, and delivering impact for charity, conservation and environmental sectors.
The most recent socio-economic impact assessment of the Earlham Institute estimated that our return on investment is £14.77 to the UK economy for every £1 invested, and EI's operating impact is £10.3m GVA across the UK economy per year.
At present we have several existing relationships within the agriculture and food security sector, industrial bio-tech, bio-medical and med-tech sectors, as well as with organisations interested in data management and data use in life sciences sectors. We also work with other organisations through consultancy, contract research and grant funding.
We have our own Business Development and Impact Team which helps researchers to understand the value of their intellectual assets, identify opportunities for commercialisation and maximise the impact of their research. The Institute-wide awareness of the importance of translation of research is growing, with every research group actively participating and engaging in knowledge exchange and commercialisation activities.
EI proudly supports proof-of-concept and translational work and encourages researchers to engage with end users of their research.
Earlham Institute is seeking new Research Group Leaders and is currently inviting applications from early-career or established researchers using bioinformatics, modelling, computational biology or engineering (synthetic biology), to investigate biodiversity and biological systems.
The Group Leader role will be responsible for an independent high-profile research group working in any area of the Earlham Institute (EI) research portfolio. The successful candidate will build, develop and lead their own independent internationally recognised research programme, publish significant research papers, attract substantial external funding, manage their own research team, and be responsible for financial control and delivery of their own research projects.
Candidates should possess a PhD and postdoctoral experience gained within a relevant area of science. Appointments can be made at any level (Tenure Track or Tenure) depending on experience.
The Earlham Institute is pleased to receive expressions of interest from those who wish to hold Independent Research Fellowships. Mentored by senior Earlham Institute scientists, a fellowship at EI is an opportunity to develop as an independent researcher with access to bespoke training opportunities.
We also welcome those who wish to pursue a fellowship hosted by EI. There are currently some excellent opportunities out there such as the Turing AI Fellowships or UKRI Future Leaders Fellowship.
We believe that our people are our greatest asset, and we want you to have the freedom to achieve your very best work here. As a young and vibrant organisation, you will have the opportunity to make your mark. We work on difficult problems and look for the brightest minds to solve them, but we also like to have fun and enjoy the work that we do and the lifestyle that comes with it.
Since we began in 2009, we have created a culture that we are proud of, centred on openness, technical excellence and innovation. We attract staff from all around the world who benefit from an environment that enables them to deliver world-class science alongside a supportive and social community. We are committed to the principles of the Athena SWAN charter, and value equality and diversity across our workforce.
We can't do what we do without our people, so we like to make sure they are looked after. We'll give you a competitive salary and generous pension, health benefits such as on-site sports facilities and cycle schemes, and all the latest technology you need to get your work done. The NRP has a brand new nursery on site which is open to all EI staff and their children. For more information please contact nrp@chestnut-nursery.co.uk

We also believe strongly in personal development, so we'll make sure you get the training and development opportunities you need to advance your career with us.