Strategically funded by the Biotechnology and Biological Sciences Research Council (BBSRC), part of UKRI.

About the programme
The Delivering Sustainable Wheat programme is a co-ordinated and collaborative initiative to address critical challenges in wheat health, yield, and production in order to safeguard the future of this vital crop. 
The programme is led by the John Innes Centre, with the Earlham Institute contributing across a range of areas and co-leading the Sustainable Data Frameworks For Wheat work package.
---
Designing Sustainable Wheat builds upon the discoveries and developments made during the Designing Future Wheat programme, developing a world-leading experimental platform for wheat research. 
This new, multi-disciplinary programme brings together the complementary skills of four research institutes - the John Innes Centre, Rothamsted Research, Quadram Institute, and Earlham Institute - the National Institute of Agricultural Botany, and the universities of Leeds, Nottingham, Lancaster, Bristol, and Imperial College London. 
The challenges of Wheat
Wheat provides more global calories than any other crop, and this staple will have a crucial role to play in feeding a predicted world population of 10 billion by 2050. But its production is fragile. 
To meet the demand for wheat, future increases in wheat production will have to be achieved without an equivalent growth in fertiliser and water use. Farmers are also confronted with the yield-limiting effects of climate change and emergence of new diseases. 
Adaptations are urgently needed to achieve sustainable production in the coming decades.
Research Themes
Together, the team will deliver on four research programmes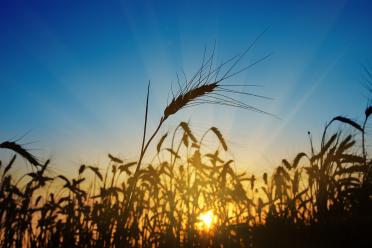 Tartegeted sustainability-trait discover
Addressing resource capture and utilisation to achieve sustainable wheat yield, quality and stability.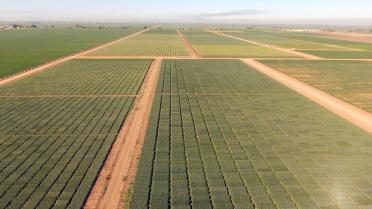 Delivering resillience to biotic stress
Improving the resilience of wheat production systems to biotic stresses frequently encountered in high-yielding UK-European wheat regions.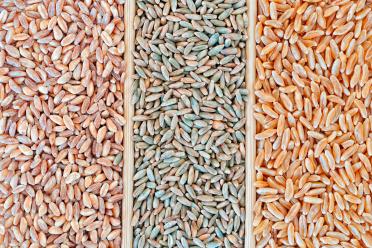 Nutritional traits
Improving nutritional traits in white flour important in health and diet, including calcium, zinc and iron.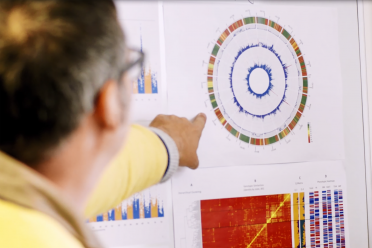 Sustainable data frameworks for wheat
Bringing together multi-disciplinary research and data infrastructure to deliver a unified vision of how wheat data will contribute to sustainability.
Utilising Earlham's expertise
The Earlham Institute was an integral part of the international effort to deliver the first full bread wheat genome, decoding this hexaploid crop from sequence to assembly and annotation.
Since then, the Institute has joined a number of national and international collaborations, published high-impact papers, and contributed heavily to our understanding of wheat at a genetic level.
For the Delivering Sustainable Wheat programme, EI will be contributing its expertise in the following areas.
Open and FAIR Data 

Over the past 20 years, wheat research has seen a dramatic increase in digital data generation as a result of the genomic, post-genomic and high-throughput phenomics ages. 

Building on data platforms developed during the Designing Future Wheat programme, the Earlham Institute will utilise its expertise in data standards, infrastructure and sharing, to develop long term data strategies for DSW, ensuring sustainable data coordination.

Pangenomics

The wheat genome is a complex mosaic of progenitor genomes that form hexaploid bread wheat together with wheat wild relatives.  

Within DSW we will generate new assembled genomes to understand the extent of this variation. Pangenome graphs can revolutionise the analysis of multiple large, complex genomes, but existing tools were never designed for the size and complexity of the wheat genome.

Working with wheat breeders, IBM, international research groups and software developers, we will develop strategies and tools to undertake the difficult problem of producing wheat pangenomes/graphs to meet the needs of stakeholders, and allow them to work with multiple genomes to accelerate breeding.

Genome Annotation

Studies have shown that non-coding conserved sequences were significantly enriched for variants associated with traits. In maize, 40% of heritable variation in complex traits lies in regions of the genome involved in regulating gene expression. 

Annotating these regulatory regions and understanding the impact of SNP changes within these sequences is still a challenge but will have a huge impact on our understanding of useful genetic variation in wheat. 

We will apply existing and new machine learning algorithms, developed in Decoding Biodiversity, to identify regulatory and annotated regulatory regions in wheat based on existing ATAC-seq, histone modification, array capture and RNA-seq data. 

We will use available genetic variation from the Watkins collection and tilling populations to validate the annotation and predict the impact of genetic variation on gene regulation. With the Earlham Biofoundry we will build a DAP-seq pipeline to identify binding sites for specific transcription factors. 

This data will be an important asset, validating promoter motifs identified with ML approaches. This data asset and pipeline could be deployed across the other work packages.

Rapid Pathogen Detection

For emergent pathogens, rapid detection is pivotal for implementing effective mitigation strategies. The Earlham Institute has developed an approach for the detection of airborne pathogens, Air-seq, which enables their early identification by sequencing biological material present in the air. 

In DSW, we will build on earlier successful trials that demonstrated the ability to detect pathogens in agricultural settings. We will use Air-seq to establish a pathogen species baseline for UK wheat and use it to explore, spatially and temporally, pathogen population dynamics and the emergence of new threats to wheat production.

Pathogen and pest infection

Working with Rothamsted Research, the Earlham Institute will contribute expertise in the genomics of plant pathogen invasion, introgression, and adaptation to develop a greater understanding of the infection and spread of wheat pathogens.

We will explore pathogen interactions using complementary approaches at two scales; firstly by identifying and characterising key interspecies communication components, transition processes, and virulence mechanisms, and secondly by narrow (wheat specific pathogens) and wider (diverse fungi) comparative genome and pangenome analyses to identify the core genes required by successful wheat pathogens.