Connecting society with our science.
We support the UK Research & Innovation (UKRI) belief that engaging the public with research helps empower people, broadens attitudes and ensures that the work of universities and research institutes is relevant to society and wider social concerns.
Modern genomics and data-driven science lie at the heart of many breakthroughs in life science, with far-reaching applications affecting everyone in the global community. We believe that engagement with the public is of paramount importance to have a meaningful two-way dialogue about our research and the impact it has.
Our communications and public engagement team delivers inventive and successful activities at events such as the Norwich Science Festival, Royal Norfolk Show and Royal Society Summer Science Exhibition.
If you want to discuss how to engage with the Earlham Institute, please contact our team.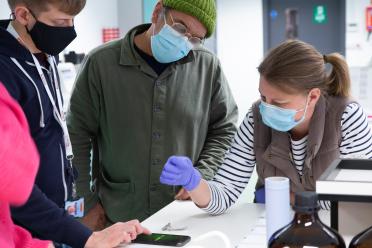 The Darwin Tree of Life project aims to sequence the genomes of all eukaryotic organisms in Britain and Ireland - that's around 70,000 species of animals, plants, fungi and protists. But why do we need to do this, and how can you help?
Through Barcoding the Broads, you'll discover more about an area of special ecological interest: the Norfolk Broads. The project will explore biodiversity in the region and the different species living there in collaboration with local schools and nature groups.
The project uses simple and reliable laboratory and computer techniques to highlight the importance of genomics and bioinformatics for understanding, conserving, and benefiting from biodiversity.
Get in touch
If you have a question about our public engagement events or activities, get in touch with our team below.