Led by: Dr Iain Macaulay
Enquiries: If you are interested in working with the Earlham Institute (EI) single-cell genomics team on a project or research, please contact us.
Single-cell genomics can reveal previously unseen heterogeneity in living systems. Measuring cell-to-cell genetic, epigenetic and transcriptomic variation is key to understanding how multicellular organisms - or populations of single-cell organisms - develop, function and evolve.
As cells are a fundamental unit of all living systems, single-cell genomics approaches can be applied across a wide range of research activities. At EI, we apply single-cell genomics to:
Investigate evolution in bacterial populations
Study meiosis in plant pollen
Understand blood stem cell biology in health and under stress
Explore genomic and transcriptomic heterogeneity in cancer
Whether you are looking for research collaboration, contract research or training on single-cell platforms, our expert team - led by Technical Development Group Leader, Dr Iain Macaulay - provides access to cutting-edge cell sorting and single-cell genomics infrastructure and expertise.
To discuss a project or collaboration, get in touch with us today.
From cells to analysis
We can support all stages of a single-cell genomics analysis, from cell isolation, to library preparation, sequencing and analysis. If you are starting with tissue, sorted cells or even pre-made libraries, we have the platforms and expertise to support your project.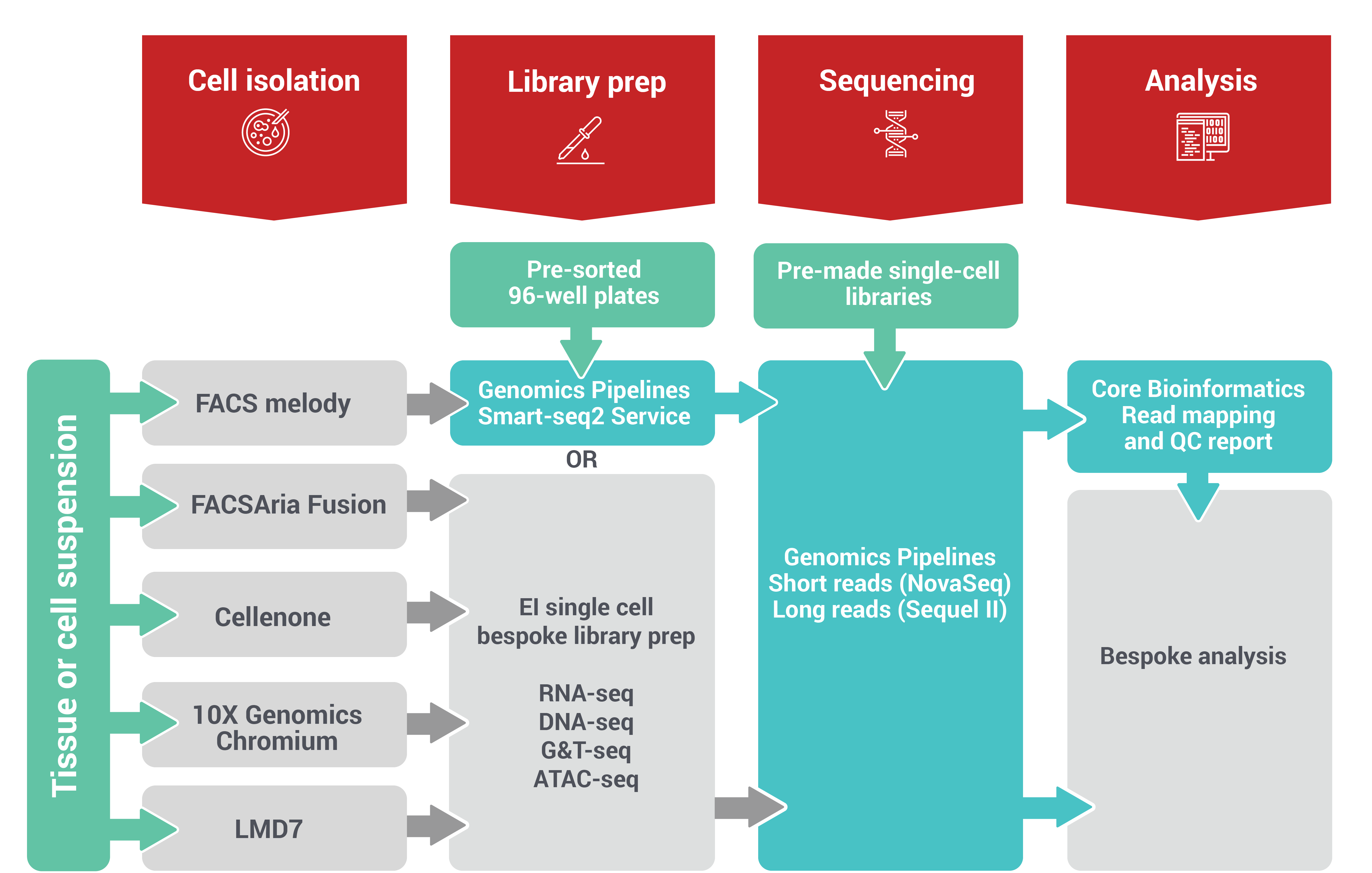 Our platforms for single-cell isolation
Housed in Biosafety Level 2 Labs, EI has a number of platforms for single-cell isolation for sequencing.
Our single-cell sequencing workflows
After cell isolation, we have a number of workflows to generate, sequence and analyse single-cell libraries.
Why work with us
Incorporating EI's single-cell genomics in your projects will provide:
Access to a wide range of platforms to support different sample types - whether it is a standard 10X Genomics RNA-seq experiment, or something more bespoke, we will be able to help
Experiments run by a dedicated team of experienced single-cell biologists - we have over ten years experience with cell sorting for single-cell and genomics applications, and have published a number of high impact papers and key technical developments in this field
Additional support and expertise from EI's Genomics Pipelines team - from sample receipt to sequencing, all processing is taken care of under one roof. Advanced next-generation sequencing capability and expertise are on hand

Iain and the team at the Earlham Institute gave us great confidence. Our project involved sequencing of single cells to determine transcription profiles, which can be quite expensive, so we wanted to get it right the first time.
They are a great team to work with and were happy to go that bit further to give us the best possible service. We will do more work with the team and look forward to future projects.
Andrew Gane, Product Strategy and Technology Manager, Genomics and Diagnostics Solutions, Cytiva
Learn more about single-cell genomics at Earlham Institute