Big-data tool launched to deliver smart agriculture for lab and field
24 February 2019
Image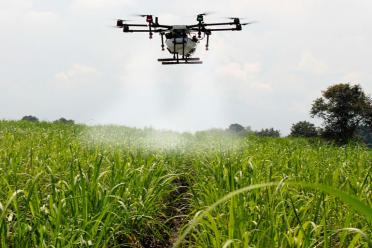 CropSight, a project led by the <a href="/zhou-group">Zhou Group</a> at EI, is a scalable and open-source information management system that can be used to maintain and collate important crop performance and microclimate information.
Big data captured by diverse technologies known collectively as the Internet of Things (IoT) is extremely difficult to calibrate, annotate and aggregate. This presents a major challenge for plant scientists trying to understand the dynamics between crop performance, genotypes and environmental factors and for agronomists and farmers monitoring crops in fluctuating agricultural conditions.
Dr Ji Zhou, Phenomics Project Leader at Earlham Institute, said, "Through connecting environmental readings with crop growth datasets using IoT-based technologies, we have demonstrated how IoT can be applied in crop research and agricultural practices. Additionally, with the development of national IoT infrastructure, CropSight can be expanded to even larger scales and multiple locations, which can then truly help agricultural practitioners make prompt decisions across a country's arable land."
The new system developed by researchers from the Earlham Institute, John Innes Centre, and University of East Anglia (UEA) provides near real time environmental and crop growth monitoring.
It is accessible both locally in the field through smart devices and via computers back at the lab and office. The system has already been applied to field experiments of bread wheat pre-breeding since 2016 and speed breeding since 2017.
Dr Simon Griffiths of the John Innes Centre says: "We believe that the CropSight system could have a significant impact on scalable plant phenotyping and crop management to enable smart agricultural practices in the near future."
Key features of the system include: automated data collection and information management, monitoring of biological experiments through network sensing devices, and daily synchronising of data and crop growth images.
Further details appear in the journal GigaScience. Full paper: CropSight: A scalable and open-source information management system for distributed plant phenotyping and IoT-based crop management.
Notes to editors.
For more information, please contact:
Dr Peter Bickerton
Scientific Communications & Outreach Manager, Earlham Institute (EI)
About Earlham Institute
The Earlham Institute (EI) is a world-leading research Institute focusing on the development of genomics and computational biology. EI is based within the Norwich Research Park and is one of eight institutes that receive strategic funding from Biotechnology and Biological Science Research Council (BBSRC) - £5.43m in 2017/18 - as well as support from other research funders. EI operates a National Capability to promote the application of genomics and bioinformatics to advance bioscience research and innovation.
EI offers a state of the art DNA sequencing facility, unique by its operation of multiple complementary technologies for data generation. The Institute is a UK hub for innovative bioinformatics through research, analysis and interpretation of multiple, complex data sets. It hosts one of the largest computing hardware facilities dedicated to life science research in Europe. It is also actively involved in developing novel platforms to provide access to computational tools and processing capacity for multiple academic and industrial users and promoting applications of computational Bioscience. Additionally, the Institute offers a training programme through courses and workshops, and an outreach programme targeting key stakeholders, and wider public audiences through dialogue and science communication activities.

About the John Innes Centre
Our mission is to generate knowledge of plants and microbes through innovative research, to train scientists for the future, to apply our knowledge of nature's diversity to benefit agriculture, the environment, human health and wellbeing, and engage with policy makers and the public.
To achieve these goals we establish pioneering long-term research objectives in plant and microbial science, with a focus on genetics. These objectives include promoting the translation of research through partnerships to develop improved crops and to make new products from microbes and plants for human health and other applications. We also create new approaches, technologies and resources that enable research advances and help industry to make new products. The knowledge, resources and trained researchers we generate help global societies address important challenges including providing sufficient and affordable food, making new products for human health and industrial applications, and developing sustainable bio-based manufacturing.
This provides a fertile environment for training the next generation of plant and microbial scientists, many of whom go on to careers in industry and academia, around the world.
The John Innes Centre is strategically funded by the Biotechnology and Biological Sciences Research Council (BBSRC). In 2014-2015 the John Innes Centre received a total of £36.9 million from the BBSRC.