Building capacity in DNA sequencing for agricultural biosciences in Africa
19 October 2021
Image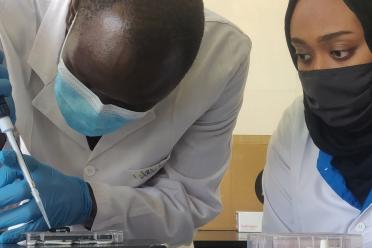 Africa is incredibly rich in plant, animal, and human diversity. Uncovering the genetic basis of this diversity could hold the key to improving the productivity of crops and livestock and enhancing human health.
To build capacity in bioinformatics, a unique and comprehensive training programme has been launched, which aims to help African researchers take advantage of long-read DNA sequencing to unlock the genetic potential of crops and livestock on the continent.
The training titled '3rd Generation Genomics and Bioinformatics in Africa' is jointly organised by the International Livestock Research Institute (ILRI, Kenya), the John Innes Centre (JIC, UK) and the Earlham Institute (EI, UK) with support from UK Research and Innovation (UKRI) Biotechnological and Biological Science Research Council (BBSRC) and Oxford Nanopore Technologies (ONT UK). It is delivered in three phases: Develop, Demonstrate and Deploy.
The Develop phase is a two-month long hybrid (residential and online) training programme that introduces all the major steps in long-read sequencing from DNA extraction, library preparation, sequencing, and bioinformatics analyses.
The Demonstrate phase allows for project-based learning where trainees get hands-on experience from three short projects.
The Deploy phase will extend the impact of the training to the home institutions of the trainees across the continent. In this phase, the trainees implement a long-read sequencing project they design themselves and will also train others in their home institutions.
"We believe that the widespread adoption of modern sequencing technologies in Africa could unleash the unrealized genetic potential for increased productivity in food crops and livestock in order to achieve UN Sustainable Development Goals. Our training is empowering African researchers to be the driving force behind this rapid acceleration of agricultural productivity gains in Africa," said Prof Cristobal Uauy from JIC.
Fifteen early-career researchers - seven women and eight men - from nine African countries have benefited from the residential training, with over 200 other African researchers participating online.
Sumaya Kambal, one of the training fellows, commented: 'Participating in the training has been a valuable experience in my pursuit of becoming a skilled researcher in bioinformatics and agricultural bioscience. The course gave great experience in designing genomics experiments, thinking critically and dealing with challenges related to both laboratory and bioinformatics work. With the skills acquired and the networks built, I look forward to developing a bioinformatics training capacity at my home institution."
Long-read sequencing, like those from Oxford Nanopore Technologies, makes it easier to sequence the genomes of crops, livestock and pathogens, and is particularly useful for uncovering large variations that conventional short read sequencing platforms are blind to. ONT also offers unprecedented access to sequencing in Africa due to its low acquisition costs and easy portability - used in the training is the MinION sequencer - a palm-sized device that can be setup in any laboratory.
ONT's Associate Director Iain MacLaren-Lee commented on the training: "ONT is delighted to support this programme which gives the training fellows an opportunity to advance their own research using nanopore sequencing. We hope they will go on to become leaders that will enable many more African scientists to benefit from such genomics insights."
The training also builds on the first Bioinformatics Community of Practice (BixCoP) training started in 2018. More detail on the 2018 programme can be found here.
Dr Rob Davey from the Earlham Institute, said: "It was fantastic to be able to return to deliver training and to see previous BiXCoP fellows become trainers. This is a vital component of our strategy - building capacity in-country through in-depth and focused technical training in key areas of real-world informatics."
Jean-Baka Domelevo Entfellner from ILRI also commented: "At ILRI, we firmly believe that the African continent must develop its own capacity in terms of researchers skilled in genomics and bioinformatics. We are very proud of empowering these African scientists with the mastery of cutting-edge tools in long reads sequencing and in bioinformatics analysis. We believe they will make a mark in their respective fields of study and will pass on their knowledge to dozens of their colleagues all across the continent."
Notes to editors.
For more information, please contact:
Hayley London - Media and Communications Officer, Earlham Institute
hayley.london@earlham.ac.uk
07760 438218
About Earlham Institute
The Earlham Institute (EI) is a world-leading research Institute focusing on the development of genomics and computational biology. EI is based within the Norwich Research Park and is one of eight institutes that receive strategic funding from Biotechnology and Biological Science Research Council (BBSRC) - £5.43m in 2017/18 - as well as support from other research funders. EI operates a National Capability to promote the application of genomics and bioinformatics to advance bioscience research and innovation.
EI offers a state of the art DNA sequencing facility, unique by its operation of multiple complementary technologies for data generation. The Institute is a UK hub for innovative bioinformatics through research, analysis and interpretation of multiple, complex data sets. It hosts one of the largest computing hardware facilities dedicated to life science research in Europe. It is also actively involved in developing novel platforms to provide access to computational tools and processing capacity for multiple academic and industrial users and promoting applications of computational Bioscience. Additionally, the Institute offers a training programme through courses and workshops, and an outreach programme targeting key stakeholders, and wider public audiences through dialogue and science communication activities.