Earlham Enterprises Ltd appoints Non-Executive directors
04 July 2021
Image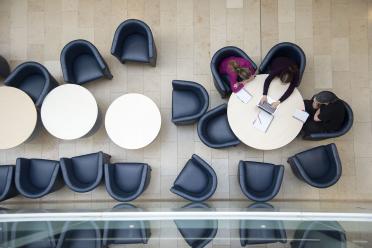 Earlham Enterprises Ltd has appointed two Non-Executive Directors to help push forward its work translating the cutting-edge research expertise and infrastructure at the Earlham Institute into applications that deliver impact.
Dr Berwyn Clarke, Chairman of Iceni Diagnostics, and John Bloomer, Director of JMB Consulting (Pleshey) Ltd, have joined the Earlham Enterprises board, chaired by Earlham Institute Director Professor Neil Hall.
Earlham Enterprises Ltd is a fully-owned trading subsidiary of the Earlham Institute, providing contract research and consultancy services that draw upon the scientific knowledge and infrastructure at the Institute. It focuses on delivering solutions to industrial challenges in global food security and improving human, animal, and plant health.
Professor Neil Hall said of the appointments: "We're delighted to welcome Berwyn and John to the Earlham Enterprise Board, which will undoubtedly benefit from their wealth of experience. We're excited to see them bringing new ideas and perspectives to help us build our industrial partnerships and to deliver impact across a broad range of cutting-edge science and innovation."
Dr Berwyn Clarke has worked in the pharmaceutical and diagnostics industry for more than 30 years. A specialist in personalized medicine, companion diagnostics and the application of novel diagnostics both to central laboratory and point-of-care utilities, Dr Clarke founded the diagnostics company Lab21 in 2005 and is now operating with a portfolio of new and established companies who have products at various stages of commercialisation. He has recently raised over £8 million of equity investment in his portfolio companies.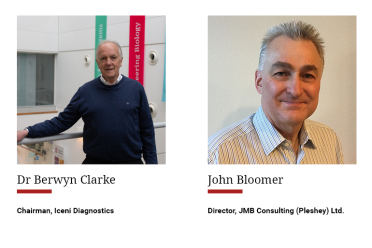 Dr Clarke said "I'm honoured to join the Board of Earlham Enterprises Ltd and looking forward to working with the exceptional team already in place. The skill-base at the Institute is growing in relevance in multiple sectors and I hope I can assist in the delivery of exciting new pipeline programmes."
John Bloomer has over 30 years' commercial experience in international research-based agribusiness, 25 years of which were in senior leadership and intrapreneurial roles in the agrochemical, biotechnology and seeds businesses of ICI, Zeneca and Syngenta. Since 2012 he has been an independent consultant and adviser within the international agricultural technology industry, supporting a wide range of clients in the private and public sector around the world.
Mr Bloomer said "It's a delight and an honour to serve on the board and help the team at the Earlham Institute generate even greater impact from their cutting-edge research and capabilities in collaboration with the private sector. The Institute's science can make a significant contribution to tackling critical issues, such as food security, climate change, and human health."
Existing clients of Earlham Enterprises Ltd include private companies spanning fields as diverse as crop breeding, precision farming, biotech, pharma, and national security.
To find out more, including how to work with the Earlham Institute or Earlham Enterprises, contact the Business Development team: business.development@earlham.ac.uk
Notes to editors.
For more information, please contact:
Greg Jones, Head of Communications, Earlham Institute – greg.jones@earlham.ac.uk or +44 1603 450 895
About Earlham Enterprises Ltd
Earlham Enterprises Ltd is a private limited company that undertakes contract research, research services and consultancy using the scientific staff and infrastructure of the Earlham Institute.
Earlham Enterprises is a vehicle for translating the cutting-edge research expertise and infrastructure at the Earlham Institute into applications that deliver solutions to industrial challenges in global food security, improving human, animal and plant health, and realising impact for charity, conservation and environmental sectors.
Earlham Enterprises clients include academic organisations, publicly-funded organisations, government departments, NGOs, and private companies spanning fields as diverse as crop breeding, precision farming, biotech, pharma, and national security.
Find out more at www.earlhamenterprises.co.uk
About Earlham Institute
The Earlham Institute (EI) is a world-leading research institute focusing on the development of genomics and computational biology. EI is based within the Norwich Research Park and is one of eight institutes that receive strategic funding from Biotechnology and Biological Science Research Council (BBSRC) - £6.45M in 2015/2016 - as well as support from other research funders. EI operates a National Capability to promote the application of genomics and bioinformatics to advance bioscience research and innovation.
EI offers a state of the art DNA sequencing facility, unique by its operation of multiple complementary technologies for data generation. The Institute is a UK hub for innovative bioinformatics through research, analysis and interpretation of multiple, complex data sets. It hosts one of the largest computing hardware facilities dedicated to life science research in Europe. It is also actively involved in developing novel platforms to provide access to computational tools and processing capacity for multiple academic and industrial users and promoting applications of computational Bioscience. Additionally, the Institute offers a training programme through courses and workshops, and an outreach programme targeting key stakeholders, and wider public audiences through dialogue and science communication activities.