Earlham Institute host Colombian science delegation to drive sustainable innovation for biodiversity
11 December 2018
Image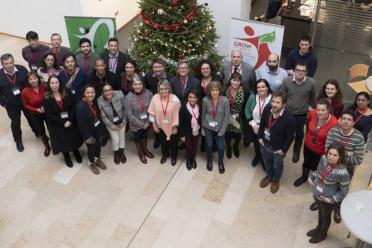 On Wednesday, 5 December, the Earlham Institute (EI) hosted a senior delegation from four of Colombia's national science organisations; AGROSAVIA (Colombian Corporation of Investigation on Agriculture), Humboldt Institute, IIAP (Spanish for The Environmental Research Institute of the Pacific), INVEMAR (Spanish for The Marine and Coastal Research Institute - "José Benito Vives de Andréis") and SINCHI (Amazon Scientific Research Institute).
Instigated by the British Embassy in Colombia, this visit follows the news last week that the Governments of Colombia and the UK have agreed to formalise a new Partnership for Sustainable Growth and will aim to conclude a Memorandum of Understanding at Ministerial level in 2019.
In 2016, EI's former Director of Science, Professor Federica Di Palma founded a science research network to foster collaboration and knowledge exchange between academics, NGOs and businesses based in the UK and Colombia, known as BRIDGE Colombia (Biodiversity, Responsibility, Innovation, Development, Growth and Education).
In 2017, Professor Federica Di Palma was awarded £6.5 million funding from the UK Government to lead a multidisciplinary programme to strengthen Colombian research capability in the biological sciences, computational biology, and socio-economics.
This programme, known as GROW Colombia, is developing capacity building activities in genomics research and training under a shared vision centred on biodiversity as a means to achieve sustainability and peace in Colombia. The project builds on an alliance of key partner institutions in the UK and Colombia, aiming for research excellence through promoting innovative technologies.
This will develop resilient research capabilities, build partnerships, and foster best practice in knowledge exchange, with longer-term goals to stimulate economic and social growth. It will also help Colombian researchers, industry partners and crop breeders gain the skills needed to drive sustainable innovation and to attract further public and private funding.
Prof Di Palma said: "We are working closely with the UK funding agencies and the British Embassy in Bogota to strengthen our UK-Colombian research partnerships. This is a formative time for Colombia, following the 2016 peace agreement. The BRIDGE Colombia network and the GROW Colombia programme are great examples of international collaborations that achieve impact by advancing interests of Colombia's greatest asset – it's biodiversity. We welcome the delegation from Colombia to the Earlham Institute this week as an opportunity to shine a spotlight on how international science projects can help to develop the Colombian economy sustainably and foster future trade relationships between our countries."
Luis Calzadilla, Head of Science and Innovation at the British Embassy in Colombia said, "GROW Colombia is a very good example of the type of the bilateral scientific relationships we are building through tools like the Global Challenges Research Fund and the Newton Fund. This programme is aligned with Colombian Government priorities on the sustainable use of Colombia's vast biodiversity. The feedback coming from delegates who visited the Earlham Institute as part of the mission the British Embassy organised is highly positive. In parallel, BRIDGE Colombia as a network of researchers is a powerful tool to make happen initiatives like Grow Colombia. Networks like this are instrumental to maximise the potential and the impact of our joint scientific work."
Notes to editors.
For more information, please contact:
Hayley London
Marketing & Communications Officer, Earlham Institute (EI)
About Earlham Institute
The Earlham Institute (EI) is a world-leading research Institute focusing on the development of genomics and computational biology. EI is based within the Norwich Research Park and is one of eight institutes that receive strategic funding from Biotechnology and Biological Science Research Council (BBSRC) - £5.43m in 2017/18 - as well as support from other research funders. EI operates a National Capability to promote the application of genomics and bioinformatics to advance bioscience research and innovation.
EI offers a state of the art DNA sequencing facility, unique by its operation of multiple complementary technologies for data generation. The Institute is a UK hub for innovative bioinformatics through research, analysis and interpretation of multiple, complex data sets. It hosts one of the largest computing hardware facilities dedicated to life science research in Europe. It is also actively involved in developing novel platforms to provide access to computational tools and processing capacity for multiple academic and industrial users and promoting applications of computational Bioscience. Additionally, the Institute offers a training programme through courses and workshops, and an outreach programme targeting key stakeholders, and wider public audiences through dialogue and science communication activities.