The future of crop protection
23 May 2019
Image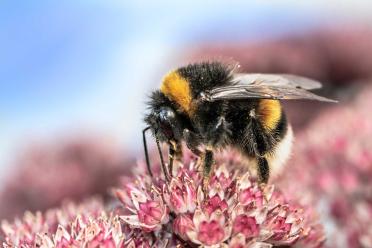 A new KTN report by EI's Head of Business Development & Impact, Dr Liliya Serazetdinova, discusses novel approaches for crop protection and highlights recent innovations from UK companies.
The use of pesticides in agriculture has become a controversial discussion point. Pesticides have a significant role to play in increasing agricultural production around the world and improving food safety. However, due to an increasing awareness of potential adverse effects of pesticides on the safety of foods and on the environment, a shift from scientific to political influence, and from risk- to hazard-based assessment, regulatory bodies in the EU are now increasingly restricting their use. This in turn limits the range of chemicals that farmers can use to control pests and diseases as well as when and where they can be used.
The development of new and safer pest control methods, including alternatives to widely used chemical pesticides, has become a serious priority for the entire agri-food industry. This new KTN report provides examples of some novel approaches for crop protection that have the potential to become more mainstream in the future, and UK companies that are developing them.
The report looks at the current state of the crop protection market, emphasising the need for effective crop protection methods if we are to continue to improve agricultural production, balanced against identified issues with the current use of pesticides. As a result of growing consumer concerns and regulatory pressure, farmers are increasingly facing a reduction in the range of crop protection chemicals they can use. The development of new and safer pest control methods, including alternatives to widely used chemical pesticides, has become a serious priority for the entire agri-food industry.
Crop protection solutions that are discussed in the report include:
Extending the use of existing agrochemicals
Biopesticides
Biological solutions
Peptide hormones
RNAi
Gene editing
GM insects
The report also takes a look at novel solutions inspired by technologies originating from other disciplines, such as:
Precision agriculture approaches
Magnetic induction heating
Electricity
Hot foam
The paper provides examples of some novel approaches for crop protection developed by UK small companies and start-ups, and also flags up the ongoing need for private investment in agri-tech to further advance the sustained public investments and technical excellence within the UK, and to enable start-up companies to fund the scale up of their technologies.
You can download the report here.
Liliya Serazetdinova started her new role at Head of Business Development and Impact at the Earlham Institute in March 2019. She has over 14 years' scientific expertise in plant and crop sciences and over 10 years of experience in knowledge transfer and commercialisation. Liliya is leading the Earlham Institute Business Development and Impact Team, delivering EI's Knowledge Exchange and Commercialisation Strategy, and supporting the EI Science Faculty with developing links with other academic organisations, private companies and wider stakeholders, and realising the impact of EI research. Her vision is to support EI Faculty, National Capabilities, Genomics Services, and High Performance Computing in the development of a strategic approach to working with industry and wider stakeholders, and the generation of long lasting societal, environmental, and economic impacts.
Dr Liliya Serazetdinova said:
"I am delighted with the publication of this KTN report, which reflects the breadth and depth of KTN interactions with UK companies and academic organisations developing crop protection technologies and products, farmers and growers, as well as regulators and policymakers. I was fortunate to have many stimulating discussions about this subject with the members of the KTN Plant Sector Advisory Board, partners of the nEUROSTRESSPEP project, as well as members of the SCI Agrisciences Group. I hope that this report will provide clarity for those who would like to understand the issues and opportunities within the current state of the crop protection solutions, and will be used in a wider sense to stimulate and support innovation in this area."
Dr Jayne Brookman, Head of Agri-Food, KTN, said:
"I would like to thank Liliya for producing such a thought-provoking paper and wish her every success in her new role as Head of Business Development and Impact at the Ealrham Institute. Anyone wishing to find out more about our work in the plant sector please contact Chris Danks in the AgriFood team, to find out more about the Earlham please contact Liliya directly through the Earlham website."
Notes to editors.
For more information, please contact:
Hayley London
Marketing & Communications Officer, Earlham Institute (EI)
About Earlham Institute
The Earlham Institute (EI) is a world-leading research Institute focusing on the development of genomics and computational biology. EI is based within the Norwich Research Park and is one of eight institutes that receive strategic funding from Biotechnology and Biological Science Research Council (BBSRC) - £5.43m in 2017/18 - as well as support from other research funders. EI operates a National Capability to promote the application of genomics and bioinformatics to advance bioscience research and innovation.
EI offers a state of the art DNA sequencing facility, unique by its operation of multiple complementary technologies for data generation. The Institute is a UK hub for innovative bioinformatics through research, analysis and interpretation of multiple, complex data sets. It hosts one of the largest computing hardware facilities dedicated to life science research in Europe. It is also actively involved in developing novel platforms to provide access to computational tools and processing capacity for multiple academic and industrial users and promoting applications of computational Bioscience. Additionally, the Institute offers a training programme through courses and workshops, and an outreach programme targeting key stakeholders, and wider public audiences through dialogue and science communication activities.

About KTN
The Knowledge Transfer Network (KTN) helps businesses get the best out of creativity, ideas and the latest discoveries, to strengthen the UK economy and improve people's lives.
KTN is a network partner of Innovate UK.
KTN links new ideas and opportunities with expertise, markets and finance through our network of businesses, universities, funders and investors. From agri-food to autonomous systems and from energy to design, KTN combines in-depth knowledge in all sectors with the ability to cross boundaries.