Gut feeling: a network approach towards understanding IBD
10 December 2019
Image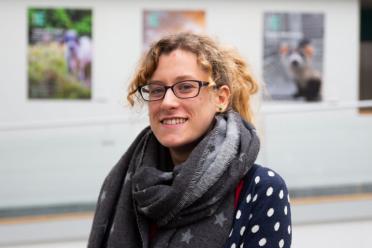 Scientists at the Earlham Institute (EI), Quadram Institute Bioscience (QIB) and the University of East Anglia (UEA), UK, have pioneered how to get very detailed transcriptomics data from gut organoids, and regulatory networks to analyse them - establishing a pipeline that can be used to explore the causes of Inflammatory Bowel Disease (IBD).
Diseases of the gut are often notoriously difficult to diagnose, nevermind understand, which is where a network-based approach comes in. Rather than trying to understand individual symptoms, or the role of individual genes, we can use computational methods to get that deeper understanding - looking at how genes work together in complex systems, and how these fail in a disease.
The Korcsmaros Group at EI and QIB have therefore pioneered a combined experimental and computational pipeline that tells us what genes are the important 'master regulators' in the gut, and which of these genes overlap with those associated with IBD, suggesting new angles to research in the future.
Much of this requires us to look at the cells in the gut. Paneth cells release antimicrobial peptides to protect the gut from pathogens and goblet cells release mucus to create a protective barrier. Dysregulation of their function is implicated in diseases such as IBD.
A promising method of understanding the role of these cells has recently been introduced. Known as organoids, stem cells can be cultured from mice models or from patients to make a small model of a human gut, and the effects of different treatments can then be explored, opening avenues for precision medicine, among others.
These organoids can also be modified to study the relative importance of different cell types within the system, and to explore interactions between different genes in healthy or diseased cells. One question that scientists have had is whether this 'enrichment' of organoids, to give us more Paneth cells or goblet cells for example, gives us a realistic model.
The good news, according to PhD student Agatha Treveil of EI, who first authored the paper, is that: "Based on our transcriptomics analysis, we see clear increases in targeted cell types as we expected from using the organoid enrichment methods."
The pipeline, published in Molecular Omics, allows us to compare gene expression in organoids that are enriched for Paneth cells or goblet cells with those that are not. These can then be compared with a growing database of known gene interactions.
Essentially, we can tag the genes which regulate others - highlighting in particular those that regulate lots of processes and are important for goblet and Paneth cell function. The finding that many of these genes overlap with inflammatory processes and IBD both confirms the important role of Paneth cells in IBD, and opens another route to understanding this range of costly illnesses.
Agatha Treveil continues, "this is a pioneering step forward in establishing a pipeline to better understand the gene networks at play in the gut. It enables us to design new experiments to explore IBD-related processes further."
Dr Tamas Korcsmaros, the leader of the project, said, "This project nicely represents the collaborative environment we have at the Norwich Research Park, with UEA, EI and QIB focusing on new experimental models, transcriptomics and computational approaches, and then applying them in translational projects with clinical researchers of the Norfolk and Norwich University Hospital. Now, we have a pipeline that we can use to investigate organoids generated from IBD patients, and analyse drug compound or probiotic effects on these key cell types."
You can access the Molecular Omics paper here.
Notes to editors.
If you would like to speak to Dr Tamás Korcsmáros, please contact:
Dr Peter Bickerton
Scientific Communications & Outreach Manager, Earlham Institute (EI)
peter.bickerton@earlham.ac.uk
About Earlham Institute
The Earlham Institute (EI) is a world-leading research Institute focusing on the development of genomics and computational biology. EI is based within the Norwich Research Park and is one of eight institutes that receive strategic funding from Biotechnology and Biological Science Research Council (BBSRC) - £5.43m in 2017/18 - as well as support from other research funders. EI operates a National Capability to promote the application of genomics and bioinformatics to advance bioscience research and innovation.
EI offers a state of the art DNA sequencing facility, unique by its operation of multiple complementary technologies for data generation. The Institute is a UK hub for innovative bioinformatics through research, analysis and interpretation of multiple, complex data sets. It hosts one of the largest computing hardware facilities dedicated to life science research in Europe. It is also actively involved in developing novel platforms to provide access to computational tools and processing capacity for multiple academic and industrial users and promoting applications of computational Bioscience. Additionally, the Institute offers a training programme through courses and workshops, and an outreach programme targeting key stakeholders, and wider public audiences through dialogue and science communication activities.

About Quadram Institute
The Quadram Institute (quadram.ac.uk) is an interdisciplinary research centre at the forefront of a new era of food and health research. It brings together researchers and clinicians under one roof and houses one of Europe's largest endoscopy units and a clinical trial facility. It focuses on lifelong health – from birth and throughout the lifecourse, increasing healthspan as well as lifespan. It undertakes both fundamental and translational research working with industry to accelerate innovation and bring novel therapeutics and new food products to patients and consumers.
Based on the Norwich Research Park, The Quadram Institute is a partnership between Quadram Institute Bioscience, the Norfolk and Norwich University Hospitals NHS Foundation Trust, the University of East Anglia and the Biotechnology and Biological Sciences Research Council (BBSRC).
Four interconnected interdisciplinary research themes in Quadram Institute Bioscience deliver a pipeline of research in plants, microbes, food and health: microbes in the food chain; the gut and the microbiome; food innovation and population health.
About University of East Anglia (UEA)
The University of East Anglia (UEA) is a UK Top 25 university and is ranked in the top 50 globally for research citations. Known for its world-leading research and good student experience, it was awarded Gold in the Teaching Excellence Framework and is a leading member of Norwich Research Park, one of Europe's biggest concentrations of researchers in the fields of environment, health and plant science. www.uea.ac.uk.
www.uea.ac.uk / @uniofeastanglia
About BBSRC
The Biotechnology and Biological Sciences Research Council (BBSRC) is part of UK Research and Innovation, a non-departmental public body funded by a grant-in-aid from the UK government.
BBSRC invests in world-class bioscience research and training on behalf of the UK public. Our aim is to further scientific knowledge, to promote economic growth, wealth and job creation and to improve quality of life in the UK and beyond.
Funded by government, BBSRC invested £498 million in world-class bioscience in 2017-18. We support research and training in universities and strategically funded institutes. BBSRC research and the people we fund are helping society to meet major challenges, including food security, green energy and healthier, longer lives. Our investments underpin important UK economic sectors, such as farming, food, industrial biotechnology and pharmaceuticals.
More information about UK Research and Innovation.
More information about BBSRC, our science and our impact.
More information about BBSRC strategically funded institutes.