How can you help save endangered species? Save the Pink Pigeon
21 March 2017
Image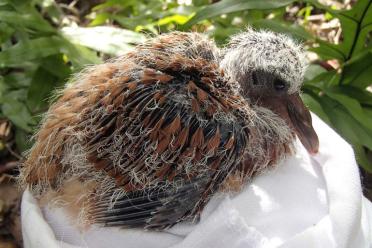 The most interesting genome in the world? Vote to save the Pink Pigeon – and help develop a new conservation breeding strategy for many more endangered species.
"Conservation genomics to the rescue, saving the pink pigeon #seqthepinkpigeon" is a research project led by the Earlham Institute (EI) and the University of East Anglia in partnership with PacBio. By voting to save the pink pigeon – we also hope to increase survival for other threatened species.
Earlham Institute is one of just five finalists and only UK entry selected by a scientific committee to win a PacBio SMRT Sequencing grant. As part of the 2017 Plant and Animal SMRT Programme. EI, in collaboration with the UEA, EnvEast and partners are aiming to save the pink pigeon from its diminishing population on the island of Mauritius.
This would be the first endangered bird species to be sequenced by the Pacific Biosciences Iso-Seq method; the potential project will identify immune system genes and their variants which enable the unique species' survival from a disease humans unwittingly introduced to the island.
The pink pigeon made a miraculous recovery from just ten birds in 1990 to currently around four hundred, however, the species is severely hindered by its endangered status. Over 60% of its young have been struck down by an invasive pathogen introduced by humans, Trichomonas gallinae. Predators such as cats, monkeys, rats and mongoose raid nests and over 90% of the eggs produced by pink pigeons are infertile due to the effects of inbreeding.
Scientists already know that such low genetic diversity means less reproduction and makes the remaining birds more susceptible to infectious disease. PacBio's advanced sequencing technology method will enable them to now pinpoint the genes that cause the species' population decline and survival. Allowing those with disease-resistance to be bred and released in Mauritius - as well as reintroducing beneficial genetic traits from existing pink pigeons in zoo captivity.
IUCN warns we are on the verge of entering the sixth mass extinction. One-fifth of vertebrate species are currently known as 'threatened' - unable to undo the damage of habitat destruction and introduction of novel predators and pathogens - new sequencing technologies and techniques could identify the genetic fingerprint of a species' decline.
PhD student at EI Camilla Ryan, who is heading the pink pigeon campaign, said: "Halting species extinction may be possible when the main cause of extinction has a genetic basis, particularly when genetic variation needed to supplement and rescue the species is still available in either the captive or wild populations. Our plan uses the pink pigeon to show how this can be achieved, creating a framework that could be easily transferred to other species across the world."
Professor Ian Barnes in the division of Vertebrates and Anthropology at the Natural History Museum, working on the pink pigeons' historic genetic data, said: "I'm delighted to be part of this innovative project with the Earlham Institute and UEA, which highlights the importance of museum collections as storehouses of genetic information. Museum collections allow us to reach back in time to understand how genetic diversity has adapted and evolved; fundamental to the pink pigeon's survival."
The Mauritian Wildlife Foundation (MWF), led by Professor Carl Jones and a team of volunteers and researchers continue to manage the pink pigeon population, with nine existing subpopulations, including one on the Île aux Aigrettes, a predator free island off the south-east coast of Mauritius.
Dr Matthew Clark, Head of Technology Development at EI and lead scientist on the Pink Pigeon project, said: "It's critical to update the way we conduct conservation management and use the latest genetic technologies to save the worlds' species. We've been using this technology first in medical, and then agricultural research - now it's time we applied it to conservation. Saving the endangered cousin of the Dodo - a species synonymous with extinction - is an excellent opportunity to prove what can be done."
This EI and UEA research project is in partnership with Durrell Wildlife Trust, Natural History Museum and Mauritian Wildlife Foundation.
Notes to editors.
For more information, please contact:
Hayley London
Marketing & Communications Officer, Earlham Institute (EI)
1) Top image shows young pink pigeon, supplied by Durrell Wildlife Conservation Trust.
2) Accompanying media can be accessed by dropbox, including campaign poster, pink pigeon images, and social media graphics to share the story: https://www.dropbox.com/sh/fexl0cdixiwtbik/AAAgfvRXcXb2VA0iABoQCrvHa?dl=0. Please credit pink pigeon images to Durrell Wildlife Conservation Trust.
3) Find out more about the '2017 Plant and Animal SMRT Grant Programme' and how to vote for the pink pigeon project, here: http://www.pacb.com/smrt-science/smrt-grant/pag2017/pink-pigeon/.
4) You can vote every day and use up to three e-mail addresses, until the 5 April 2017. Get involved on Twitter with #seqthepigeon or #savethepinkpigeon.
5) Watch our video on how we are saving the pink pigeon
About Earlham Institute
The Earlham Institute (EI) is a world-leading research institute focusing on the development of genomics and computational biology. EI is based within the Norwich Research Park and is one of eight institutes that receive strategic funding from Biotechnology and Biological Science Research Council (BBSRC) - £6.45M in 2015/2016 - as well as support from other research funders. EI operates a National Capability to promote the application of genomics and bioinformatics to advance bioscience research and innovation.
EI offers a state of the art DNA sequencing facility, unique by its operation of multiple complementary technologies for data generation. The Institute is a UK hub for innovative bioinformatics through research, analysis and interpretation of multiple, complex data sets. It hosts one of the largest computing hardware facilities dedicated to life science research in Europe. It is also actively involved in developing novel platforms to provide access to computational tools and processing capacity for multiple academic and industrial users and promoting applications of computational Bioscience. Additionally, the Institute offers a training programme through courses and workshops, and an outreach programme targeting key stakeholders, and wider public audiences through dialogue and science communication activities.
About BBSRC
The Biotechnology and Biological Sciences Research Council (BBSRC) invests in world-class bioscience research and training on behalf of the UK public. Our aim is to further scientific knowledge, to promote economic growth, wealth and job creation and to improve quality of life in the UK and beyond.
Funded by Government, BBSRC invested over £509M in world-class bioscience in 2014-15 and is the leading funder of wheat research in the UK (over £100M investment on UK wheat research in the last 10 years). We support research and training in universities and strategically funded institutes. BBSRC research and the people we fund are helping society to meet major challenges, including food security, green energy and healthier, longer lives. Our investments underpin important UK economic sectors, such as farming, food, industrial biotechnology and pharmaceuticals.
For more information about BBSRC, our science and our impact see: http://www.bbsrc.ac.uk For more information about BBSRC strategically funded institutes see: http://www.bbsrc.ac.uk/institutes