Just one more Ash Dieback spore could push European ash trees to the brink
23 April 2018
Image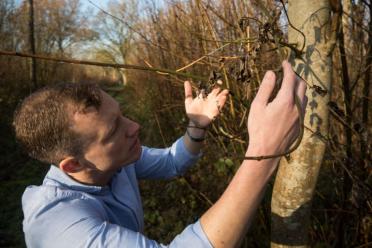 Europe's ash dieback epidemic could well have been caused by just one or two mushroom-like fruiting bodies of a fungal pathogen from Asia, according to a comprehensive genome sequencing effort published in Nature Ecology & Evolution. This leaves even the most resistant ash trees at threat from the introduction of just one more spore from East Asia.
Ash dieback threatens 95% of all European ash trees and has already killed or severely damaged a quarter in southern Sweden and destroyed more than 80% of young ash trees in Norway.
"It's incredible that from such limited genetic diversity the ash dieback fungus has already devastated trees across Europe," says lead author Mark McMullan from the Earlham Institute (EI) in Norwich. "Now that the disease is established, the introduction of genes from outside of Europe would tremendously increase the genetic diversity of the pathogen and seriously threaten the remaining ash trees."
The researchers found that in fungal samples from the UK, Norway, France, Poland and Austria, there is low genetic diversity. The diversity of the fungus found across Europe is just an eighth of that found in a single Japanese woodland, so is likely to be a just a tiny fraction of that found across Asia. Allowing some of that Asian genetic diversity to come into Europe, for example by bringing in new fungal isolates, has the potential to increase the severity of the disease in Europe.
Matthew Clark, senior author, formerly Head of Technology Development at EI and now Research Leader in Plant Interactions at the Natural History Museum, adds: "The risk is that if the pathogenic fungus gets the chance to mate and reproduce with just one more individual, the resulting offspring could have the ability to kill the remaining ash trees that have survived the disease so far".
The disease was first observed in Europe in Poland in 1992, where it probably arrived on commercially imported ash from East Asia. It spread west and was first discovered in England in 2012, where spores may have landed from the continent. The fruiting bodies, each about the size of a match head, fire thousands of tiny spores that spread on the wind.
Elizabeth Orton, a co-author on the paper from the John Innes Centre, says: "Trees have such a long lifetime and their populations take so long to recover from attacks by invasive pathogens it is vital to restrict the movement of potentially infected plants into and around Europe in accordance with the 'precautionary principle'". National legislation has meant the movement of Ash trees into and around the UK has been prohibited because no pest free areas have been declared.
Other pests and diseases, such as the Emerald ash borer beetle, have already been found in Russia and could push the remaining European ash trees to the brink. This pest has put five ash tree species in the US onto the IUCN red list, meaning they are threatened with extinction. The team suggests that it is now time to start growing seed orchards to generate a supply of ash tree seeds that are less susceptible to both dieback and other pests, something which Defra have begun work into with mass screening trials. Initial research in the UK and Denmark means that it is now possible to start selecting which trees to use as parents for trees that will be more resistant to ash dieback.
BBSRC's Head of Strategy for Agriculture and Food Security, Brian Harris, says: "This paper reports significant findings of research funded by BBSRC in partnership with others. It demonstrates the importance of multinational collaboration and fundamental knowledge of pathogen biology for understanding the implications of tree diseases and informing approaches to their management."
Ash dieback, caused by the ascomycete fungus Hymenoscyphus fraxineus, is characterised by dark brown or orange lesions on ash leaves followed by wilting, lesions of dead cells on shoots and then diamond-shaped lesions on the stems. Finally, the crown of the tree dies back and the pathogen either kills the tree directly or weakens it to such an extent that it succumbs to other pests or pathogens. In its native Asia, it is widespread and extremely diverse, but relatively harmless to Asian ash species.
The research was funded by the Biotechnology and Biological Sciences Research Council (BBSRC), Defra, the Economic and Social Research Council (ESRC), the Forestry Commission, the Natural Environment Research Council (NERC), the Scottish government and the French National Research Agency (ANR). The paper, titled: "The ash dieback invasion of Europe was founded by two genetically divergent individuals" is published in Nature Ecology & Evolution.
Notes to editors.
For more information, please contact:
Hayley London
Marketing & Communications Officer, Earlham Institute (EI)
About Earlham Institute
The Earlham Institute (EI) is a world-leading research Institute focusing on the development of genomics and computational biology. EI is based within the Norwich Research Park and is one of eight institutes that receive strategic funding from Biotechnology and Biological Science Research Council (BBSRC) - £5.43m in 2017/18 - as well as support from other research funders. - as well as support from other research funders. EI operates a National Capability to promote the application of genomics and bioinformatics to advance bioscience research and innovation.
EI offers a state of the art DNA sequencing facility, unique by its operation of multiple complementary technologies for data generation. The Institute is a UK hub for innovative bioinformatics through research, analysis and interpretation of multiple, complex data sets. It hosts one of the largest computing hardware facilities dedicated to life science research in Europe. It is also actively involved in developing novel platforms to provide access to computational tools and processing capacity for multiple academic and industrial users and promoting applications of computational Bioscience. Additionally, the Institute offers a training programme through courses and workshops, and an outreach programme targeting key stakeholders, and wider public audiences through dialogue and science communication activities.

About BBSRC
The Biotechnology and Biological Sciences Research Council (BBSRC) is part of UK Research and Innovation, a non-departmental public body funded by a grant-in-aid from the UK government.
BBSRC invests in world-class bioscience research and training on behalf of the UK public. Our aim is to further scientific knowledge, to promote economic growth, wealth and job creation and to improve quality of life in the UK and beyond.
Funded by government, BBSRC invested £469 million in world-class bioscience in 2016-17. We support research and training in universities and strategically funded institutes. BBSRC research and the people we fund are helping society to meet major challenges, including food security, green energy and healthier, longer lives. Our investments underpin important UK economic sectors, such as farming, food, industrial biotechnology and pharmaceuticals.
About John Innes Centre
The John Innes Centre is an independent, international centre of excellence in plant science and microbiology.
Our mission is to generate knowledge of plants and microbes through innovative research, to train scientists for the future, to apply our knowledge of nature's diversity to benefit agriculture, the environment, human health, and wellbeing, and engage with policy makers and the public.
To achieve these goals we establish pioneering long-term research objectives in plant and microbial science, with a focus on genetics. These objectives include promoting the translation of research through partnerships to develop improved crops and to make new products from microbes and plants for human health and other applications. We also create new approaches, technologies and resources that enable research advances and help industry to make new products. The knowledge, resources and trained researchers we generate help global societies address important challenges including providing sufficient and affordable food, making new products for human health and industrial applications, and developing sustainable bio-based manufacturing.
This provides a fertile environment for training the next generation of plant and microbial scientists, many of whom go on to careers in industry and academia, around the world.
The John Innes Centre is strategically funded by the Biotechnology and Biological Sciences Research Council (BBSRC). In 2015-2016 the John Innes Centre received a total of £30.1 million from the BBSRC.
The John Innes Centre is also supported by the John Innes Foundation through provision of research accommodation and long-term support of the Rotation PhD programme.
The John Innes Centre is the winner of the BBSRC's 2013 - 2016 Excellence with Impact award.
For more information about the John Innes Centre visit our website www.jic.ac.uk @JohnInnesCentre
About NERC
NERC is the UK's main agency for funding and managing research, training and knowledge exchange in the environmental sciences. Our work covers the full range of atmospheric, Earth, biological, terrestrial and aquatic science, from the deep oceans to the upper atmosphere and from the poles to the equator. We coordinate some of the world's most exciting research projects, tackling major issues such as climate change, environmental influences on human health, the genetic make-up of life on Earth, and much more. NERC is a non-departmental public body. We receive around £330 million of annual funding from the Department for Business, Energy & Industrial Strategy.
About NHM
The Natural History Museum exists to inspire a love of the natural world and unlock answers to the big issues facing humanity and the planet. It is a world-leading science research centre, and through its unique collection and unrivaled expertise, it is tackling issues such as food security, eradicating diseases and managing resource scarcity. The Natural History Museum is the most visited natural history museum in Europe and the top science attraction in the UK; we welcome more than 4.5 million visitors each year and our website receives over 500,000 unique visitors a month. People come from around the world to enjoy our galleries and events and engage both in-person and online with our science and educational activities through innovative programmes and citizen science projects. @NHM_London ‏