Lettuce have it! Machine learning for cr-optimisation
10 June 2019
Image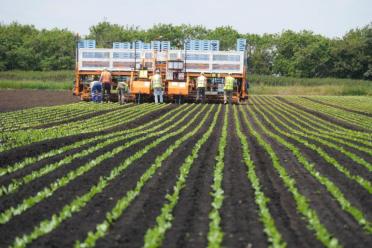 At <a href="/index.html">Earlham Institute (EI)</a>, artificial intelligence based techniques such as machine learning are moving from being merely an exciting premise to having real-life applications, where they're needed most: improving efficiency and precision on the farm.
Image: Transplanting lettuce at G's Growers plantation field, near Ely, UK. Credit: G's Growers.
Researchers in the Zhou Group at EI, in cooperation with Ely-based G's Growers, have developed a machine learning platform, AirSurf-Lettuce, which works with computer vision and ultra-scale images taken from the air to help categorise lettuce crops in fields.
The advanced software includes measuring quantity, size and pinpointing location to help farmers harvest with precision and getting the crop to market in the most efficient possible way. Importantly, this technology can be applied to other crops, widening the scope for positive impact across the food chain.
Lettuce is big business, especially in East Anglia, with 122,000 tonnes produced in the UK each year. Up to 30% of yield can be lost due to inefficiencies in the growing process as well as harvest strategies, which, if made up, could provide a significant economic boost.
It's very important that farmers and growers understand precisely when crops will become harvest-ready, so that they can set in motion the planning of logistics, trading and marketing their produce further along the chain.
Traditionally, however, measuring crops in fields has been very time-consuming and labour intensive, as well as prone to error; therefore novel AI solutions based on aerial images can provide a much more robust and effective method.
Another barrier to efficiency is the fact that inclement weather conditions, which have been increasing in recent years, can throw off harvesting times quite significantly, as crops take different lengths of time to mature.
The AirSurf technology - developed by members of the Zhou Group, including first authors of the paper on the project, Alan Bauer and Aaron Bostrom - uses 'deep learning' (a deep structured machine learning technique) combined with sophisticated, ultra-wide-scale imaging analysis to measure iceberg lettuce in a high-throughput mode. This is able to identify the precise quantity and location of lettuce plants, with the additional advantage of recognising crop quality, i.e. small, medium or large lettuce heads.
Combining this system with GPS allows farmers to precisely track size distribution of lettuce in fields, which can only help in increasing the precision and effectiveness of farming practice, including harvest time.
First author, Alan Bauer at EI, said: " This cross-disciplinary collaboration integrates computer vision and machine learning with the lettuce growing business to demonstrate how we can improve crop yields using machine learning."
Group Leader at EI, Dr Ji Zhou, said: "My lab is keen to seek every possible approach to translate our public funded research in algorithm design, machine learning, computer vision, and crop phenomics to techniques and tools that can be used by academic and industrial partners to address challenging problems in crop research and crop production.
"Utilising our research work supported by BBSRC and other public and industry jointly funded projects, we have partnered with G's, leading vegetable growers in the UK, to equip our Agri-Food sector with smart and precise crop surveillance and analytical methods, for which we are confident that better crop management decisions and enhanced crop marketability could be achieved through our joint efforts".
Industry partner at G's Growers, Innovation Manager Jacob Kirwan, added: "Farming at a large scale means that precision is essential when ensuring that we are producing crops in an environmentally and economically sustainable way. Using technology like AirSurf means that growers are able to understand the variability in their fields and crops at a much higher level of detail that was previously possible.
"The decisions that can then be taken from this information, such as varying applications of inputs and irrigation; changing harvest strategies and planning the optimum time to sell crop, will all contribute towards increasing on farm yields and improving farm productivity."
The paper, titled: Combining computer vision and deep learning to enable ultra-scale aerial phenotyping and precision agriculture: A case study of lettuce production is published in Horticulture Research - Nature.
Notes to editors.
For more information or if you would like to speak to Dr Ji Zhou, please contact:
Hayley London
Marketing & Communications Officer, Earlham Institute (EI)
About Earlham Institute
The Earlham Institute (EI) is a world-leading research Institute focusing on the development of genomics and computational biology. EI is based within the Norwich Research Park and is one of eight institutes that receive strategic funding from Biotechnology and Biological Science Research Council (BBSRC) - £5.43m in 2017/18 - as well as support from other research funders. EI operates a National Capability to promote the application of genomics and bioinformatics to advance bioscience research and innovation.
EI offers a state of the art DNA sequencing facility, unique by its operation of multiple complementary technologies for data generation. The Institute is a UK hub for innovative bioinformatics through research, analysis and interpretation of multiple, complex data sets. It hosts one of the largest computing hardware facilities dedicated to life science research in Europe. It is also actively involved in developing novel platforms to provide access to computational tools and processing capacity for multiple academic and industrial users and promoting applications of computational Bioscience. Additionally, the Institute offers a training programme through courses and workshops, and an outreach programme targeting key stakeholders, and wider public audiences through dialogue and science communication activities.