Major funding boost for bioscientists of the future
25 October 2019
Image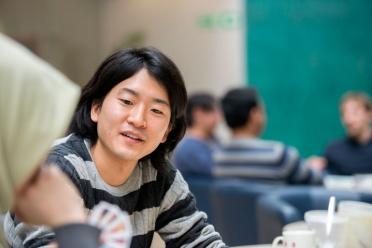 Norwich Research Park Biosciences Doctoral Training Partnership (NRPDTP) has been awarded £12 million to train the next generation of bioscientists.
The funding award means the NRPDTP, with additional funding from Partners and Associate Partners, will be able to offer at least 32 PhD studentships per year for the next five years starting in October 2020.
The NRPDTP is one of 12 successful partnerships announced as part of a £170 million award from the Biotechnology and Biological Sciences Research Council (BBSRC, a part of UK Research and Innovation).
Earlham Institute (EI) is one of the partners of the NRPDTP alongside lead Institute John Innes Centre and other partners University of East Anglia (UEA), Quadram Institute Bioscience and The Sainsbury Laboratory – all based at Norwich Research Park.
Associate Partners of the successful bid are: Norfolk & Norwich University Hospitals; Royal Botanic Gardens, Kew; Food Standards Agency; Public Health England; IBM Research UK; Biosciences Eastern and Central Africa - ILRI Hub; The Forum Trust; The Saw Trust; Agri-Tech East; Anglia Innovation Partnership and New Anglia Local Enterprise Partnership.
Director of EI Professor Neil Hall, said: "This is excellent news for the Norwich Research Park and EI. PhD students are the lifeblood of the Park as they bring new talent, knowledge and skills to the park and often work on projects that span multiple labs."
NRPDTP director Professor Dave Evans of the John Innes Centre said: "We are delighted to receive this funding which reflects the important role played by Norwich Research Park and its partners in the UK's world-leading bioscience sector."
"This award will enable the delivery of a high-quality doctoral training programme to enable our PhD candidates to gain the attributes required for the highly-skilled workforce of the future."
DTPs will offer four-year PhD studentships during which each student also undertakes a 3-month Professional Internships for PhD Students (PIPS) placement to develop their skills further and to explore possible future career directions. Projects for October 2020 intake are now being advertised.
Announcing the DTP award, Professor Melanie Welham, BBSRC's Executive Chair, added: "The success of the UK's science sector and the consequent benefits to society and the economy relies on great researchers doing great work".
"Our Doctoral Training Partnerships have already supported the training of hundreds of early-career scientists working at the cutting edge of biology and biotechnology."
"By continuing to fund, through this significant £170 million investment, vital training of the next generation of researchers we will help ensure that the UK consolidates its position as world-leader in this crucial sector."
Notes to editors.
For further information, please contact:
Hayley London
Marketing & Communications Officer, Earlham Institute (EI)
About Earlham Institute
The Earlham Institute (EI) is a world-leading research Institute focusing on the development of genomics and computational biology. EI is based within the Norwich Research Park and is one of eight institutes that receive strategic funding from Biotechnology and Biological Science Research Council (BBSRC) - £5.43m in 2017/18 - as well as support from other research funders. - as well as support from other research funders. EI operates a National Capability to promote the application of genomics and bioinformatics to advance bioscience research and innovation.
EI offers a state of the art DNA sequencing facility, unique by its operation of multiple complementary technologies for data generation. The Institute is a UK hub for innovative bioinformatics through research, analysis and interpretation of multiple, complex data sets. It hosts one of the largest computing hardware facilities dedicated to life science research in Europe. It is also actively involved in developing novel platforms to provide access to computational tools and processing capacity for multiple academic and industrial users and promoting applications of computational Bioscience. Additionally, the Institute offers a training programme through courses and workshops, and an outreach programme targeting key stakeholders, and wider public audiences through dialogue and science communication activities.