New DNA on the block: Genomics expert to lead our pioneering sequencing
08 March 2018
Image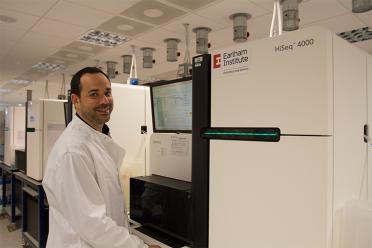 Dr Karim Gharbi has joined the Earlham Institute as Head of Genomics Pipelines to lead our UK National Capability in Genomics.
Dr Gharbi will lead the Genomics Pipelines Group and oversee the Institute's state-of-the-art DNA sequencing capability, providing EI and bioscience researchers with pioneering infrastructure for data-intensive science, backed by one of the largest high-performance computing (HPC) data centres dedicated to life sciences in Europe.
Dr Gharbi has been at the forefront of next-generation sequencing since 2009, including leading roles in setting up and operating the Medical Research Council (MRC) High Throughput Sequencing Hubs in Scotland and managing the Edinburgh node of the Natural Environment Research Council (NERC) Biomolecular Analysis facility. He contributed to over fifty papers across the next-generation sequencing portfolio and also led the University of Edinburgh's MSc (Master of Science) course in Next Generation Genomics.
Dr Gharbi earned his PhD from AgroParisTech and the French National Institute for Agricultural Research (INRA) and was a postdoctoral researcher at the University of Guelph (Canada) before his Kelvin-Smith Fellowship at the University of Glasgow.
"EI is an outstanding Institute and a hotbed for genome science. I'm delighted to join the team as Head of Genomics Pipelines and look forward to working with my EI colleagues and the wider genomics community to tackle global issues through technology and innovation," said Dr Gharbi.
At the cutting-edge of advanced sequencing technology for bioscience, research and innovation; EI's diverse range of genomics and bioinformatics projects improve human, animal and plant health - while tackling global issues of food security, climate change, environmental conservation and human well-being.
Notes to editors.
For more information, please contact:
Hayley London
Marketing & Communications Officer, Earlham Institute (EI)
About Earlham Institute
The Earlham Institute (EI) is a world-leading research institute focusing on the development of genomics and computational biology. EI is based within the Norwich Research Park and is one of eight institutes that receive strategic funding from Biotechnology and Biological Science Research Council (BBSRC) - £6.45M in 2015/2016 - as well as support from other research funders. EI operates a National Capability to promote the application of genomics and bioinformatics to advance bioscience research and innovation.
EI offers a state of the art DNA sequencing facility, unique by its operation of multiple complementary technologies for data generation. The Institute is a UK hub for innovative bioinformatics through research, analysis and interpretation of multiple, complex data sets. It hosts one of the largest computing hardware facilities dedicated to life science research in Europe. It is also actively involved in developing novel platforms to provide access to computational tools and processing capacity for multiple academic and industrial users and promoting applications of computational Bioscience. Additionally, the Institute offers a training programme through courses and workshops, and an outreach programme targeting key stakeholders, and wider public audiences through dialogue and science communication activities.
About BBSRC
The Biotechnology and Biological Sciences Research Council (BBSRC) invests in world-class bioscience research and training on behalf of the UK public. Our aim is to further scientific knowledge, to promote economic growth, wealth and job creation and to improve quality of life in the UK and beyond.
Funded by Government, BBSRC invested over £509M in world-class bioscience in 2014-15 and is the leading funder of wheat research in the UK (over £100M investment on UK wheat research in the last 10 years). We support research and training in universities and strategically funded institutes. BBSRC research and the people we fund are helping society to meet major challenges, including food security, green energy and healthier, longer lives. Our investments underpin important UK economic sectors, such as farming, food, industrial biotechnology and pharmaceuticals.
For more information about BBSRC, our science and our impact see: http://www.bbsrc.ac.uk For more information about BBSRC strategically funded institutes see: http://www.bbsrc.ac.uk/institutes