New Group Leader joins Earlham Institute
21 September 2020
Image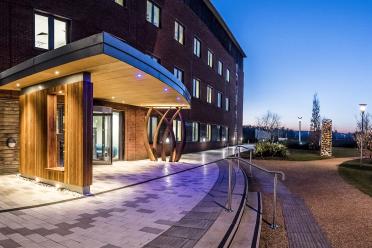 The Earlham Institute is delighted to announce the appointment of Professor Chris Quince as its newest Group Leader. Currently based at Warwick Medical School, Professor Quince will establish a group focusing on high-resolution microbiomics in a joint role with Quadram Institute Bioscience (QIB).
Professor Quince has pioneered techniques to reduce sequencing noise and the application of methods such as shotgun metagenomics to microbial communities. This cutting-edge approach fragments and sequences all of the genomes in a microbiome – quite literally taking a shotgun approach – and these are then reconstructed using sophisticated computational approaches. The methods to reconstruct sequence fragments back into metagenome assembled genomes (MAGs) have been significantly advanced by Quince.
He has used these metagenome techniques and analysis methods, in conjunction with his wide network of collaborators, to address urgent clinical questions, such as trialling new treatments for paediatric Crohn's disease and understanding what drives antimicrobial resistance (AMR) in the gut microbiome.
"I'm really excited about the move to Norwich Research Park," said Professor Quince. "I think we have reached a key moment in the UK where we finally appreciate the clinical and commercial importance of the microbiome.
"The combination of data analysis and sequencing excellence at the Earlham Institute and the strength in experimental microbiome research at the Quadram Institute makes Norwich the ideal place for me to be based to take advantage of this. I am looking forward to building a new network of collaborators in this exciting area."
Professor Quince's research at EI and QIB will focus on:
Improving methods for metagenome strain resolution incorporating novel long-read technologies and library preparation, as well as plans to extend his methods for metagenome binning to eukaryotes such as fungi.
Developing novel microbiome analysis methods enabling strain phenotype prediction from MAGs, mechanistic approaches for integration of multi-omics and models for microbial community assembly.
Carrying out large-scale microbiome data analyses, continuing his previous work on AMR, anaerobic digestors and pediatric Crohn's disease.
Commencing the Global Challenges Research Fund GastroPak project, which aims to determine the sources of non-viral gastroenteritis in Pakistan.
Having started his career as a PhD student in Theoretical Physics, where he studied ecosystem models at the University of Manchester, Professor Quince quickly sought to move away from purely theoretical work. Following time in Arizona and Toronto, he took up a fellowship to model microbial communities at the University of Glasgow.
Intrigued by the potential of next generation sequencing to profile microbiomes, Quince taught himself bioinformatics and went on to demonstrate that 'sequencing noise' was creating huge amounts of diversity in apparently simple microbial communities (Quince et al. Nature Methods 2009). He then developed some of the first tools for removing noise from amplicon sequences, enabling far more accurate estimates of diversity in microbial communities ranging from deep sea vents to the human gut.
Professor Neil Hall, Director of the Earlham Institute, said: "Chris Quince brings an exciting mix of expertise and research interests and we're delighted to welcome him to EI. We benefit from having a strong blend of research expertise and infrastructure, both at EI and on the wider Park. It's the perfect place for someone like Chris to accelerate their research and form some exciting collaborations."
Professor Ian Charles, Director of the Quadram Institute, said: "We're delighted to be welcoming Chris Quince to the Norwich Research Park. His expertise will complement many of the strengths and research collaborations we have at that Quadram Institute and across the park."
Professor Quince will take up his new role in October 2020.
Notes to editors.
For more information, please contact:
Peter Bickerton
Scientific Communications and Outreach Manager, Earlham Institute (EI)
About Earlham Institute
The Earlham Institute (EI) is a world-leading research Institute focusing on the development of genomics and computational biology. EI is based within the Norwich Research Park and is one of eight institutes that receive strategic funding from Biotechnology and Biological Science Research Council (BBSRC) - £5.43m in 2017/18 - as well as support from other research funders. EI operates a National Capability to promote the application of genomics and bioinformatics to advance bioscience research and innovation.
EI offers a state of the art DNA sequencing facility, unique by its operation of multiple complementary technologies for data generation. The Institute is a UK hub for innovative bioinformatics through research, analysis and interpretation of multiple, complex data sets. It hosts one of the largest computing hardware facilities dedicated to life science research in Europe. It is also actively involved in developing novel platforms to provide access to computational tools and processing capacity for multiple academic and industrial users and promoting applications of computational Bioscience. Additionally, the Institute offers a training programme through courses and workshops, and an outreach programme targeting key stakeholders, and wider public audiences through dialogue and science communication activities.

About the Quadram Institute
Quadram Institute's mission is to deliver healthier lives through innovation in gut health, microbiology and food and its vision is to understand how food and microbes interact to promote health and prevent disease.
The Quadram Institute is an interdisciplinary research centre at the forefront of a new era of food and health research. It brings together researchers and clinicians under one roof and houses one of Europe's largest endoscopy units and a clinical research facility.
Based on the Norwich Research Park, the Quadram Institute is a partnership between Quadram Institute Bioscience, the Norfolk and Norwich University Hospitals NHS Foundation Trust, the University of East Anglia and the Biotechnology and Biological Sciences Research Council (BBSRC).