New Group Leader, Prof Conrad Nieduszynski, joins Earlham Institute
19 November 2020
Image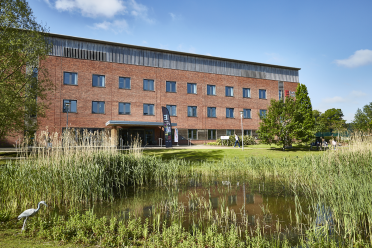 The Earlham Institute is delighted to announce the appointment of Professor Conrad Nieduszynski as its newest Group Leader.
Previously at the University of Oxford, Professor Nieduszynski's research seeks to understand the sources of genomic and phenotype variation that contribute to disease.
His previous work has included developing the first single molecule genomics technology to study DNA replication (Müller et al., Nature Methods, 2019). Many biological systems are heterogeneous, meaning crucial information can be lost in population-based methods. His new approach revealed the underlying heterogeneity and allows the detection of rare, but biologically important, events.
With research interests that span a number of areas, Professor Nieduszynski will be able to take advantage of EI's specialisms in synthetic biology and technology development.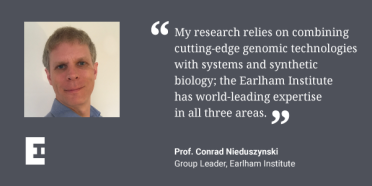 Professor Nieduszynski said: "I'm extremely excited to be joining the Earlham Institute. My research relies on combining cutting-edge genomic technologies with systems and synthetic biology; the Earlham Institute has world-leading expertise in all three areas. I look forward to working with colleagues within the Earlham Institute and across the Norwich Research Park to understand the sources of phenotypic variability."
Professor Nieduszynski's research at EI will focus on:
integrating population and single molecule genomics data by using mathematical models to identify the contribution of DNA replication errors to genome evolution.
developing novel single molecule and single cell genomic technologies for the study of genome biology and their application to a wide range or organisms.
developing synthetic biology resources for the stable replication and maintenance of synthetic DNA, chromosomes and genomes.
Having completed a BBSRC-funded PhD in biochemistry at the University of Cambridge, Nieduszynski undertook a post-doc at the Universities of Dundee and Aberdeen with Professors Anne Donaldson and Julian Blow.
The post-doc initiated Nieduszynski's research into the DNA replication field, where his work included comparative genomics analysis of budding yeast DNA replication origins (Nieduszynski et al., Genes & Dev, 2006). From 2007, he was a Leverhulme Early Career Fellow.
In 2008, Nieduszynski started his own research group with a BBSRC David Phillips Fellowship at the University of Nottingham. He pioneered systems biology and quantitative high-throughput sequencing approaches to study DNA replication and genome evolution across the domains of life. He moved to the University of Oxford in 2016 where his group established the study of DNA replication using single molecule genomics technology.
On making the appointment, Professor Neil Hall, Director of the Earlham Institute, said: "We're delighted to welcome Conrad to the Earlham Institute, where he'll be able to work with the platforms, technology and people that will help to accelerate his work. DNA replication is a fundamental area of study for the institute, which feeds into so many other fields of research. I'm excited to see how his work develops, as well as the new projects and partnerships it will help to create in the future."
Professor Conrad Nieduszynski takes up his post in November 2020.
Notes to editors.
For more information, please contact:
Greg Jones
Head of Communications, Earlham Institute (EI)
About Earlham Institute
The Earlham Institute (EI) is a world-leading research Institute focusing on the development of genomics and computational biology. EI is based within the Norwich Research Park and is one of eight institutes that receive strategic funding from Biotechnology and Biological Science Research Council (BBSRC) - £5.43m in 2017/18 - as well as support from other research funders. EI operates a National Capability to promote the application of genomics and bioinformatics to advance bioscience research and innovation.
EI offers a state of the art DNA sequencing facility, unique by its operation of multiple complementary technologies for data generation. The Institute is a UK hub for innovative bioinformatics through research, analysis and interpretation of multiple, complex data sets. It hosts one of the largest computing hardware facilities dedicated to life science research in Europe. It is also actively involved in developing novel platforms to provide access to computational tools and processing capacity for multiple academic and industrial users and promoting applications of computational Bioscience. Additionally, the Institute offers a training programme through courses and workshops, and an outreach programme targeting key stakeholders, and wider public audiences through dialogue and science communication activities.