Newton funding to bolster China's long-term growth and global economy with agri-tech innovation
03 April 2018
Image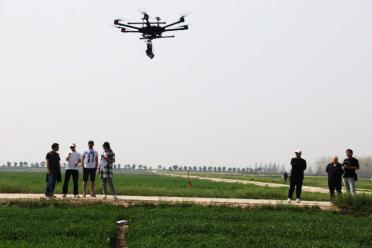 Earlham Institute (EI, UK) and the Nanjing Agricultural University (NAU, China) work together on a Newton Network + project aimed at resolving the urgent issue of agri-food security in China by developing precision agriculture solutions.
With the largest population in the world, China feeds nearly 1.4 billion people - covering 22% of the globe's inhabitants. In order to keep up with its intense food demand, China has cultivated vast areas of crops - accounting for 7% of the world's arable land.
A remarkable achievement but one that comes at a cost. Excessive use of fertilisers and chemical applications has resulted in a catalogue of environmental and agronomic issues such as soil compaction, acidification, pesticide residue toxicity, pest resistance, environmental pollution, and ecological imbalance. If not confronted promptly, China's agricultural sector and its environment are at imminent risk - damaging its long-term economic growth and potentially the global economy.
Dr Ji Zhou of Earlham Institute, partnered with Prof Tao Cheng from Nanjing Agricultural University, is leading a Newton Network + project to bolster China's long-term growth with agri-tech innovation; developing automated crop analysis based on large aerial images captured by UAVs (unmanned aerial vehicles) and fixed-wing light aircraft to identify key growth stages in wheat.
The Newton Network develops and supports new UK-China agritech partnerships to address the challenges facing modern agriculture. The Network is a part of the UK Science and Technology Facilities Council's portfolio of innovation programmes, coordinated by the Science and Technologies Facilities Council.
The project aims to enable the Agri-Food sector to optimise the timing for fertiliser and chemical application in line with crop seasons based on agricultural aerial imagery data as well as ground-based remote sensors in the field - reducing costs and stabilising yields. The agri-solution will be built upon the existing analytic platform 'AirSurf' and expertise in machine-learning based image analysis, led by the Zhou Group at EI, together with key intellectual contributions from NAU.
EI project lead, Dr Ji Zhou, said: "Our innovative analytic technology will help resolve real-world problems in food security and precision agriculture; initially benefiting local agricultural authorities in the Jiangsu province through local agronomic demonstration centres and cultivation experts, and native farmers. Through the 'Field Day of Precision Crop Cultivation', we will demonstrate our research to agricultural practitioners (e.g. growers, farmers and breeders), who require advanced technologies to monitor crop fields and gain a better understanding of fertiliser and chemical applications.
"This project will also benefit and help modernise Agri-Crop and Agri-Tech sectors in both China and the UK. In particular, for Agri-Food Research & Development in China, our work can support the establishment of a smart, sustainable and adaptable agricultural system - empowering the country's productivity and sustainability in crop improvement and agricultural practices," said Dr Zhou.
Long-term, the project will apply AirSurf to industrial applications to further support the Agri-Food sector; sharing invaluable expertise, knowledge and software analytic platforms in key areas of crop research including phenotyping, breeding, cultivation, agricultural practices, and Agri-Tech innovation for bread wheat.
NAU project lead Prof Tao Cheng, added: "Through this Newton Network+ project in collaboration with Dr Zhou at the Earlham Institute, the two research groups will continuously develop our strengths in precision agriculture and information technologies. We aim to introduce the latest development in computing sciences to crop growth monitoring research, based on which we will create novel approaches to reliably measure key growth stages and predict yield production for wheat. Our ultimate target is to promote Agri-Tech innovations and modernise agriculture in both China and the UK".
Notes to editors.
For more information, please contact:
Hayley London
Marketing & Communications Officer, Earlham Institute (EI)
About Earlham Institute
The Earlham Institute (EI) is a world-leading research Institute focusing on the development of genomics and computational biology. EI is based within the Norwich Research Park and is one of eight institutes that receive strategic funding from Biotechnology and Biological Science Research Council (BBSRC) - £5.43m in 2017/18 - as well as support from other research funders. - as well as support from other research funders. EI operates a National Capability to promote the application of genomics and bioinformatics to advance bioscience research and innovation.
EI offers a state of the art DNA sequencing facility, unique by its operation of multiple complementary technologies for data generation. The Institute is a UK hub for innovative bioinformatics through research, analysis and interpretation of multiple, complex data sets. It hosts one of the largest computing hardware facilities dedicated to life science research in Europe. It is also actively involved in developing novel platforms to provide access to computational tools and processing capacity for multiple academic and industrial users and promoting applications of computational Bioscience. Additionally, the Institute offers a training programme through courses and workshops, and an outreach programme targeting key stakeholders, and wider public audiences through dialogue and science communication activities.

About the Newton Fund
The Newton Fund builds research and innovation partnerships with 18 partner countries to support their economic development and social welfare, and to develop their research and innovation capacity for long-term sustainable growth. It has a total UK Government investment of £735 million up until 2021, with matched resources from the partner countries.
The Newton Fund is managed by the UK Department for Business, Energy and Industrial Strategy (BEIS), and delivered through 15 UK delivery partners, which include the Research Councils, the UK Academies, the British Council, Innovate UK and the Met Office.
For further information visit the Newton Fund website (www.newtonfund.ac.uk) and follow via Twitter: @NewtonFund
About BBSRC
The Biotechnology and Biological Sciences Research Council (BBSRC) is part of UK Research and Innovation, a non-departmental public body funded by a grant-in-aid from the UK government.
BBSRC invests in world-class bioscience research and training on behalf of the UK public. Our aim is to further scientific knowledge, to promote economic growth, wealth and job creation and to improve quality of life in the UK and beyond.
Funded by government, BBSRC invested £469 million in world-class bioscience in 2016-17. We support research and training in universities and strategically funded institutes. BBSRC research and the people we fund are helping society to meet major challenges, including food security, green energy and healthier, longer lives. Our investments underpin important UK economic sectors, such as farming, food, industrial biotechnology and pharmaceuticals.