£600k Machine Learning collaboration to supercharge data-driven science
20 September 2020
Image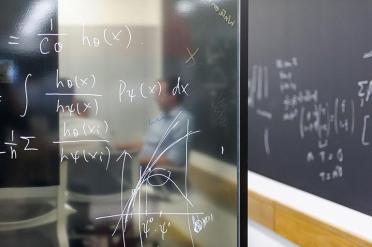 A collaboration between the Norwich Bioscience Institutes and The Alan Turing Institute will enhance the ways machine learning and artificial intelligence are applied to life science research.
With biological research becoming increasingly data rich, the collaboration will help identify new ways to exploit this wealth of information and accelerate advances in understanding.
The Norwich Bioscience Institutes - including the Earlham Institute, the John Innes Centre, Quadram Institute and The Sainsbury Laboratory - have teamed up with The Alan Turing Institute in a £600,000 project to kickstart collaborations that will employ machine learning and artificial intelligence. Half of the funding comes from The Alan Turing Institute's 'AI for Science and Government' Strategic Priorities Fund award, with the other half coming from a strategic award from the Biotechnology and Biological Sciences Research Council (UKRI-BBSRC).
The funding will support up to six year-long research posts who will work together in a cross-institute cohort to expand the application of machine learning and artificial intelligence to several key areas, which may include:
Identifying cell types using a deep neural network
Characterising the circadian rhythms of plants
Understanding how genetic changes affect plant structure, influencing crop yield
Finding the weapons used by plant pathogens to invade plants
As technologies for capturing information - from DNA sequences through to high resolution images - become ever cheaper and more widely available, so do the reams of data associated with that. Making sense of huge datasets can create bottlenecks in research projects and, importantly, discoveries.
Machine learning offers a promising route into not only exploring that data, but also helping us to find hidden patterns and new hypotheses that we had never previously considered.
The Alan Turing Institute believes that data science and artificial intelligence will change the world, and part of that vision includes their Data Science At Scale research programme. This aligns strongly with the mission of the Earlham Institute, who are contributing to solving global challenges by applying data driven methods, and host the UK National Capability in computational infrastructure.
"Data driven science has the potential to improve the lives of hundreds of millions worldwide," said Professor Neil Hall, Director of Earlham Institute and lead PI on the bid. "Over the last ten years our ability to generate vast datasets has increased rapidly, and this collaboration will allow us to better use that information for public good. To work alongside The AlanTuring Institute, with all their expertise in machine learning, is fantastic for the future of UK life science research."
Professor Jonathan Rowe, Programme Director of Data Science For Science at The Alan Turing Institute, said that "this is a significant new collaboration for the Turing which offers new opportunities for advancing data-driven science. To be able to combine our expertise in machine learning and artificial intelligence with the expertise of the Norwich Biosciences Institutes is an exciting prospect and will allow us to help solve real-world problems in bioscience"
Professor Anthony Hall, Head of Plant Genomics at the Earlham Institute, said: "We're really pleased to start this collaboration with a like-minded institute, pushing the boundaries of what's possible with data-driven science. It's exciting to think of the fundamental and applied work that will benefit from this."
Professor Richard Morris, Group Leader in Computational and Systems Biology at the John Innes Centre, said: "Computational approaches such as AI and ML also have tremendous scope for advancing hypothesis-driven research by removing the limitations imposed by more traditional methods. Learning patterns from data can automate, reduce bias, and massively speed up key steps in research and, importantly, suggest connections that may have escaped the human mind. ATI is a world leader in driving these key computational developments and we are delighted to have won this partnering award with them to develop collaborations and boost these extremely powerful and exciting techniques within the Norwich Bioscience Institutes."
The Institutes have already collaborated on machine learning projects with real world applications. Scientists at the Earlham Institute and John Innes Centre have recently worked together on SeedGerm, an automated tool that analyses images to help crop breeders monitor seed germination rates.
The Alan Turing Institute has collaborated with researchers from the John Innes Centre in using AI methods to understand gene expression patterns in brassicas, and to explore complex new biochemical synthesis pathways.
In another project, Earlham and Quadram Institute researchers have developed machine learning algorithms to understand complex interactions in the gut, some of which are being applied to the current COVID pandemic. Furthermore, an international aquaculture development project has seen EI scientists contribute machine learning to an app which can tell apart native and farmed tilapia species.
The 6 available positions are now open for applications at www.earlham.ac.uk/vacancy/computational-biologistdata-scientist
Notes to editors.
For more information, please contact:
Peter Bickerton
Scientific Communications and Outreach Manager, Earlham Institute (EI)
About Earlham Institute
The Earlham Institute (EI) is a world-leading research Institute focusing on the development of genomics and computational biology. EI is based within the Norwich Research Park and is one of eight institutes that receive strategic funding from Biotechnology and Biological Science Research Council (BBSRC) - £5.43m in 2017/18 - as well as support from other research funders. EI operates a National Capability to promote the application of genomics and bioinformatics to advance bioscience research and innovation.
EI offers a state of the art DNA sequencing facility, unique by its operation of multiple complementary technologies for data generation. The Institute is a UK hub for innovative bioinformatics through research, analysis and interpretation of multiple, complex data sets. It hosts one of the largest computing hardware facilities dedicated to life science research in Europe. It is also actively involved in developing novel platforms to provide access to computational tools and processing capacity for multiple academic and industrial users and promoting applications of computational Bioscience. Additionally, the Institute offers a training programme through courses and workshops, and an outreach programme targeting key stakeholders, and wider public audiences through dialogue and science communication activities.

About the John Innes Centre
The John Innes Centre is an independent, international centre of excellence in plant science and microbiology.
Our mission is to generate knowledge of plants and microbes through innovative research, to train scientists for the future, to apply our knowledge of nature's diversity to benefit agriculture, the environment, human health, and wellbeing, and engage with policy makers and the public.
To achieve these goals we establish pioneering long-term research objectives in plant and microbial science, with a focus on genetics. These objectives include promoting the translation of research through partnerships to develop improved crops and to make new products from microbes and plants for human health and other applications. We also create new approaches, technologies and resources that enable research advances and help industry to make new products. The knowledge, resources and trained researchers we generate help global societies address important challenges including providing sufficient and affordable food, making new products for human health and industrial applications, and developing sustainable bio-based manufacturing.
This provides a fertile environment for training the next generation of plant and microbial scientists, many of whom go on to careers in industry and academia, around the world. The John Innes Centre is strategically funded by the Biotechnology and Biological Sciences Research Council (BBSRC), and is supported by the John Innes Foundation through provision of research accommodation, capital funding and long-term support of the Rotation PhD programme.
About the Quadram Institute
Quadram Institute's mission is to deliver healthier lives through innovation in gut health, microbiology and food and its vision is to understand how food and microbes interact to promote health and prevent disease.
The Quadram Institute is an interdisciplinary research centre at the forefront of a new era of food and health research. It brings together researchers and clinicians under one roof and houses one of Europe's largest endoscopy units and a clinical research facility.
Based on the Norwich Research Park, the Quadram Institute is a partnership between Quadram Institute Bioscience, the Norfolk and Norwich University Hospitals NHS Foundation Trust, the University of East Anglia and the Biotechnology and Biological Sciences Research Council (BBSRC).
About The Sainsbury Laboratory
The Sainsbury Laboratory (www.tsl.ac.uk) is a world-leading independent research institute that specialises in plant-microbe interactions. It is funded primarily by The Gatsby Charitable Foundation, The University of East Anglia and UKRI-BBSRC. Its work is focused on leading global efforts to reduce crop losses to disease.
The Sainsbury Laboratory, together with the John Innes Centre, recently launched our joint Healthy Plants, Healthy People, Healthy Planet vision.
About The Alan Turing Institute
The Alan Turing Institute is the UK's national institute for data science and artificial intelligence.
The Institute is named in honour of Alan Turing, whose pioneering work in theoretical and applied mathematics, engineering and computing is considered to have laid the foundations for modern-day data science and artificial intelligence. The Institute's goals are to undertake world-class research in data science and artificial intelligence, apply its research to real-world problems, driving economic impact and societal good, lead the training of a new generation of scientists, and shape the public conversation around data and algorithms.
About BBSRC
The Biotechnology and Biological Sciences Research Council (BBSRC) is part of UK Research and Innovation, a non-departmental public body funded by a grant-in-aid from the UK government.
BBSRC invests in world-class bioscience research and training on behalf of the UK public. Our aim is to further scientific knowledge, to promote economic growth, wealth and job creation and to improve quality of life in the UK and beyond.
Funded by government, BBSRC invested £498 million in world-class bioscience in 2017-18. We support research and training in universities and strategically funded institutes. BBSRC research and the people we fund are helping society to meet major challenges, including food security, green energy and healthier, longer lives. Our investments underpin important UK economic sectors, such as farming, food, industrial biotechnology and pharmaceuticals.