Researchers to explore the genetics of carbon-capturing algae
22 October 2020
Image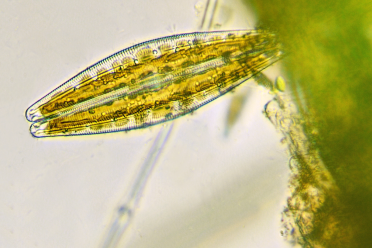 Scientists at the University of East Anglia (UEA) and Earlham Institute are to embark on the largest algal genome sequencing project to date.
Funded by the US Department of Energy Joint Genome Institute (JGI - https://jgi.doe.gov/), the '100 Diatom Genomes Project' will sequence 100 species to provide insights into their roles as key players for capturing carbon dioxide and as the foundation of diverse aquatic food webs.
Diatoms, a class of microalgae, are found in nearly all marine and freshwater habitats and are the most species-rich algal class, with at least 100,000 species. They are important to the world's eco-system and contribute to 20 per cent of global carbon fixation and oxygen production. However, with genomic information from only about 10 diatoms, our ability to harness their unique biology is very limited.
Algae in general represent a very diverse group of primary producers, contributing 50 per cent of global primary production through photosynthesis, but only a small fraction have been sequenced so far.
The project is one of 27 proposals to be supported through the annual Community Science Program call of the JGI, which makes large-scale genomics available to researchers studying relevant issues in energy and environment.
The insights from the initiative will be critical for advancing diatom-based biotechnology, including nanotechnology for sensor development and drug delivery, along with synthetic biology platforms for the production of nutraceuticals, such as antioxidants and dietary supplements, as well as biofuels and carbon capture.
Principle investigator Prof Thomas Mock, of UEA's School of Environmental Sciences, said: "Support from JGI for sequencing 100 diatom genomes will catapult diatom research to an entirely new level. Thus, this project will be a game changer for our understanding of the biology and diversity of one of the most significant groups of algae that have shaped life on Earth for millions of years."
Professor Neil Hall, Director of the Earlham Institute and Co-Investigator on the grant, said: "Diatoms play a crucial role in aquatic ecosystems but we know very little about their genomes.
"Diatoms are incredibly abundant and are responsible for about one fifth of the total global carbon dioxide fixation each year. This research could provide crucial information for understanding how we protect the earth against global heating and how we can utilise these fascinating organisms for other purposes, such as green energy from biofuels."
The 100 Diatom Genomes Project involves more than 20 collaborators. It is one of several accepted proposals that reflect JGI's interest in algal research for bioenergy production and algae's roles in nutrient cycling.
ENDS
Notes to editors.
For media enquiries, please contact:
Greg Jones, Head of Communications, Earlham Institute – greg.jones@earlham.ac.uk or +44 1603 450 895
About Earlham Institute
The Earlham Institute (EI) is a world-leading research Institute focusing on the development of genomics and computational biology. EI is based within the Norwich Research Park and is one of eight institutes that receive strategic funding from Biotechnology and Biological Science Research Council (BBSRC) - £5.43m in 2017/18 - as well as support from other research funders. EI operates a National Capability to promote the application of genomics and bioinformatics to advance bioscience research and innovation.
EI offers a state of the art DNA sequencing facility, unique by its operation of multiple complementary technologies for data generation. The Institute is a UK hub for innovative bioinformatics through research, analysis and interpretation of multiple, complex data sets. It hosts one of the largest computing hardware facilities dedicated to life science research in Europe. It is also actively involved in developing novel platforms to provide access to computational tools and processing capacity for multiple academic and industrial users and promoting applications of computational Bioscience. Additionally, the Institute offers a training programme through courses and workshops, and an outreach programme targeting key stakeholders, and wider public audiences through dialogue and science communication activities.