SeedGerm: seeding success with machine learning and computer vision
30 June 2020
Image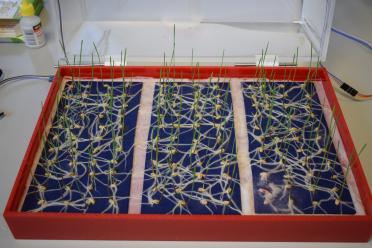 Seeds are essential for food and farming, and ensuring healthy and consistent germination is vital. SeedGerm provides a cost-efficient, semi-automated, high-throughput and robust method to score seed germination based on machine learning-driven image analysis, and can effectively replace lengthy and error-prone manual assessments.
Farmers need seeds that germinate effectively and uniformly within a given time frame in order to maximise efficiency. Seed companies must therefore carry out laborious and time-consuming tests to guarantee a certain germination rate is met. SeedGerm offers an easy-to-use, low-cost and scalable solution to this problem - and a handy application of machine learning. The product of a collaboration between the Earlham Institute (EI), the John Innes Centre (JIC), Syngenta and NIAB has today been published, open access, in New Phytologist, along with the open-source software and data.
Publication: https://nph.onlinelibrary.wiley.com/doi/abs/10.1111/nph.16736
A cabinet is equipped with cameras that take photographs throughout the germination process, documenting each stage from imbibition (seeds taking up water) through to the emergence of the root and further changes in the newly growing plant.
Supervised machine learning is used to automatically determine how germination is progressing through comparing images. For example, algorithms can be trained to predict how likely it is that a seed has germinated based on measurements extracted from an image that relate to the seed's size, shape, and colour.
Josh Colmer, a PhD student in the Anthony Hall Group at EI and first author on the paper, said: "To apply machine learning so effectively to test seed germination marks an exciting step forward, especially as the learnings from this project can inform a variety of image-based analyses with wide-ranging applications in crop research."
Seed germination experts from Syngenta confirmed the effectiveness of SeedGerm for measuring germination rate and seedling health across five major crop species, including tomato and rapeseed. There is potential to replace manual seed scoring, while also contributing to seed certification, seed insurance and sowing guidance.
The power of SeedGerm to measure phenotypic changes over time has further novel applications in crop improvement research. For example, many of the characteristics that can be measured have an effect on estimating performance in the field in terms of canopy closure, weed suppression and predicted yield.
Excitingly, the application of SeedGerm to a Genome Wide Association Study of rapeseed unearthed a chromosome region that explained the difference between low- and high-germinating seeds at JIC. Interestingly, a gene in that region is related to one involved in abscisic acid (ABA) signalling in Arabidopsis, which offers an interesting target for future studies and highlights the usefulness of SeedGerm in measuring the effect of genetic changes.
Dr Ji Zhou, formerly of EI and now Head of Data Science at NIAB, said: "We are excited to work jointly with EI and JIC to accomplish this seed germination research, which will provide next-generation solutions for both academic and industrial applications - strengthening the UK's core competence in data science, Agri-Tech innovations, and AI-based crop informatics."
Carmel O'Neill, Research Assistant in the Penfield Group at JIC, said: "Most seed germination is still recorded manually. Against this, SeedGerm presents fast, accurate, high throughput screening and will be of major interest to crop seed production companies and research programs screening large germplasm collections."
"The developments and learnings from SeedGerm are truly a big step forward in automation and generating high quality and reliable data in scoring seed germination," said Dr Rene Benjamins, Senior Scientist at Syngenta Seeds. "This will help seed companies like Syngenta in providing the best quality to their customers."
Josh Colmer is a BBSRC funded NRPDTP student.
Notes to editors.
For more information, please contact:
Peter Bickerton
Scientific Communications and Outreach Manager, Earlham Institute (EI)
About Earlham Institute
The Earlham Institute (EI) is a world-leading research Institute focusing on the development of genomics and computational biology. EI is based within the Norwich Research Park and is one of eight institutes that receive strategic funding from Biotechnology and Biological Science Research Council (BBSRC) - £5.43m in 2017/18 - as well as support from other research funders. EI operates a National Capability to promote the application of genomics and bioinformatics to advance bioscience research and innovation.
EI offers a state of the art DNA sequencing facility, unique by its operation of multiple complementary technologies for data generation. The Institute is a UK hub for innovative bioinformatics through research, analysis and interpretation of multiple, complex data sets. It hosts one of the largest computing hardware facilities dedicated to life science research in Europe. It is also actively involved in developing novel platforms to provide access to computational tools and processing capacity for multiple academic and industrial users and promoting applications of computational Bioscience. Additionally, the Institute offers a training programme through courses and workshops, and an outreach programme targeting key stakeholders, and wider public audiences through dialogue and science communication activities.

About the John Innes Centre
The John Innes Centre is an independent, international centre of excellence in plant science and microbiology.
Our mission is to generate knowledge of plants and microbes through innovative research, to train scientists for the future, to apply our knowledge of nature's diversity to benefit agriculture, the environment, human health, and wellbeing, and engage with policy makers and the public.
To achieve these goals we establish pioneering long-term research objectives in plant and microbial science, with a focus on genetics. These objectives include promoting the translation of research through partnerships to develop improved crops and to make new products from microbes and plants for human health and other applications. We also create new approaches, technologies and resources that enable research advances and help industry to make new products. The knowledge, resources and trained researchers we generate help global societies address important challenges including providing sufficient and affordable food, making new products for human health and industrial applications, and developing sustainable bio-based manufacturing.
This provides a fertile environment for training the next generation of plant and microbial scientists, many of whom go on to careers in industry and academia, around the world. The John Innes Centre is strategically funded by the Biotechnology and Biological Sciences Research Council (BBSRC), and is supported by the John Innes Foundation through provision of research accommodation, capital funding and long-term support of the Rotation PhD programme. For more information about the John Innes Centre visit our website www.jic.ac.uk
About NIAB
NIAB is the UK's fastest growing crop science organisation, with rapidly expanding research capabilities in plant genetics, agronomy, farming systems and data science, the largest national field trials capability, and strong research links with industry, Government and academia. With headquarters in Cambridge, and regional offices across the country, employing more than 400 people across the UK, NIAB provides scientific research, technical services and practical advice to improve the yield, efficiency and resilience of crop production across the arable, forage and horticulture sectors.