Article
Public engagement
CSP
Inside EI: Public engagement with impact
Earlham Institute opened its doors for the public to explore our fascinating and diverse range of important scientific research projects.
We pride ourselves on our public engagement at Earlham Institute. This year, to add to our award-winning portfolio of activities, we invited schools and the general public to explore our research and cutting edge laboratories through an immersive open day, called Inside EI. Not only did we host a successful event, we obtained valuable feedback that showed the positive impact that well-thought out public engagement and science communication can deliver.
It's not often that the general public gets to understand what happens behind the scenes of a scientific research institute, let alone the opportunity to go inside with access all areas, exploring the facilities, laboratories and innovative technology first hand, whilst speaking directly to the many talented scientists who work there. It's also a valuable opportunity for us to get an insight into how the public views our research, and how we might better involve people in the future.
Public engagement is valuable as a tool to increase public awareness, but more valuable still when lessons are learned on either side of the conversation. One aspect is science communication - explaining complex ideas and why it's important we are doing what we do. Another aspect is having a dialogue - a one on one conversation about the context of that research.
For one day in 2019, we opened our doors to schools and the community, inviting people to get hands on and explore our exciting science projects spanning the tree of life, global biodiversity and tackling human, animal and plant health. Not only did we put on a great event, we obtained some fantastic feedback, which will inform not only how we engage the public through similar events, but how we include everyone in tackling the important scientific issues facing our society.
EI Director Neil Hall presenting the Darwin Tree of Life project to an engaged public audience at the 'Inside EI' Open Day event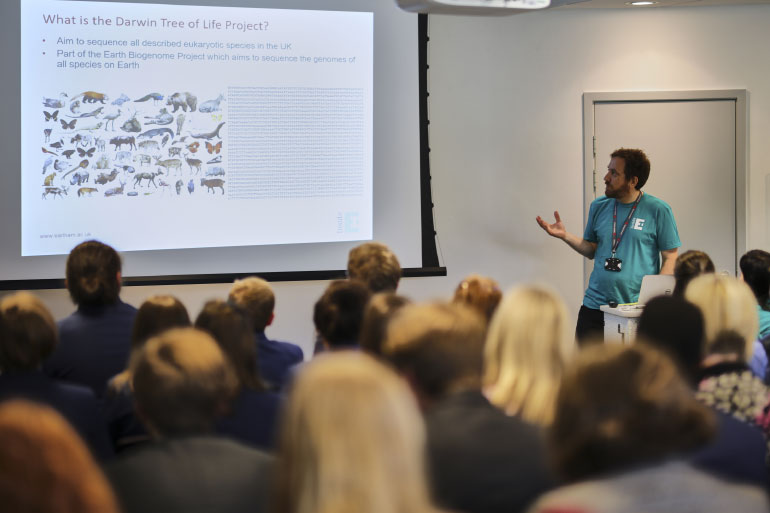 Well done on an outstandingly enjoyable day. My daughter Millie and I absolutely loved it! The briefs were delivered to perfection and we just wished we could have been two places at the same time, as there was so much going on! We look forward to coming back next [time]!
The Tree of Life gallery centred around the Earlham Institute central atrium, with a vinyl floor graphic of a tree, where the various branches represented each of the eukaryotic branches of the Tree of Life and the wall posters for many of the organisms we work on at EI were arranged around these branches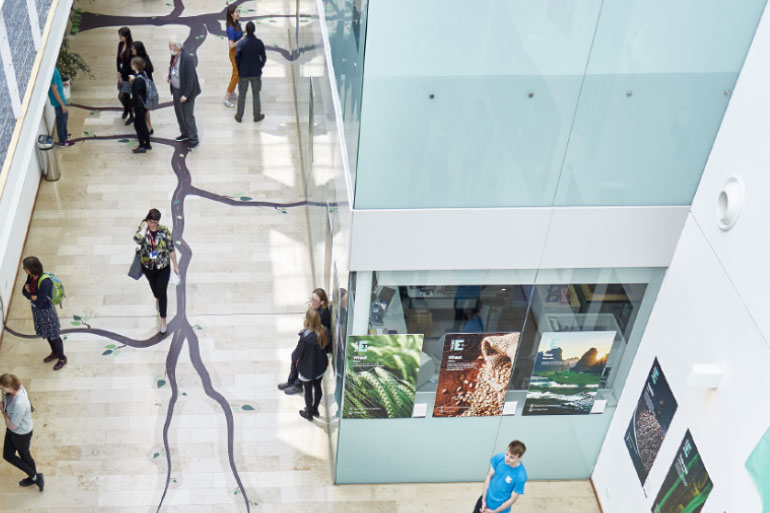 We called our Open Day "Inside EI", which invited visitors behind the scenes and to immerse themselves in our research themes, which we grouped into three zones.
The first zone was our 'Tree of Life', which explained how we understand the breadth and depth of a multitude of important species and introduced our role among the institutes who will deliver the global project that aims to sequence the DNA of all known life on earth.
Our 'GROW' rainforest zone, showcased our work in supporting Colombia through establishing the research capacity that can conserve the country's megadiversity while increasing socioeconomic development, all with the aim of maintaining lasting peace.

I loved the moment I walked in to the GROW room and absorbed the sights, sounds, smells and tastes of Colombia. The room was an inspiring and vibrant place to spend the day "showing off" GROW.
Finally, 'The Cloud' zone demonstrated our open-access bioinformatics tools and supercomputing facilities, through which we not only support the UK and international life science community but drive world leading science in how to decode complex, non-human genomes.
We also managed to put together a packed schedule of lab tours, data centre tours and various workshops that allowed attendees to explore a range of exciting research topics and see first hand the work that our scientists do in helping us to decode living systems.
One important point is that we wanted to make the event visually stunning as well as scientifically relevant, which is something we're proud to say we achieved.
Here's what one of the attendees told us:

I thought that the event was spectacular! It was beautifully organised, visually stunning and every tour and talk that I was part of was informative and comprehensible and it was clear the passion that everyone had for their work.
Science doesn't end in the lab
Why should we put on such a day? (Read our article on public engagement and science communication: a waste of time?)
As Professor Sir Mark Walport, whilst the Chief Scientific Advisor to the UK Government (currently Chief Executive of UKRI), once said in a meeting of climate change experts at The Royal Society, "Science isn't finished until it's communicated. The communication to wider audiences is part of the job of being a scientist, and so how you communicate is absolutely vital."
EI is one of only eight institutes that receive strategic funding from the Biotechnology and Biological Science Research Council (BBSRC), which is part of the UK Government's funding body, known as UK Research and Innovation (UKRI), that invests in UK science and research, of which Sir Mark Walport is the Chief Executive. UKRI provides a voice for the scientific community in government, boosting efficiency, fostering interdisciplinary research and supporting the UK economy.
Interestingly, one of the questions we put to the public before and after the open day was how important they felt it was that institutes such as EI were funded by the government. Before the event, around 60% thought this was essential, while after the event this number increased to 84% - the rest agreeing that it was very important, or at least important.
"How important is it that government bodies fund bioscience research at institutes such as EI?"
Around 60% of the public thought that government funded bioscience research was essential before the Inside EI event, which increased to over 84% after the event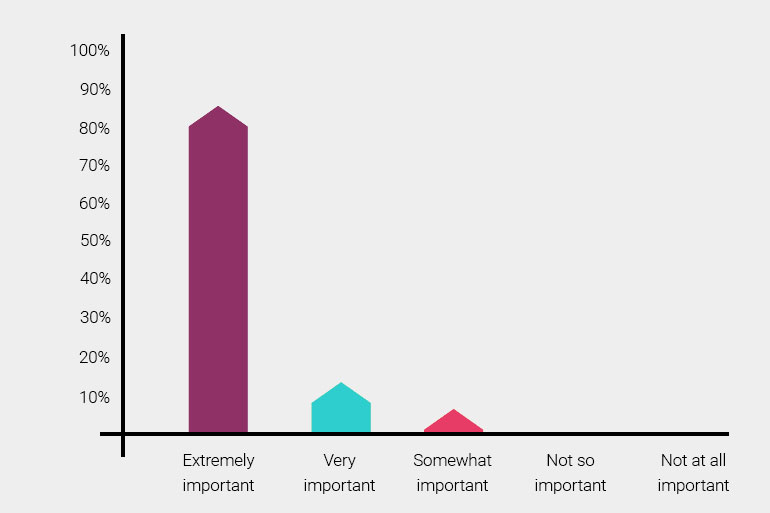 Public engagement is just one of many requirements for demonstrating what is referred to as 'impact', essentially communicating the commercial, social and scientific benefits that come out of our research. It is part of our ethos, culture and core values. We are committed to working with industry to stimulate the bio-economy, and to engage with policy makers, the public and stakeholders with the science we do, which affects everyone.
Moreover, it is part of our moral conscience to provide justification to those that are contributing to the scientific discoveries and advances made. British taxpayers, as the investors of this research, have a right to hear about what we do.
After the event, we asked our scientists how important they felt it was to do public engagement:
"How important is it for scientists to engage with the public?"
Around 20% of our scientists thought that public engagement was essential before the Inside EI event, which increased to over 34% after the event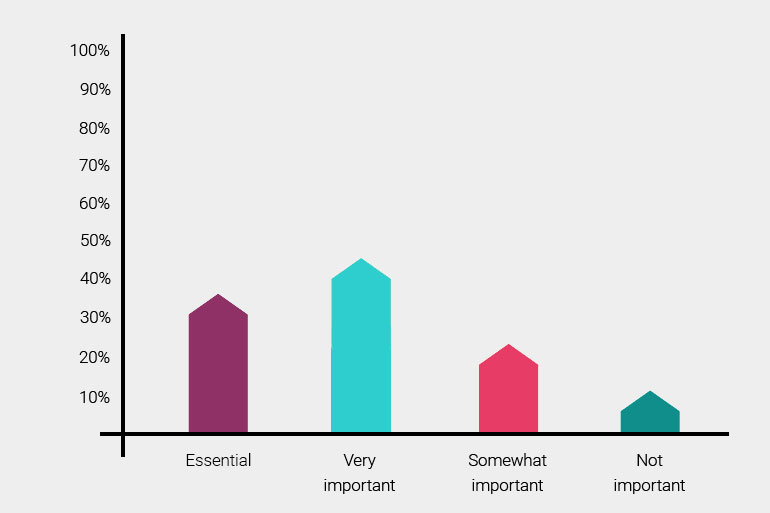 Science isn't finished until it's communicated. The communication to wider audiences is part of the job of being a scientist, and so how you communicate is absolutely vital.
- Professor Sir Mark Walport, former UK Government Chief Scientific Advisor (now: Chief Executive UKRI)
Event & feedback design: achieving desired outcomes
It is crucial, when organising a public engagement event, to be able to stimulate conversations and to encourage people to reflect on what they have learned either side of a two way conversation. We also considered it of paramount importance to increase the public understanding of the topics that we work on.
As such, we asked the public before and after the event how familiar they were with terms such as bioinformatics, genomics, machine learning and synthetic biology. Not only this, we asked them how important each of these topics might be for the environment, for human health, or in their everyday lives.
Before the event, it was clear that around 20% of the people who filled in our survey didn't know how any of the topics (genomics, bioinformatics, synthetic biology and machine learning) were important for any of the named options.
Afterwards, from 20% of people responding "don't know" before the event, no-one was left unsure of the role of genomics and bioinformatics for human health and the environment. In fact, there was a tremendous shift towards people answering "essential", or "very important", with regard to these themes.
"How important are genomics and bioinformatics for these following areas?"
From 20% of people responding "don't know" before the event, no-one was left unsure of the role of genomics and bioinformatics for human health and the environment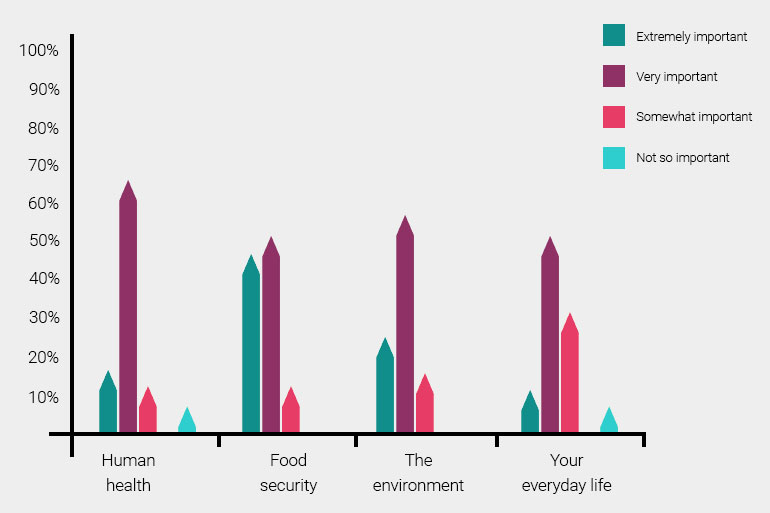 I have watched many many presentations over the years but yours were absolutely outstanding. Timed beautifully and with good take away points.
A 16 page brochure was created for the event programme and as a handy informative guide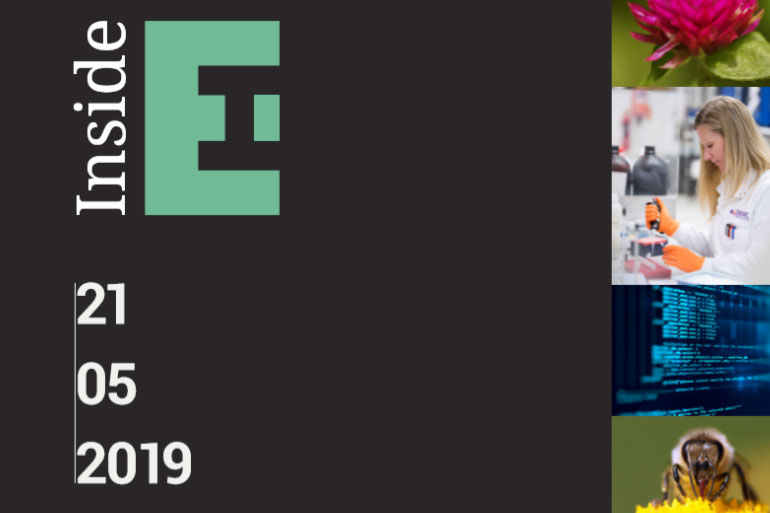 Gladly, prompted by our brochure, participants clearly came away with a greater familiarity of the terms that we asked them to explore, too. Again, there was a huge shift towards people feeling that they had at least somewhat of a grasp of the topics we presented to them, whereas before the event many were unsure, or unfamiliar with them.
"How familiar are you now with the following terms?"
There was a huge shift towards people feeling that they had some grasp of the topics, whereas before the event many were unsure, or unfamiliar with them.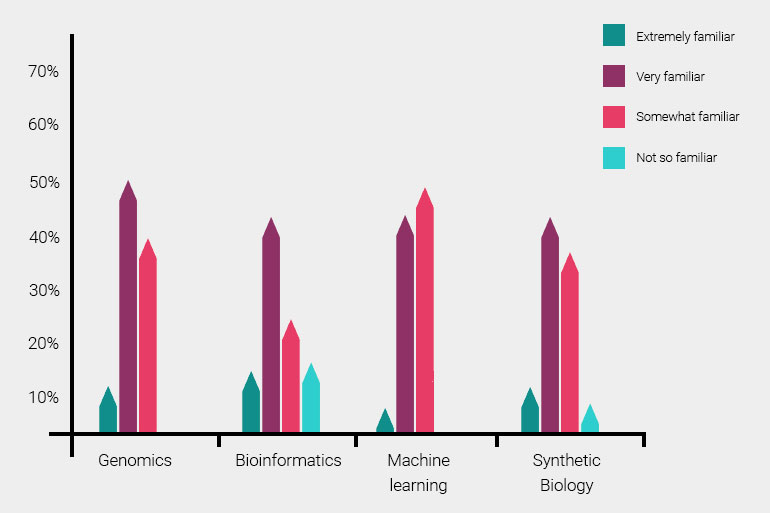 Watch the Inside EI video showcase
Guiding conversations and a two way dialogue
Before the Open Day event, we were interested to understand the public perception of bioscience research and aimed to help guide conversations with our scientists on the day. From our pre-event survey, it was clear that the public were interested in a range of issues, including:
The effects of Brexit on scientific research
Advances in genomics
What bioinformatics means
Environmental and ethical concerns
Career paths for students
Cost and investment in genome sequencing
To help us understand what conversations the public had been having on the day, we asked them twice - once on the way out, and once again when they got home - to tell us how they had explored the issues that concerned them with our staff.
Much of the feedback became more specific, with conversations referring to research projects that were showcased including the gut microbiome, ash dieback, pink pigeons, sequencing algae in Antarctica, crop sciences and machine learning. We got some great quotes from our visitors, including:

I was particularly impressed with the chats on genetics and traits of rodents and how they can help with understanding helping tackle environment changes in the future for humans, and the GROW [Colombia] project.

They advanced my understanding by simplifying everything into byte size chunks.
Our Synthetic Biology group were in the frame for a busy day of exciting talks, lab tours and activities. They still found time during the event to take 'cell-fies' though!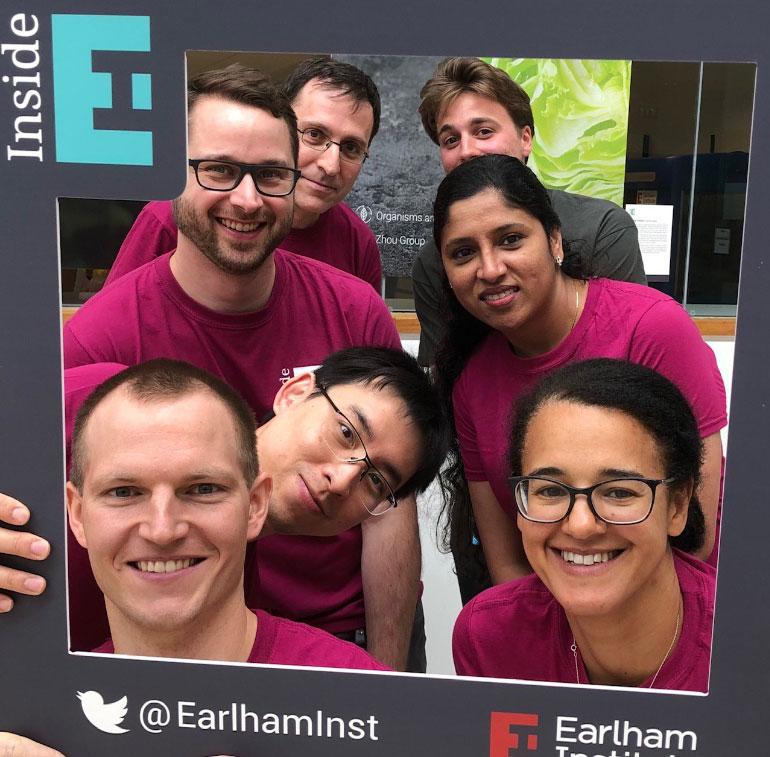 We asked our scientists similar questions, and received some invaluable reflections on how they began to foster conversations and think about topics in ways they might not have thought of before the event. We asked them what they learned, as well as how they have reflected on their experience:

The public has an interest in science and how we work here. I think events like this are essential to engage with public opinion and make sure that what we do has an impact on society.

I think it was difficult for people to understand why we sequence all these different random organisms - they get humans, but the significance of various bacteria, animals and plants how we go from knowing the DNA sequence of something to how it can help with conservation, for example, is difficult to fully make that connection.

Public perception around topics such as GM has been transformed over the last 10 years. It's great to know that people have a much better understanding of what it is and why we may use it.

After speaking to several people, I learned to talk TO them about our research, rather than talking AT them. By changing my approach, I was able to have interesting conversations that were engaging for both parties.
153
of these were students and teachers
46
evening reception guests
113
EI staff engaged in talks, posters and activities
16
pieces of media coverage
263
shares across social media
420
social media engagements
We didn't stop at hearing about what our visitors and scientists learned, we also asked how we might improve such events in the future. One such lesson for us to take away was that guiding a dialogue can be tricky, and often it is about asking the right questions. When asking participants to reflect on their conversations with scientists, to get more specific feedback we would have been better prompting them to refer back to the questions they had before they arrived, for example.
It's also difficult to ensure that a dialogue comes full circle when it comes to science at the cutting edge of technological advancement, especially when it comes to involving the public in shaping research questions.
Having said that, we are trialling a public dialogue event at Castle Mall in the centre of Norwich as part of the Norwich Science Festival 2019 along with our partners on the Norwich Research Park. The event will be called 'Food and health: what matters to you?', and is designed as a guided workshop through which members of the public can discuss with us what they think is most important, aimed at bridging those expectations with the realities of research, and coming up with new ways that we might bring them more closely together.
Inside EI was a big undertaking, especially in how we designed and set up our building to deliver the biggest visual and scientific impact possible, but we have shown it was worth it - and we can't wait for the next one in a couple of years' time.

The best bit of the day was when a member of the public would have that "I get it now" moment, I think that is one of the most rewarding experiences of knowledge sharing.