Payam Pourtaheri and Agrospheres: environmentally friendly, safe biotech solutions
Agrospheres is a company developing environmentally friendly nanotechnologies to innovate in-field and industrial applications.
AgroSpheres is a company working towards a new standard for the delivery of high value biomolecules and chemicals, developing nanotechnologies to innovate in-field and industrial biochemical applications.
AgroSpheres have an environmentally friendly solution for biotech, one which won them not one - but two - prizes at the Thought for Food Global Summit 2017 in Amsterdam. Their commitment to a food secure future was highlighted when they split their second place prize money between two other finalist teams, Sparky and Climate Edge.
We asked Payam Pourtaheri, co-founder and Chief Operating Officer at AgroSpheres, all about their safe, biological solution that is innovating agriculture and industrial processes using next-gen bioengineering and industrial fermentation.
Payam Pourtaheri, COO and Co-founder of Agrospheres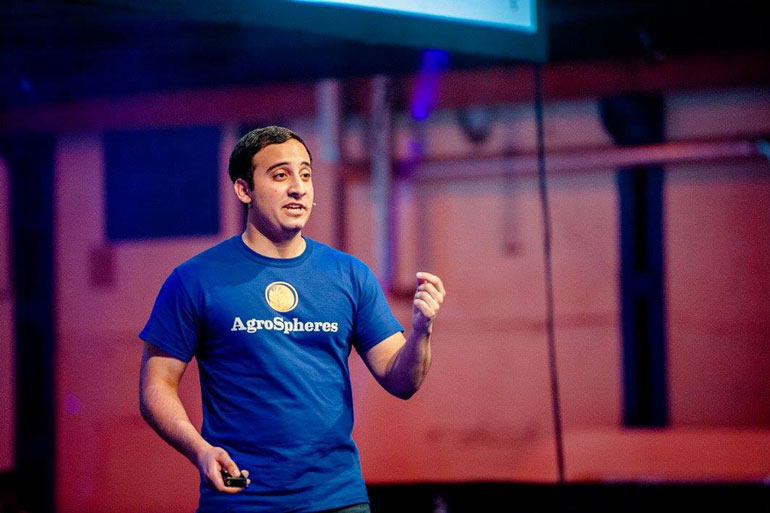 Hi Payam! What made you start Agrospheres?
Hi Peter! Thank you for taking the time to interview me. We appreciated the AgroSpheres shoutout in your phenomenal Slam Poem!




Honestly, AgroSpheres began as a student research project by Ameer and myself to bolster our resumes for our medical school applications. We had come across a really cool synthetic biology technology that we wanted to research. It is one of those situations where the solution was identified prior to the problem.
After reading some World Health Organization reports on the detriments of pesticide usage, especially in developing countries, we decided to focus our efforts in optimizing the way we use synthetic chemicals.
After speaking with local farmers and obtaining funds from competitions, we decided to put off our dreams of going to medical school and start AgroSpheres!

I think consumer demand will push us in the direction of a more biological approach, but biologicals will never substitute for chemicals because the efficacy isn't the same, so we'll need to have the right combinations. But as somebody that claims to want to be a market leader in crop protection, we need to have the broadest portfolio possible and it will need to not only include chemicals but also biological approaches.

Bayer CropScience CEO, Liam Condon.
How is your technology making this more environmentally friendly?
Our technology brings a precise delivery approach to synthetic and biological actives via a two-pronged approach. Our goal is to provide farmers with tools to maximize their output while minimizing their environmental footprint.
We can externally load our bioparticle technology with active ingredients that are used in the agricultural industry or we can bioengineer our bioparticles to internally produce and encapsulate biologically active ingredients.
Our platform technology has high functionality because it allows for the targeting of plants while controlling the release of the active bioparticle to the intended pest or pathogen. You can ensure the effective dose will reach its intended target. Therefore, you will be able to spray less and spray less often. This is then less likely to drift and contaminate the surrounding environment. Also, water will be saved due to the decrease in spraying frequency.
What is your most exciting product?
Our most exciting products are in the biological space. Our platform technology allows for the stabilization and delivery of high-value biological actives such as dsRNA and protoxins, which are pest specific.
They target crop-destroying pests, while leaving the environment and off-target pests, like bees, unharmed.
What's the future of AgroSpheres?
AgroSpheres plans to create some of the best synthetic biology solutions for crop protection and enhancement.
We plan to continue developing relationships with industry leaders to collaborate on next-generation technologies.
How can movements such as Thought for Food help companies such as yours?
Thought For Food gathers the brightest minds in the industry from all around the world! There are many opportunities to meet experts and develop relationships that lead to collaborations.
Agrospheres split one of their two prizes at TFF 2017 with two other finalist teams, showing their commitment to a food secure future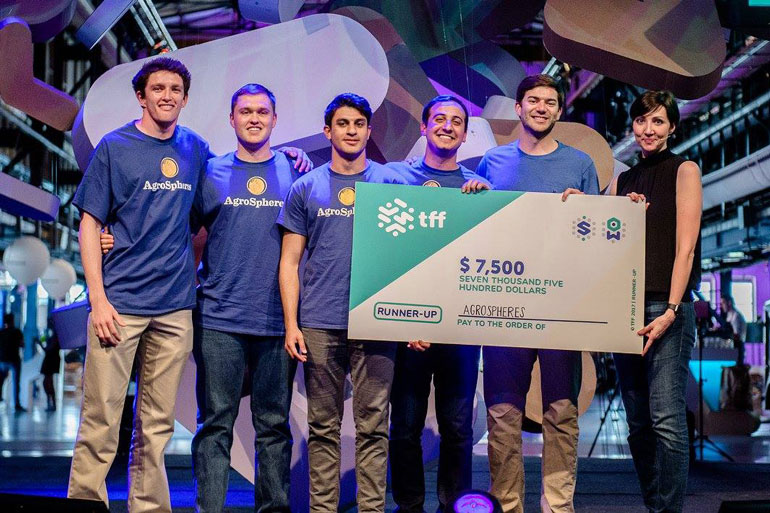 What advice do you have for someone thinking of starting up in biotech?
Your team is the most important asset. Do you have the right people to build the foundation of your company?
If not, do you know what areas you are lacking in and where to look to find these people?
Times will get tough, but if you are surrounded by passionate, hardworking people, there is no obstacle that cannot be overcome.
How do you see the future of agriculture?
I see agriculture progressing in a similar way to the pharmaceutical industry.
Agriculture is becoming a data-driven industry with various biotech-oriented solutions that will optimize agriculture output, while being sustainable and environmentally-friendly.
How long will it be until synbio solutions become commonplace?
I think we are seeing many signs that synbio solutions are going to become commonplace very soon. There is a lot of consumer demand that is encouraging some of the biggest players in Ag to develop biological solutions for agriculture.
However, like all new technologies, they must be designed so as to mitigate the risks associated with those technologies.
That is why companies like AgroSpheres, who design their synbio technologies in order to avoid the traditional risks associated with genetic engineering, are well positioned to be leaders in this valuable and exciting new space.