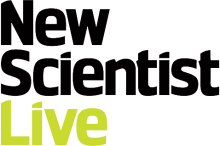 Discover Earlham Institute at New Scientist Live 2016
Our wide-ranging research into animal, plant and microbial genomics helps us improve breeding, withstand disease and enhance yields for future generations.
About the event.
New Scientist Live is a festival of ideas and discovery, taking place at ExCeL London. Rooted in the biggest, best and most provocative science, New Scientist Live will touch on all areas of human life. The show will feature four immersive zones covering Brain & Body, Technology, Earth and Cosmos. For four days this September, New Scientist Live will be like no other place on earth.

Earlham Institute will be present in the technology section, showcasing what goes on behind the scenes in delivering the latest advances in bioscience - from massive supercomputing power to next-generation genome sequencing hardware.
Tweet us your favourite tech!
We are running a competition to find your favourite Earlham Institute technology at this years New Scientist Live! Simply tweet us @EarlhamInst with your fav piece of kit and you'll be entered in to win a £25 iTunes voucher. Terms and conditions below.
The promoter is Earlham Institute whose registered office is at Earlham Institute, Norwich Research Park, Norwich, UK, NR4 7UG.
The competition is open to residents of the United Kingdom aged 16 years or over except employees of Earlham Institute and their close relatives and anyone otherwise connected with the organisation or judging of the competition.
There is no entry fee and no purchase necessary to enter this competition.
By entering this competition, an entrant is indicating his/her agreement to be bound by these terms and conditions.
Route to entry for the competition and details of how to enter are via our Twitter account @EarlhamInst.
Only one entry will be accepted per person. Multiple entries from the same person will be disqualified.
Closing date for entry will be 25 September 2016. After this date no further entries to the competition will be recognised.
No responsibility can be accepted for entries not received for whatever reason.
The rules of the competition and how to enter are as follows:
The promoter reserves the right to cancel or amend the competition and these terms and conditions without notice in the event of a catastrophe, war, civil or military disturbance, act of God or any actual or anticipated breach of any applicable law or regulation or any other event outside of the promoter's control. Any changes to the competition will be notified to entrants as soon as possible by the promoter.
The promoter is not responsible for inaccurate prize details supplied to any entrant by any third party connected with this competition.
The prize is as stated and no cash or other alternatives will be offered.The prizes are not transferable. Prizes are subject to availability and we reserve the right to substitute any prize with another of equivalent value without giving notice.
Winners will be chosen by the EI Communications Team.
The winner will be notified by email and/or DM on Twitter/Facebook and/or letter within 28 days of the closing date. If the winner cannot be contacted or do not claim the prize within 14 days of notification, we reserve the right to withdraw the prize from the winner and pick a replacement winner.
The promoter will notify the winner when and where the prize can be collected / is delivered.
The promoter's decision in respect of all matters to do with the competition will be final and no correspondence will be entered into.
By entering this competition, an entrant is indicating his/her agreement to be bound by these terms and conditions.
The competition and these terms and conditions will be governed by English law and any disputes will be subject to the exclusive jurisdiction of the courts of England.
The winner agrees to the use of his/her name and image in any publicity material, as well as their entry. Any personal data relating to the winner or any other entrants will be used solely in accordance with current UK data protection legislation and will not be disclosed to a third party without the entrant's prior consent.
The winner's name will be available 28 days after closing date by emailing the following address: digital@earlham.ac.uk.
Entry into the competition will be deemed as acceptance of these terms and conditions.
This promotion is in no way sponsored, endorsed or administered by, or associated with, Facebook, Twitter or any other Social Network. You are providing your information to Earlham Institute and not to any other party. The information provided will be used in conjunction with the following Privacy Policy found at http://www.earlham.ac.uk/cookies-and-privacy.
No tweets available for @EarlhamInst
Showcasing our technology to the public.
We can't do our science without the latest technology. Science is just too big and complex of a job - from the huge amounts of data produced, which all needs analysing, storing and processing, to collaborating with other researchers all around the world. We often need to work with lots of different types of data too, held in all kinds of databases and repositories..
Other problems we face include generating the data in the first place, especially concerning large and complicated genomes, such as wheat (which is much larger and more complicated than even the human genome). We use next-generation sequencing technologies to explore these genomes and specially configured supercomputing systems to analyse it.
Here you can find out about the way we work with technology and how we apply it to answering all sorts of important questions in biology.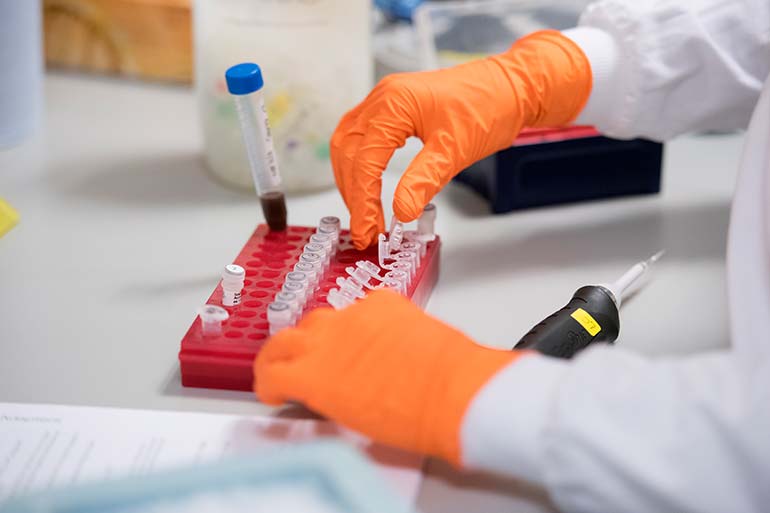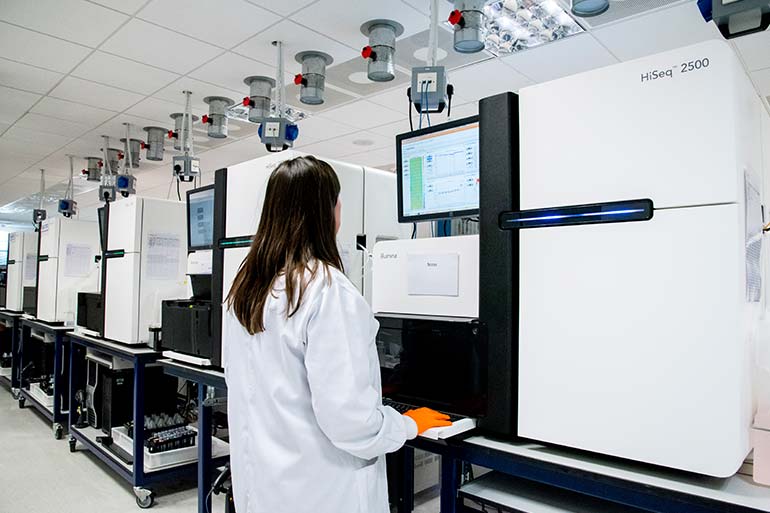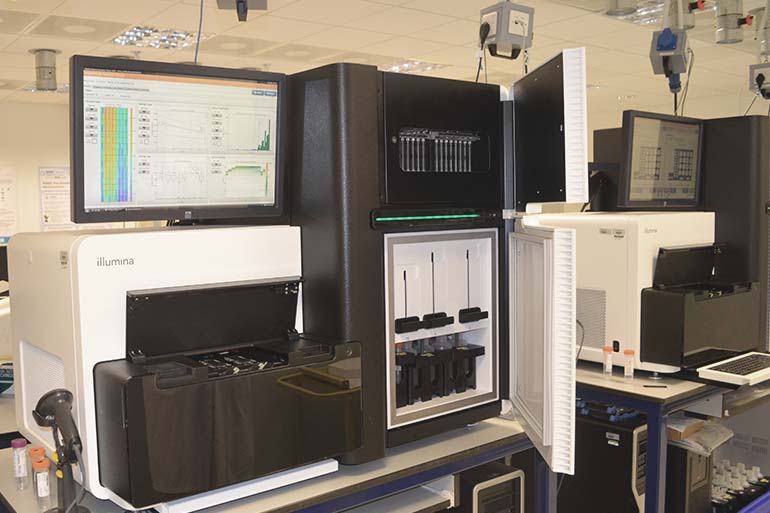 Illumina HiSeq.
One of the latest pieces of kit in the next generation sequencing armoury, the Illumina HiSeq works by reading short fragments of DNA (150-250 base pairs), by adding single base pairs at a time and imaging the flashes of light that these produce.
Library preparation
To prepare a "library," DNA is first randomly fragmented into small fragments, which then have special adapters added to the end.
The DNA library is inserted into a "flow cell," which is dotted with small stretches of DNA that attach to the adapters at the end of our small fragments.
Cluster generation
Through a technique known as "bridge amplification," these fragments are amplified in clusters. Essentially, each distinct fragment is copied many times, with the copies clustering in the same location due to them being attached via the adapters. Thus - there are many thousands of copies of each fragment to be sequenced.
Sequencing
The Illumina HiSeq can then sequence the DNA by imaging single base pairs of DNA as and when they are added to the sample.
An added base pair (A, T, G or C) is detected by taking images - each letter giving off a different flash of light.
These base pairs come attached with a special terminator, which ensures that only one base pair is added to each fragment at any one time. This means that every single fragment of DNA can be imaged at the same time, providing letter-by-letter sequencing.
Once a round of imaging has been completed, a solution is added that removes the terminator from the imaged base pairs, so that the detection cycle can proceed.
It takes around one hour to image a single flow cell, which is why it takes up to ten days to run an entire genome on one of these machines after hundreds of rounds of imaging (substantially quicker than the 13 years it took to sequence the first human genome).
The accuracy of these machines is quite high, with Illumina HiSeq de-novo sequencing producing an error rate of only around 0.01%.
PacBio RS II & Sequel.
These next generation sequencing machines form another important part of the Platforms & Pipelines process, allowing us to sequence long stretches of a single molecule of DNA, which can inform and improve genome assemblies and help us identify novel genes that on first appearances seem very similar.
Unlike the Illumina HiSeq and MiSeq machines, the PacBio can read many thousands of DNA base pairs (A, T, G and C) during each run. This can be very useful indeed.
With stretches of DNA of only 150-250 base pairs, it can be difficult, or impossible, to differentiate between some very similar genes - for example those involved in plant defence.
Many plant defence proteins have arisen through duplications in gene sequences, therefore might have only a few differences between them.
The PacBio, with longer reads, can help separate these and inform us of the true diversity within plant defenses, which can help us to identify novel genes that could help us to breed more hardy crops.
Listen to Dave and Naomi explain how these essential technologies are being used at Earlham Institute.
BioNano Irys.
Not all of our lab equipment is for DNA sequencing. Sometimes, we need tools that help us to better stitch a genome together in the correct order - which is where the Irys comes in.
This useful piece of kit allows us to snip pieces of DNA in specific places on only one of the two strands, which are then labelled with a marker.
Fragments of DNA can then be assembled together in the correct order depending on where the snipped and labelled sites match up, which helps our bioinformaticians to improve their genome assemblies.
Listen to Dave Baker explain how this works.