Barcoding the Norfolk Broads: discovering local biodiversity as part of project to sequence all Eukaryotic species in the UK
28 October 2021
Image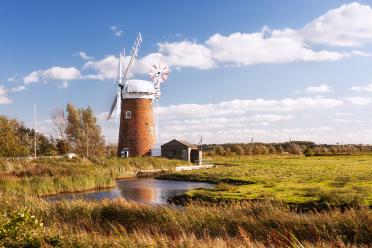 The Earlham Institute (EI) in Norwich has launched a public engagement programme to discover the biodiversity on our doorstep, starting with an area of special ecological interest for nature conservation: the Norfolk Broads.
As part of the pioneering UK-led Darwin Tree of Life project (DToL), the Wellcome and UKRI-BBSRC funded 'Barcoding the Broads' programme provides training on how to collect samples and then sequence a DNA barcode of species found in the East of England. Showcasing the modern scientific disciplines of genomics and bioinformatics, the outreach project will help more people to conserve the brimming biodiversity of our unique waterways and connect with our environment.
Could the next new species be in your own backyard? The Earlham Institute is inviting teachers, students and naturalists to get in touch to learn how you can use DNA sequencing tools to help document the wondrous natural world in Norfolk and beyond.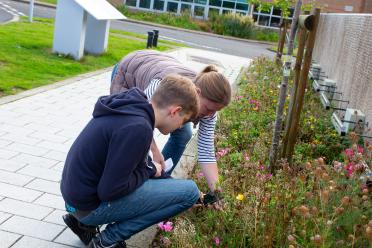 The Norfolk Broads is the UK's largest protected wetland and of international importance as one of Europe's finest habitats - including a wealth of hidden biodiversity - such as saltmarshes, intertidal mudflats, shallow lakes, fens, drained marshland, wet woodland, relict estuary and coastal dunes.
DNA barcoding is an effective and straightforward method for identifying species. It involves extracting DNA from the organism followed by sequencing of the samples. Working closely with the DNA Learning Centre at Cold Spring Harbour, New York, the Earlham Institute has developed an interactive workshop to train educational professionals and naturalists in the DNA barcoding process, showing how genomics aids conservation efforts and builds awareness of biodiversity loss.
"Exploring biodiversity in Norfolk means learning more about all the living things in the place I grew up - from the seals at Horsey and the rare butterflies on the Broads, to the plants and mushrooms in local parks and the tiny pond organisms we can only see with a microscope," said Public Engagement Officer at the Earlham Institute, Dr Sam Rowe. "I hope this programme will help others to connect with the region's awe-inspiring nature through our DNA barcoding activities."
The Barcoding the Broads 'train-the-trainer' approach allows participants to transfer the knowledge and skills gained in the workshops and activities through the national curriculum at secondary schools and sixth-form, as well as surveying work carried out by nature groups - specifically engaging young people (13-19 yrs old) as well as the general public in STEMM subjects.
The full-day workshop provides an introduction to the project as well as hands-on activities that cover the lab and computer techniques for DNA barcoding, starting with an exploration of plants on the Norwich Research Park - with the opportunity to discuss how DNA barcoding can be incorporated into your educational work or local research project, and how the Earlham Institute can support this.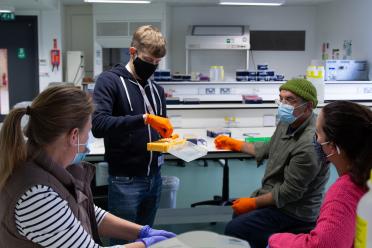 The programme will enable participants to get involved in online activities and public events that advocate citizen science - taking an active approach in exploring and supporting our natural environment through local initiatives.
"Ultimately, we're aiming to empower people to become citizen scientists and provide opportunities to learn about a huge range of exciting topics in biology and chemistry such as biodiversity, ecology, climate change, bioinformatics and genomics," said Dr Sam Rowe.
Barcoding the Broads is part of the national DToL project, which aims to sequence the genomes of all eukaryotic organisms in Britain and Ireland to support the understanding, conservation and benefit of our natural environment. The local programme, led by the Earlham Institute, aims for DNA barcoding training to be adopted by schools and nature groups across the country to identify existing and newly found species.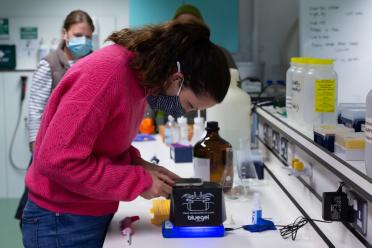 Dr Rowe explains: "We hope the DNA barcoding training will enhance local networks of amateur naturalists and inspire future scientists through our connections with educational institutes - with the scheme being rolled-out across the UK to broaden our impact and help create a sustainable, positive change in attitudes towards protecting and advocating our environment.
"By forming strong links between local educational partners, nature enthusiasts and the UK-wide DToL project, we will give Norfolk a real stake in this important area of research. Local citizen scientists, for example, may identify completely new or rare species through the DNA barcoding work. If the data is of high-enough quality, this could not only directly feed into the DToL sequencing project but also contribute to its umbrella Earth BioGenome Project, and other global sequencing efforts such as the European Reference Genome Atlas."
Please get in touch if you would like to find out more about the Earlham Institute's Barcoding the Broads initiative - offering training to communities such as sixth form teachers/technicians, local naturalist groups, science communicators or other education professionals.

Notes to editors.
Please see here for images of training sessions and logos. Participant example quotes, below.
Workshop Attendee 23 September
"Very informative. Enjoyed the hands on approach - actually 'having a go'. The day has got me thinking about how to apply barcoding to conservation projects with butterflies and rare species."
Workshop Attendee 5 October
"Fascinating, brought to life what previously I'd only seen on TV and would probably have thought to be beyond current skills or understanding."
For further information or if you would like to speak to Dr Sam Rowe, please contact:
Hayley London
Media and Communications Officer, Earlham Institute
hayley.london@earlham.ac.uk
About Barcoding the Broads
The Barcoding the Broads activities are designed to extend a well-established DNA Barcoding protocol to DToL science involving local schools and nature groups with the study of a major region of ecological interest on their doorstep and a view to empowering communities to suggest research questions.
Primary audiences being regional stakeholder communities and less advantaged school groups across the UK. Participants will gain a practical understanding of what DNA is, how the genome sequences from DToL project can be used to protect and conserve biodiversity, and be empowered with an understanding of how their choices can make a positive contribution to lessen the global environmental crisis.
In partnership with the Cold Spring Harbor DNA Learning Centre (CSHL-DNALC), the Earlham Institute will work with teachers and students of KS3/4/5 from Norfolk schools in areas of multiple deprivation to develop and deliver DNA barcoding-based science projects linked to the biodiversity on their doorstep. The technique of DNA barcoding is integral to the DToL project, and provides a tested, hands-on activity to stimulate interest in fundamental questions such as 'what are genomes, and why should we care about them?' – helping to bring into focus the central role of genomics within the DToL project.
This activity is not just about knowledge; it is a wholesome, method-driven, evidence-based approach to increasing scientific fluency and long-lasting impact. We will use a 'Train the Trainer' model, ensuring the activity is self-sustaining and scalable, providing impact for years to come.
In parallel with the above programme, a second activity will engage local amateur expert groups. This will allow individuals with a demonstrated interest in biodiversity to deepen their understanding of, and participation in the scientific outcomes of the DToL project. Harnessing these sources of local knowledge will potentially feed samples directly into the DToL pipeline, strengthening the feedback loop between the project and the community. To complete this loop, we will facilitate cross-generational interactions between participants in these first two activities.
Finally, a simplified barcoding activity will be delivered to visitors of the Norfolk Broads Visitor Centre (an area of ecological special concern). This activity will allow engagement with a large number of people who visit natural areas, but who otherwise may never have the opportunity to view local biodiversity through a scientific lens.
These proposed community-driven projects will give us insights far beyond the documenting and sequencing of wildlife, and will provide measurable outcomes. It is true citizen science. All activities will be trialled in the Norfolk region. However, they can be run in any part of the country, and, if successful, will be shared with all interested DToL partners.
During activities with all audiences, the PE officer will survey specific audience subsets both qualitatively and quantitatively before, during and after the engagement, focused around behaviours and attitudes related to genomics, biodiversity and their importance. We would thoroughly evaluate the effect the activity has had on the way participants think about and approach science, putting into context what they have learned about the importance of genomics and biodiversity.
This project will contribute to the overall outcome for the participatory work strand by enhancing local networks of amateur naturalists, developing future scientists who would otherwise be lost, and helping to create a sustainable, positive change in the community's attitude towards protecting, and advocating for the global environment.
About Earlham Institute
The Earlham Institute (EI) is a world-leading research Institute focusing on the development of genomics and computational biology. EI is based within the Norwich Research Park and is one of eight institutes that receive strategic funding from Biotechnology and Biological Science Research Council (BBSRC) - £5.43m in 2017/18 - as well as support from other research funders. EI operates a National Capability to promote the application of genomics and bioinformatics to advance bioscience research and innovation.
EI offers a state of the art DNA sequencing facility, unique by its operation of multiple complementary technologies for data generation. The Institute is a UK hub for innovative bioinformatics through research, analysis and interpretation of multiple, complex data sets. It hosts one of the largest computing hardware facilities dedicated to life science research in Europe. It is also actively involved in developing novel platforms to provide access to computational tools and processing capacity for multiple academic and industrial users and promoting applications of computational Bioscience. Additionally, the Institute offers a training programme through courses and workshops, and an outreach programme targeting key stakeholders, and wider public audiences through dialogue and science communication activities.
About Darwin Tree of Life
We live in a rapidly changing world in which the biodiversity of our living landscapes is more vital than ever to ensure the future health of our planet. The past decade has seen such scientific and technological advances in genomics that it is now possible to sequence all complex life on Earth within the next ten years. The Darwin Tree of Life project (DToL) is a key part of this ambition, assembling a library of genomes of every species in Britain and Ireland and offering potential to involve and inspire new communities into the world of genomics, through the lens of the environment and natural world.
Just as new research topics will thrive on genomic datasets as they take shape in the years ahead, the future opportunities for public engagement will also evolve. Through a pilot engagement effort comes the potential to nurture communities to actively connect with the science ahead – encompassing topics such as shifting biodiversity in the face of changing land use, pollution and climate change. Genomics applied to the planet's ecosystems will explore big environmental challenges and help enable positive action more quickly than before.
The DToL public engagement projects are as follows:
Barcoding the Broads (partner lead advocate – Earlham Institute)
BugBlitz – Wytham Woods (partner lead advocate – University of Oxford)
Searching the seas (partner lead advocate – Marine Biological Association)
The School Fly Trap (partner lead advocate – Wellcome Sanger Institute)
Urban gardens (partner lead advocate – Natural History Museum)
Citizen mycology (partner lead advocate – Kew Gardens)
PLANT - Place-based Learning About Nature Together (partner lead advocate – RBGE)
Full list of DToL UK partners, including lead partner Sanger Institute, Cambridge