Could our immune system be why COVID-19 is so deadly?
01 March 2021
Image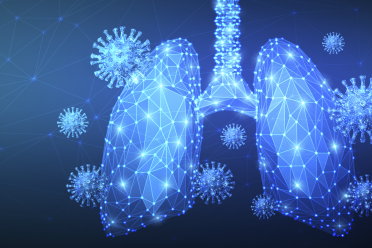 Respiratory viruses such as SARS-CoV-2 (causing COVID-19) can often catalyse an overactive immune response that leads to a life-threatening cycle, known as a cytokine storm. Analysing cytokine responses from patients infected with SARS-CoV-2 and similar common respiratory viruses has unearthed glaringly important differences in how SARS-CoV-2 affects cytokines compared to other common respiratory viruses.
The comprehensive data resource aims to help specialists identify better treatments and diagnosis of underlying causes that can cause the deadly cytokine storm.
Scientists at the Earlham Institute (EI) and the Quadram Institute study how the immune system responds to infection with SARS-CoV-2 and other similar respiratory viruses, in particular to identifying unique features in severely ill COVID-19 patients.
Members of the Korcsmaros Group working alongside the clinical virologist Claire Shannon-Lowe at the University of Birmingham, focused their attention on how SARS-CoV-2 and other respiratory viruses are causing the so-called 'cytokine storm' - a hyper-activation of our own immune system - one of the main reasons for the high death rate in subgroup of COVID-19 patients.
To identify the similarities and differences in the cytokine storm, the researchers collected and analysed the vast collection of thousands COVID-19 research papers. They looked for patterns of cytokine changes in patients who had been infected by respiratory viruses that cause cytokine release syndrome.
By systematically analysing over 5,000 scientific studies to find those containing immune response data from patients, the researchers showed that SARS-CoV-2 has a unique tendency of halting the rise of specific cytokines in certain patients, when compared to other similar viruses. This is important in understanding the causes of the potentially fatal cytokine release syndrome, more commonly known as a cytokine storm.
"As the onset of the cytokine storm is one of the key factors behind the mortality rates we're seeing in a particular group of COVID-19 patients, it is critical to understand why it is happening" said project lead PhD Student Marton Olbei in the Korcsmáros Group.
"Cytokine storms are not unique to SARS-CoV-2 infection; they can be found in most of the critical human coronaviruses and influenza. A subtype outbreaks of the past two decades."
Cytokines are small proteins that tightly regulate our immune system and how our body reacts to internal or external stress, such as cancer, inflammation, or infection. Cytokines act as conductors, orchestrating our immune response when infected with viruses. One of their roles is to cause inflammation, which is part of the healing process of many infections and injuries.
Respiratory viruses all activate antiviral responses in the body but there are differences in how each virus attempts to evade the attention of the immune system. The most common strategy is to confuse, or specifically attack, crucial immune response mechanisms - such as the release of cytokines.
A cytokine storm happens only in certain patients' immune systems when reacting to a virus. A feedback loop causes the continual activation of cytokines responsible for inflammation, resulting in organ failure or even death.
While SARS-CoV-2 cases have distinct similarities to both influenza patients and those who were infected in previous coronavirus outbreaks (SARS-CoV, MERS-CoV), the researchers' analysis found specific immune mechanisms that make SARS-CoV-2 uniquely dangerous.
"We examined the changing cytokine levels upon infection with similar viral pathogens (SARS-CoV, MERS-CoV, H5N1, H7N9) to highlight the protective and unique cytokine responses caused by these viruses," said Marton.
By comparing the COVID-19 patients' immune response data, the researchers found similarities mounted against these pathogens - discriminating between influenza A subtypes and coronaviruses - and the unusual aspects of the current circulating SARS-CoV-2 virus.
SARS-CoV-2 is similar to other respiratory viruses but, by targeting specific regulators of the cytokine response, with just small-scale differences, it could lead to a more severe disease - not from the virus itself, but from the patient's immune system response.
"For a subgroup of patients, when infected by these viruses, a real danger is posed by the immune system overreacting. We're drawing out which specific parts of our immune system react in a potentially harmful way to these viruses, said Marton.
"We wanted to take a step back and summarise what is actually being reported in the scientific literature, specifically focusing on cytokine-mediated immune responses, to put into context and differentiate SARS-CoV-2 from these other viruses. Building up a data repository such as this will also be vital for the future; if other similar viruses arose, you could quickly find their profile and compare."
A map of such immune responses could help clinical specialists identify interventions that have successfully alleviated cytokine storm in other diseases, and evaluate whether they could be effective in treating certain COVID-19 cases.
The paper 'SARS-CoV-2 causes a different cytokine response compared to other cytokine storm-causing respiratory viruses in severely ill patients' is published in Frontiers in Immunology.
Publication authors Marton Olbei, Martina Poletti and Leija Gul are BBSRC funded PhD students on the Norwich Research Park Biosciences Doctoral Training Partnership (NRPDTP).
Notes to editors.
Responding to the COVID-19 Pandemic
To understand more about how researchers at the Earlham Institute responded to the global COVID-19 pandemic, visit our dedicated page here.
For more information, please contact:
Hayley London
Media & Communications Officer, Earlham Institute (EI)
+44 (0)1603 450107 / 07760438218
About Earlham Institute
The Earlham Institute (EI) is a world-leading research Institute focusing on the development of genomics and computational biology. EI is based within the Norwich Research Park and is one of eight institutes that receive strategic funding from Biotechnology and Biological Science Research Council (BBSRC) - £5.43m in 2017/18 - as well as support from other research funders. EI operates a National Capability to promote the application of genomics and bioinformatics to advance bioscience research and innovation.
EI offers a state of the art DNA sequencing facility, unique by its operation of multiple complementary technologies for data generation. The Institute is a UK hub for innovative bioinformatics through research, analysis and interpretation of multiple, complex data sets. It hosts one of the largest computing hardware facilities dedicated to life science research in Europe. It is also actively involved in developing novel platforms to provide access to computational tools and processing capacity for multiple academic and industrial users and promoting applications of computational Bioscience. Additionally, the Institute offers a training programme through courses and workshops, and an outreach programme targeting key stakeholders, and wider public audiences through dialogue and science communication activities.

About Quadram Institute
Quadram Institute's mission is to deliver healthier lives through innovation in gut health, microbiology and food and its vision is to understand how food and microbes interact to promote health and prevent disease.
The Quadram Institute is an interdisciplinary research centre at the forefront of a new era of food and health research. It brings together researchers and clinicians under one roof and houses one of Europe's largest endoscopy units and a clinical research facility.
Based on the Norwich Research Park, the Quadram Institute is a partnership between Quadram Institute Bioscience, the Norfolk and Norwich University Hospitals NHS Foundation Trust, the University of East Anglia and the Biotechnology and Biological Sciences Research Council (BBSRC).