DNA Foundry propels Earlham Institute into precision genomics
23 August 2016
Image
The Earlham Institute (EI) builds upon their National Capability in Genomics by adding a state-of-the-art DNA Foundry for Synthetic Biology to their world-leading advanced suite of sequencing technologies.
Synthetic biology is a ground-breaking field of research that applies engineering principles to biology and biotechnology. It uses skills from multiple scientific disciplines, including mathematical modelling, engineering, programming, automation, biology, biochemistry and biomedicine, helping scientists to understand and use living systems to provide a sustainable bioeconomy.
Dr Nicola Patron, Leader of the new Synthetic Biology Group at EI, said: "The Foundry was set-up to enable us to pursue the development of bio-based products and processes that can provide sustainable and resource-efficient solutions to challenges such as the production of sufficient quantities of safe and affordable food, chemicals, materials, energy, and health products for the growing global population."
Underpinning Synthetic Biology is the ability to program cells by providing them with new DNA instructions. The DNA Foundry at EI provides a super-efficient, automated DNA assembly platform that assembles synthetic molecules at nanoscales, reducing time, effort and cost.
EI's world-leading DNA sequencing capabilities will verify the accuracy of the DNA assemblies produced in the Foundry and provide data about how the assemblies function in cells. Alongside this, EI's capabilities in bioinformatics and high-performance computing will aid the design process.
"A few years ago, the major bottleneck for bioengineering was the building of DNA molecules. The automation of new molecular biology technologies at facilities such as the EI DNA foundry have propelled us over that hurdle," added Dr Patron.
"Right now were are working on methods for measuring outputs from designed genetic circuits (DNA molecules containing several genes that together produce a specific product or behavior) and analysing the data we collect so that we can improve our designs."
"As we get better at understanding how DNA sequences relate to biological function we will improve our understanding of living organisms and can apply this to sustainable bio-based production. This is going to be of particular importance for the low-cost, high-scale production of drugs, vaccines and other pharmaceuticals, as well as for providing alternative materials to those currently made from petroleum products."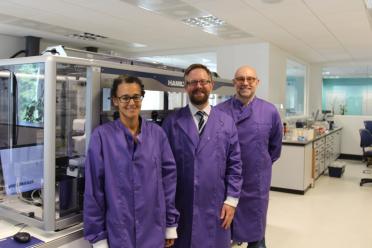 The EI Foundry contains a suite of equipment for automated DNA assembly and delivery of DNA to living cells for generating highly reproducible data. Specifically funded to support the design, generation and exploitation of high-value compounds and bioactives obtained from plants, microbes and animals, it will complement the Norwich Research Park's Industrial Biotechnology Alliance (IBA), which aims to address major societal and environmental challenges of the 21st century.
Current projects of Dr Patron and her Group at EI include applying new Cas9/CRISPR genome editing methods to identify advantageous genetic traits related to yield and nutrition in key crops such as barley, potatoes and broccoli. She is also working on developing plants for use as production systems for therapeutic molecules and is an investigator in 'OpenPlant', which aims to catalyse transformative advances and develop open technologies for responsible innovation in sustainable agriculture and conservation.
The EI Foundry provides a strong research framework uniquely positioned to take on long-term, large-scale and ambitious challenges that bring together academic excellence with wider strategic objectives in food security, industrial biotechnology, and human health.
Funded by a £1.9M grant, led by EI's Head of Platforms & Pipelines Dr Daniel Swan, the EI DNA Foundry is one of five locations funded by the Biotechnology and Biological Sciences Research Council (BBSRC) to provide the UK's academic community and synthetic biology industries with DNA fabrication facilities.
Notes to editors.
1) Accompanying article - Precision Engineering: Genomics
We speak to Dr Anthony West - automation specialist in our Platforms & Pipelines group - who filled us in on the power and technical difficulties of a new approach to biotechnology: Synthetic Biology.
For more information, please contact:
Hayley London
Marketing & Communications Officer, Earlham Institute (EI)
About Earlham Institute
The Earlham Institute (EI) is a world-leading research institute focusing on the development of genomics and computational biology. EI is based within the Norwich Research Park and is one of eight institutes that receive strategic funding from Biotechnology and Biological Science Research Council (BBSRC) - £6.45M in 2015/2016 - as well as support from other research funders. EI operates a National Capability to promote the application of genomics and bioinformatics to advance bioscience research and innovation.
EI offers a state of the art DNA sequencing facility, unique by its operation of multiple complementary technologies for data generation. The Institute is a UK hub for innovative bioinformatics through research, analysis and interpretation of multiple, complex data sets. It hosts one of the largest computing hardware facilities dedicated to life science research in Europe. It is also actively involved in developing novel platforms to provide access to computational tools and processing capacity for multiple academic and industrial users and promoting applications of computational Bioscience. Additionally, the Institute offers a training programme through courses and workshops, and an outreach programme targeting key stakeholders, and wider public audiences through dialogue and science communication activities.
About BBSRC
The Biotechnology and Biological Sciences Research Council (BBSRC) invests in world-class bioscience research and training on behalf of the UK public. Our aim is to further scientific knowledge, to promote economic growth, wealth and job creation and to improve quality of life in the UK and beyond.
Funded by Government, BBSRC invested over £509M in world-class bioscience in 2014-15 and is the leading funder of wheat research in the UK (over £100M investment on UK wheat research in the last 10 years). We support research and training in universities and strategically funded institutes. BBSRC research and the people we fund are helping society to meet major challenges, including food security, green energy and healthier, longer lives. Our investments underpin important UK economic sectors, such as farming, food, industrial biotechnology and pharmaceuticals.
For more information about BBSRC, our science and our impact see: http://www.bbsrc.ac.uk For more information about BBSRC strategically funded institutes see: http://www.bbsrc.ac.uk/institutes