European Research Council awards €1.5M to arm cereals against pathogens and diseases
08 September 2016
Image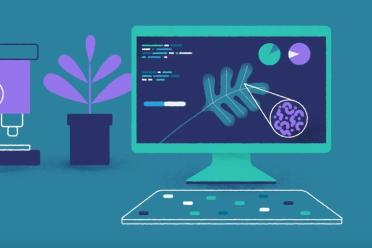 Dr Ksenia Krasileva, Group Leader at the Earlham Institute (EI) and The Sainsbury Laboratory (TSL) has been awarded a €1.5M European Research Council Starting Grant to investigate the immune system of our most important crops.
Announced today by the European Research Council (ERC), Dr Ksenia Krasileva, Group Leader at the Earlham Institute (EI) and The Sainsbury Laboratory (TSL) has been awarded a €1.5M Starting Grant (over five years) to investigate the immune system of our most important crops. Her research into plants' immune system could create new genetic solutions for protecting plant health and future sustainable crop production.
Fungal diseases and highly virulent plant pathogens endanger global production of food crops, considerably reducing yields. They can be fought with fungicides and pesticides, yet these substances are not always safe for humans and the environment.
Plants, however, have their own ability to detect and disarm rapidly evolving pathogens, including viruses, bacteria, insects and fungi. Their powerful defence mechanisms rely on a particularly rich arsenal of plant immune receptors.
Among these receptors, NLR-IDs are proteins which have proliferated for at least 500 million years and serve as 'baits' for pathogen molecules. Dr Krasileva and her group will investigate how these receptors diversify in maize, rice and wheat. Using this genetic information to help generate new methods to protect plants from pests and disease.
Dr Krasileva, said: "We propose to combine powerful next generation sequencing and bioinformatics methods, as well as molecular biology techniques, in order to unravel how the grasses can keep-up with ever-persistent diseases, and eventually generate new ways that our most vital crops can withstand them.
"Through firstly identifying how plant disease receptors have diversified within the genomes of the grasses, to then unravelling the mechanisms by which they work, we can then use this knowledge and apply engineering to plant breeding - in order to keep our fields healthy and stave-off the tide of disease-causing pests that ravage our crop yields and threaten global food security."
Plants are not so dissimilar from humans, where they are similarly affected by a range of diseases, parasites and pests. Though they lack white blood cells, plants do have an immune system - which lies coded within DNA, the blueprint of life.
Within this blueprint lies information that allows plants to generate receptors that can recognise the patterns produced by pests and disease-causing organisms.
Dr Krasileva has already studied the repertoire of disease receptors across 40 types of flowering plant, including novel ways in which they can respond to pests and pathogens that evolve quickly to overcome plant defences in a perpetual evolutionary arms-race.
One such example is that plants have combined disease receptors with proteins that naturally interact with the molecules secreted by pests, increasing the ability of plants to combat infections.
Considering that the grasses, including wheat, rice and maize, are the most abundant crop species globally, it is incredibly important to study how these mechanisms work in such plants.
Dr Diane Saunders, Fellow of EI and JIC, will also receive funding from the ERC over the next five years to investigate the molecular mechanisms driving host adaptation of yellow rust on cereal crops and grasses.
The European Research Council (ERC) has announced its Starting Grants to 325 early-career researchers throughout Europe. The funding, worth in total €485 million and up to €1.5 million per grant, will enable them to set up their own research teams and pursue ground-breaking ideas.
EI are strategically funded by BBSRC and operates a National Capability to promote the application of genomics and bioinformatics to advance bioscience research and innovation.
Notes to editors.
For more information, please contact:
Hayley London
Marketing & Communications Officer, Earlham Institute (EI)
About Earlham Institute
The Earlham Institute (EI) is a world-leading research institute focusing on the development of genomics and computational biology. EI is based within the Norwich Research Park and is one of eight institutes that receive strategic funding from Biotechnology and Biological Science Research Council (BBSRC) - £6.45M in 2015/2016 - as well as support from other research funders. EI operates a National Capability to promote the application of genomics and bioinformatics to advance bioscience research and innovation.
EI offers a state of the art DNA sequencing facility, unique by its operation of multiple complementary technologies for data generation. The Institute is a UK hub for innovative bioinformatics through research, analysis and interpretation of multiple, complex data sets. It hosts one of the largest computing hardware facilities dedicated to life science research in Europe. It is also actively involved in developing novel platforms to provide access to computational tools and processing capacity for multiple academic and industrial users and promoting applications of computational Bioscience. Additionally, the Institute offers a training programme through courses and workshops, and an outreach programme targeting key stakeholders, and wider public audiences through dialogue and science communication activities.
About The Sainsbury Laboratory
The Sainsbury Laboratory (TSL) is a world-leading research centre focusing on making fundamental discoveries about plants and how they interact with microbes. TSL not only provides fundamental biological insights into plant-pathogen interactions, but is also delivering novel, genomics-based, solutions which will significantly reduce losses from major diseases of food crops, especially in developing countries. TSL is an independent charitable company and receives strategic funding from the Gatsby Charitable Foundation with the balance coming from competitive grants and contracts from a range of public and private bodies, including the European Union (EU), Biotechnology and Biological Sciences Research Council (BBSRC) and commercial and charitable organisations
About BBSRC
The Biotechnology and Biological Sciences Research Council (BBSRC) invests in world-class bioscience research and training on behalf of the UK public. Our aim is to further scientific knowledge, to promote economic growth, wealth and job creation and to improve quality of life in the UK and beyond.
Funded by Government, BBSRC invested over £509M in world-class bioscience in 2014-15 and is the leading funder of wheat research in the UK (over £100M investment on UK wheat research in the last 10 years). We support research and training in universities and strategically funded institutes. BBSRC research and the people we fund are helping society to meet major challenges, including food security, green energy and healthier, longer lives. Our investments underpin important UK economic sectors, such as farming, food, industrial biotechnology and pharmaceuticals.
For more information about BBSRC, our science and our impact see: http://www.bbsrc.ac.uk For more information about BBSRC strategically funded institutes see: http://www.bbsrc.ac.uk/institutes