A new network of the world's leading Biofoundries has been launched to drive forward synthetic biology research and industry
10 May 2019
Image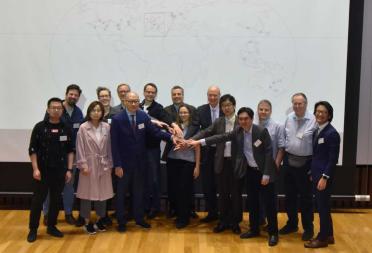 The DNA Foundry at Earlham Institute (EI) is one of the founding members of the new Global Alliance of Biofoundries (GBA), working alongside the London DNA Foundry, based at Imperial College, London, and other international members.
Supporting the UK bioscience community as one of the only five locations funded by the BBSRC, the Earlham DNA Foundry is resource for the UK bioscience community to engage with high-throughput laboratory automation facilities and access expertise in automation and synthetic biology approaches. Our aim is to enable new research directions and approaches that can drive innovation in the Biosciences.
Synthetic biology revolution
The GBA will share knowledge, infrastructure and expertise to tackle global challenges and play a central role in the 'synthetic biology revolution' and the transition to a new global bio-based economy.
Synthetic biology – a rapidly growing research area and new industry – brings principles from biology and engineering together to design and construct new biological entities such as enzymes, genetic circuits, and cells or redesign existing biological systems – used for important applications like new therapeutics, sustainable biomaterials, biosensors, bioenergy and food production.
Biofoundries are being established at universities and institutions around the world to provide the infrastructure and technology to both accelerate academic research and develop the new synthetic biology industry.
Examples of research include manufacturing new vaccines and developing living therapeutics, designing and building DNA, creating biofuels, and making bioplastics more effectively and sustainably.
Safer and cleaner manufacturing
The Biofoundries will significantly advance research into Biomanufacturing – a safer, cleaner and greener method of manufacturing – and reduce the reliance on petrochemicals as part of a developing global bioeconomy. They will also be key to increasing reliability, reproducibility and throughput in these new bioindustries.
The GBA, which was formally launched at a meeting of partners at Kobe University in Japan, was established to coordinate activities between Biofoundries worldwide.
Writing in Nature Communications, published to coincide with the launch, the founding members explain that the GBA intends to intensify collaboration between Biofoundries to explore globally relevant and societally-impactful grand challenges.
The GBA will also share software, data and best practice across borders and develop standards and protocols for operation.
Funded by the UK Research and Innovation's Biotechnology and Biological Sciences Research Council, the London DNA Foundry provides state of the art robotic facilities and integrated experimental platforms for academics and industry partners to design, build and test DNA components and designs.
Dr Nicola Patron, Group Leader in Synthetic Biology at EI, said: "The Earlham DNA foundry is enabling researchers in academia and industry to accelerate projects in plant science and industrial biotechnology. This Alliance will help facilitate the exchange of expertise, methods and best practise for the application of automation and engineering to biology with our global partners and help solve worldwide challenges in heath and industry."
DNA Foundry Manager Jose A. Carrasco Lopez at EI, added: "Research institutions around the world, including EI, have established biofoundries to expand their biotechnology development capacities. The founding of the Alliance demonstrates the continued growth of synthetic biology as an emerging field, and shows the importance of good and honest communication between scientist and politics to establish effective long-term strategies."
Professor Paul Freemont, Co-Director of the London DNA Foundry based at Imperial, co-organiser of the Kobe meeting and lead author of the publication, said: "The Global Alliance of Biofoundries is a major step to accelerating the synthetic biology industry worldwide.
"It will provide researchers around the globe with the tools and technologies to exploit fundamental research and will support new industries to develop.
"Modern biology will be led by these foundries which will benefit society and drive the transition to a global bioeconomy."
Professor Richard Kitney, Co-Director of the UK Innovation and Knowledge Centre for Synthetic Biology, SynbiCITE said: "Synthetic biology is one of the most exciting and rapidly growing scientific areas.
"The last five years has seen a number of Biofoundries set up around the world and this new Alliance will bring them together to collaborate and tackle global challenges."
ENDS
Notes to editors.
For more information, please contact:
Hayley London
Marketing & Communications Officer, Earlham Institute (EI)
About Earlham Institute
The Earlham Institute (EI) is a world-leading research Institute focusing on the development of genomics and computational biology. EI is based within the Norwich Research Park and is one of eight institutes that receive strategic funding from Biotechnology and Biological Science Research Council (BBSRC) - £5.43m in 2017/18 - as well as support from other research funders. EI operates a National Capability to promote the application of genomics and bioinformatics to advance bioscience research and innovation.
EI offers a state of the art DNA sequencing facility, unique by its operation of multiple complementary technologies for data generation. The Institute is a UK hub for innovative bioinformatics through research, analysis and interpretation of multiple, complex data sets. It hosts one of the largest computing hardware facilities dedicated to life science research in Europe. It is also actively involved in developing novel platforms to provide access to computational tools and processing capacity for multiple academic and industrial users and promoting applications of computational Bioscience. Additionally, the Institute offers a training programme through courses and workshops, and an outreach programme targeting key stakeholders, and wider public audiences through dialogue and science communication activities.