New UK centre of excellence to help improve global food security threatened by climate change
01 February 2021
Image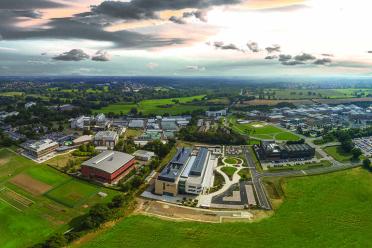 A new UK centre of excellence is being set up by partners on the Norwich Research Park to improve global food security which is threatened by the effects of climate change.
Earlham Institute (EI) is a research partner for the new Norwich Institute for Sustainable Development, launched today (1 February) that will focus on developing solutions to enable farmers all over the world to build resilience to variability in rainfall, periods of drought and more extreme and unpredictable weather events.
Launched with £750,000 of funding from the John Innes Foundation, the new Institute will be based at Norwich Research Park, alongside partners EI, Quadram Institute and The Sainsbury Laboratory. Marking an important landmark as the first formal partnership of expertise in plant science from the John Innes Centre and the social sciences from UEA's School of International Development.
Research shows that yields of major staple foods like grains, fruits and vegetables are expected to decrease by between 3% and 10% per degree of warming and with global temperatures soaring year on year, it is hoped the work of the Institute can help to mitigate these stark predictions.
Communities all over the globe are impacted by food shortages. Food prices are rising, the nutritional quality of the food available is often insufficient, supply chain disruptions and in some cases, conflict, all cause nutritional deficits, and less developed countries often experience more of an impact.
Professor Neil Hall, Director of EI, said: "I'm delighted the Earlham Institute will be a partner on this important initiative. The collective knowledge, expertise and passion we have in the region will allow us to drive forward the research, policies and public awareness that are all needed to safeguard the health of our planet and wellbeing of future generations.
"From projects on sustainable agriculture in Colombia to training and knowledge-sharing programmes with scientists in East Africa, sustainable development is at the heart of Earlham Institute science. We're looking forward to working with the Institute and its partners to translate our science to help change lives around the world for the better."
Professor Nitya Rao, Director for the new Institute said: "This is the most critical issue facing the world today. If we don't act now crop yields will continue to reduce and become more unreliable over time.
"People in the UK and across the world could soon see everyday foods like bread, cereals and tomatoes becoming scarcer and more expensive. This will affect those who are most vulnerable who may be unable to access adequate, nutritious and affordable food for themselves and their families.
"It's not all bad news though, as researchers have made considerable progress over the last 50 years, with technologies now available for dealing with pests, diseases and water scarcity, alongside attention to what people actually need. A key focus for us is to change the way we work – to make sure that innovations meet farmers' needs around the world, supporting farming communities to make agriculture more resilient and supporting the world's food supply."
The Institute supports continued progress towards the UN Sustainable Development Goals, and the UK government's stated ambition to "leverage wider UK expertise through the UK's world-leading science, research and development base to tackle global problems".
Find out more about the institute on the website: https://instituteforsustainabledevelopment.org/
Notes to editors.
To see the full launch video, visit: https://youtu.be/wdHe90_N3Jo
For more information, please contact:
Hayley London
Media & Communications Officer, Earlham Institute (EI)
+44 (0)1603 450107 / 07760438218
About Earlham Institute
The Earlham Institute (EI) is a world-leading research Institute focusing on the development of genomics and computational biology. EI is based within the Norwich Research Park and is one of eight institutes that receive strategic funding from Biotechnology and Biological Science Research Council (BBSRC) - £5.43m in 2017/18 - as well as support from other research funders. EI operates a National Capability to promote the application of genomics and bioinformatics to advance bioscience research and innovation.
EI offers a state of the art DNA sequencing facility, unique by its operation of multiple complementary technologies for data generation. The Institute is a UK hub for innovative bioinformatics through research, analysis and interpretation of multiple, complex data sets. It hosts one of the largest computing hardware facilities dedicated to life science research in Europe. It is also actively involved in developing novel platforms to provide access to computational tools and processing capacity for multiple academic and industrial users and promoting applications of computational Bioscience. Additionally, the Institute offers a training programme through courses and workshops, and an outreach programme targeting key stakeholders, and wider public audiences through dialogue and science communication activities.

About John Innes Centre
The John Innes Centre is an independent, international centre of excellence in plant science, genetics and microbiology. Our mission is to generate knowledge of plants and microbes through innovative research, to train scientists for the future, to apply our knowledge of nature's diversity to benefit agriculture, the environment, human health, and wellbeing, and engage with policy makers and the public. We foster a creative, curiosity-driven approach to fundamental questions in bio-science, with a view to translating that into societal benefits. Over the last 100 years, we have achieved a range of fundamental breakthroughs, resulting in major societal impacts. Our new vision Healthy Plants, Healthy People, Healthy Planet (www.hp3) is a collaborative call to action. Bringing knowledge, skills and innovation together to create a world where we can sustainably feed a growing population, mitigate the effects of climate change and use our understanding of plants and microbes to develop foods and discover compounds to improve public health.
The John Innes Centre is strategically funded by the UKRI-BBSRC (Biotechnology and Biological Sciences Research Council), and is supported by the John Innes Foundation through provision of research accommodation, capital funding and long-term support of the Rotation PhD programme.
For more information about the John Innes Centre visit our website www.jic.ac.uk
About John Innes Foundation
The John Innes Foundation is a charity dedicated to advancing the acquisition and application of knowledge about plants and microbes for societal, environmental and commercial benefit.
For more information visit their website: https://www.johninnesfoundation.org.uk/