Pheromone power - bringing 'SexyPlant' back to defy crop pests
06 June 2018
Image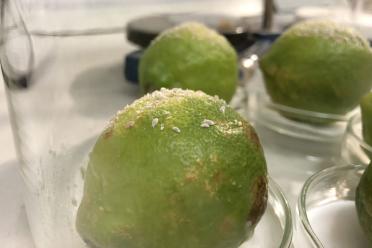 A consortium of scientists at IBMCP and IATA (Spain), Earlham Institute (EI, UK), Technische Universität Darmstadt (Germany) and National Institute of Biology (Slovenia), in collaboration with 'Ecología y Protección Agricola' (EPA, Spain) have received over 1.6m euros from ERACoBiotech to combat aggressive crop pests using insect pheromones. 
The project will use a biological method for manufacturing pheromones, which provide a safe and sustainable alternative to harmful pesticides, reducing the environmental impact of agriculture.
Estimated to reach nearly 17.5 billion by 2022, the cost of treating crops is growing at a rapid rate. Due to climate change, insect pests are on the rise - costing the US agriculture sector up to $700 million annually and resulting in up to 80% crop yield damage.
Some of the most aggressive pests of agriculture are insect larvae. Semiochemicals are emitted by insects for communication. The most widely known of these are sex pheromones, produced by virgin females to attract mates of the same species.
In project SUSPHIRE, the team of European scientists aim to use synthetic biology to produce insect sex pheromones in plants and fungi, building on the success of the Polytechnic University of Valencia's entry into the 2014 iGEM competition with project "SexyPlant" in which they produced insect sex-pheromones in plants.
Improving on the initial proof-of-concept, the new research will identify and validate key biosynthetic enzymes for the bioproduction of the superfamily insect group Coccoidea (scale insects and mealybugs) pheromones.
The biologically-produced pheromones can be used to control insect pests that affect agriculture and horticulture.
Synthetic Biology Group Leader at EI, Dr Nicola Patron, said: "We will take a synthetic biology approach to identify and rewrite insect pheromone biosynthesis pathways, optimising bioproduction in plants and fungi.
"The use of sex pheromones for pest control is already known to be feasible, but for many species, the manufacturing is difficult and expensive. Bioengineering can provide viable alternatives to manufacturing, expanding the use of pheromones that will be much kinder to our environment."
Dispensing sex pheromones in plant production environments is used to disrupt mating in the target insect species and prevent breeding, thereby providing a highly species-specific control method. This presents a sustainable alternative to conventional pesticides, the use of which is progressively being restricted due to concerns about their non-specificity and negative impacts on biodiversity.
The SUSPHIRE project will demonstrate that biosynthesis can provide a sustainable, low-cost manufacturing platform for the commercial production of insect pheromones and reduce the production cost of pheromones that are currently commercially non-viable.
Insect sex pheromones are already used as a pest-control strategy. However, chemical synthesis is currently the only approach for manufacturing and the use of toxic ingredients is inevitable. Furthermore, the unusual chemical characteristics of many insect pheromones mean that synthesis is not cost-effective.
Dr Diego Orzaez, who will present the project at ACHEMA, The World Forum and Leading Show for the Process Industries, in Frankfurt, added: "With an ever-growing global human population, increasing agricultural production through prevention of crop losses to pests has the potential for enormous economic and social impact. We estimate that the bio-manufacturing is an excellent opportunity to expand the pheromone market, contributing to reducing the global costs of integrated pest management programmes."
ENDS
Notes to editors.
For more information, please contact:
Hayley London
Marketing & Communications Officer, Earlham Institute (EI)
Top image shows: Collecting pheromones from colonies of citrus mealybugs at the Centre for Chemical Ecology, Polytechnic University of Valencia, Spain
The total use of insecticides in the EU has risen to over three tons per year. Agricultural losses due to arthropods (invertebrate animals) are estimated to be 18–26% of total crop production worldwide, equivalent to 470 billion US dollars per year, with major losses occurring in developing countries.
SUSPHIRE's biotechnological approach could overcome current limitations in pheromone production and establish Europe at the forefront; as well as reinforcing EU leadership in plant synthetic biology. EU groups are pioneering the design of genetic circuits and the use of programmable DNA binding proteins in plants for the development of non-food plant crops for bioproduction of high-value products.
Participation in SUSPHIRE at the Earlham Institute (EI) is funded through a grant from the Biotechnology and Biological Science Research Council (BBSRC), UK.
SUSPHIRE grant in UKRI database
About Earlham Institute
The Earlham Institute (EI) is a world-leading research Institute focusing on the development of genomics and computational biology. EI is based within the Norwich Research Park and is one of eight institutes that receive strategic funding from Biotechnology and Biological Science Research Council (BBSRC) - £5.43m in 2017/18 - as well as support from other research funders. - as well as support from other research funders. EI operates a National Capability to promote the application of genomics and bioinformatics to advance bioscience research and innovation.
EI offers a state of the art DNA sequencing facility, unique by its operation of multiple complementary technologies for data generation. The Institute is a UK hub for innovative bioinformatics through research, analysis and interpretation of multiple, complex data sets. It hosts one of the largest computing hardware facilities dedicated to life science research in Europe. It is also actively involved in developing novel platforms to provide access to computational tools and processing capacity for multiple academic and industrial users and promoting applications of computational Bioscience. Additionally, the Institute offers a training programme through courses and workshops, and an outreach programme targeting key stakeholders, and wider public audiences through dialogue and science communication activities.
The mission of the EI is tackling global challenges through life science research. EI's research brings together a wealth of expertise in biosciences, bioinformatics, high-performance computing and biotechnology to understand complex biological systems in plants and animals and their interaction with the environment.
EI is supported by UK Research and Innovation Councils to ensure that biological science in the UK has access to a skill base in genomics technologies and bioinformatics to deliver programmes leading to improved food security, advances in industrial biotechnology and improved human health and wellbeing.
The institute is located on the Norwich Research Park (NRP) and also houses the Earlham DNA Foundry for accelerating progress in synthetic biology.
About BBSRC
The Biotechnology and Biological Sciences Research Council (BBSRC) is part of UK Research and Innovation, a non-departmental public body funded by a grant-in-aid from the UK government.
BBSRC invests in world-class bioscience research and training on behalf of the UK public. Our aim is to further scientific knowledge, to promote economic growth, wealth and job creation and to improve quality of life in the UK and beyond.
Funded by government, BBSRC invested £469 million in world-class bioscience in 2016-17. We support research and training in universities and strategically funded institutes. BBSRC research and the people we fund are helping society to meet major challenges, including food security, green energy and healthier, longer lives. Our investments underpin important UK economic sectors, such as farming, food, industrial biotechnology and pharmaceuticals.
About Institute for Plant Molecular and Cellular Biology (IBMCP)
The Institute for Plant Molecular and Cellular Biology (IBMCP) "Eduardo Primo Yúfera" is a research center funded by both the Polytechnic University of Valencia (UPV) and the Spanish Research Council (CSIC). IBMCP's mission is to generate knowledge that can be used to engineer plants with better productivity and fruit quality, or with added value (both for consumers and food industries). We are also striving to generate crop plants that are more resistant to stress (less dependent on chemical treatments), in order to contribute to more sustainable agriculture.
The center is located at the Polytechnic City of Innovation (CPI) at the UPV Campus, and includes 7000 m2 of research labs and core services. It also includes 4150 m2 of greenhouses and plant growth chambers.
About Institute of Agrochemistry and Food Technology (IATA)
The Institute of Agrochemistry and Food Technology (IATA) is a centre of the CSIC. Its scientific-technical objective is to carry out research of excellence on the production of sustainable and quality food, taking into account its safety, health impact and consumer acceptance.
Participation in SUSPHIRE at IBMCP and IATA is funded through a grant from Ministry of Economy and Competitiveness (MINECO), Spain.
About TU Darmstadt
The Technische Universität (TU) Darmstadt is one of Germany's leading technical universities. TU Darmstadt incorporates diverse science cultures to create its characteristic profile. The focus is set on engineering and natural sciences, which cooperate closely with outstanding humanities and social sciences. We are enjoying a worldwide reputation for excellent research in our highly-relevant, focused profile areas: cybersecurity, internet and digitalisation, nuclear physics, fluid dynamics and heat- and mass transfer, energy systems and new materials for product innovation. We dynamically develop our portfolio of research and teaching, innovation and transfer, in order to continue opening up important opportunities for the future of society. Our 312 professors, 4,450 scientific and administrative employees and close to 26,000 students devote their talents and best efforts to this goal. Together with Goethe University Frankfurt and Johannes Gutenberg University Mainz, TU Darmstadt has formed the strategic Rhine-Main Universities alliance.
Participation in SUSPHIRE at TU is funded through a grant from the German Federal Ministry of Education and Research; Bundesministerium für Bildung und Forschung (BMBF).
About National Institute of Biology (NIB)
With about 120 employees, NIB is the largest independent Public Research Institution for Life Sciences in Slovenia. The Institute was established by the Government of the Republic of Slovenia in 1960. The basic activity of the Institute has been and continues to be basic, developmental and applicative research in the fields of biotechnology, biophysics, biomedicine and system biology. The numerous activities taking place at the NIB are related to the environment, agriculture, food and, more recently and increasingly so, to human health. Participation in SUSPHIRE at NIB is funded through a grant from Ministry of Education, Science and Sport of Republic of Slovenia.
About Ecología y Protección Agricola (EPA)
EPA is a Spanish technology-based company dedicated to the development and manufacture of phytosanitary products based on techniques of biorational pest control. Located in the Valencian Community and with a shareholding 100% Spanish and Valencian, EPA manufactures all of its products exclusively in facilities located in national territory through its own technology generated in Valencian and Spanish research centers, with which it collaborates permanently.
Participation in SUSPHIRE at EPA is funded through a grant from the Centre for the Development of Industrial Technology (CDTI), Spain.