Plants share defensive proteins in evolutionary pick 'n' mix
27 February 2018
Image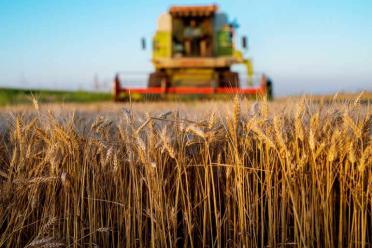 Published in Genome Biology, novel research has shed further light on how plants can use 'baits' to recognise and trap disease-causing pathogens before infection can take hold.
The recent research, led by the Krasileva Group of Earlham Institute and The Sainsbury Laboratory, used phylogenetics (the study of how DNA sequences are related) to identify how these 'bait' genes are distributed throughout various wild and domestic grasses, including important crop plants such as wheat, barley, maize and rice. This fresh evidence could help scientists and breeders especially in arming crop plants against a swathe of emerging diseases.
By looking at the genetic history of these plants, the team found several interesting groups that gravitated towards forming novel fusions with plant receptors, which were most diverse in the wheat crop. These proteins are involved in plant stress responses in general, particularly in defense against pathogen attack.
"If we could understand better how these proteins with these additional 'integrated' domains were formed during recent evolution, then there is a good chance that we could engineer genes with specific domains to provide resistance to new types of pathogen attack," says Paul Bailey, lead author of the study who performed the phylogenetic analysis.
The research team are primarily interested in bread wheat due to the complexity and size of its genetic makeup, as well as eight other grass species' genomes. Advancements in such genome sequencing have enabled the scientists to make comparisons of gene similarity between closely related species - wheat and barley, for example - and more distantly related species such as wheat and maize.
"We were intrigued to find that even between closely-related species, there can be significant variability between the type of fusion events that have occurred, indicating that the process is still active and ongoing in these plants," added Paul.
Plants have an immune system that helps them recognise a range of pathogens, but they have to keep up with enemy fire that is perpetually evolving and constantly adapting new ways of getting around a plant's primary defenses.
However, certain plant pathogen receptors known as 'NLR' proteins have been shown to be able to recognise some of the signals associated with disease-causing agents. By acquiring sections of proteins coded by other genes, which are often the target of pathogen infection, NLRs act as an 'integrated defense decoy'.
Dr Ksenia Krasileva, who led the project, added: "When plants are able to evolve rapidly, they can respond to pathogens working their way around other defenses. Uncovering how plants stay healthy is still a challenge. This paper is a result of a successful collaboration of several genomics experts, including our group, Dr Matthew Moscou at TSL and Dr Wilfried Haerty at EI. Together, we uncovered one of the tricks plant use which will help to generate resistant crops."
Plant pathogens are continually evolving, but in the future, the research team hope to be able to generate novel proteins with specifically integrated domains that give resistance to pathogens, particularly new threats to our crops.
"Dominant integration locus drives continuous diversification of plant immune receptors with exogenous domain fusions" is published in Genome Biology, BioMed Central.
Notes to editors.
For more information, please contact:
Hayley London
Marketing and Communications Officer, Earlham Institute (EI)
About Earlham Institute
The Earlham Institute (EI) is a world-leading research institute focusing on the development of genomics and computational biology. EI is based within the Norwich Research Park and is one of eight institutes that receive strategic funding from Biotechnology and Biological Science Research Council (BBSRC). In 2017/18, the Earlham Institute received a total of £5.43m strategic funding from BBSRC as well as support from other research funders. EI operates a National Capability to promote the application of genomics and bioinformatics to advance bioscience research and innovation.
EI offers a state of the art DNA sequencing facility, unique by its operation of multiple complementary technologies for data generation. The Institute is a UK hub for innovative bioinformatics through research, analysis and interpretation of multiple, complex data sets. It hosts one of the largest computing hardware facilities dedicated to life science research in Europe. It is also actively involved in developing novel platforms to provide access to computational tools and processing capacity for multiple academic and industrial users and promoting applications of computational Bioscience. Additionally, the Institute offers a training programme through courses and workshops, and an outreach programme targeting key stakeholders, and wider public audiences through dialogue and science communication activities.
About The Sainsbury Laboratory
The Sainsbury Laboratory (TSL) is a world-leading research centre focusing on making fundamental discoveries about plants and how they interact with microbes. TSL not only provides fundamental biological insights into plant-pathogen interactions, but is also delivering novel, genomics-based, solutions which will significantly reduce losses from major diseases of food crops, especially in developing countries. TSL is an independent charitable company and receives strategic funding from the Gatsby Charitable Foundation with the balance coming from competitive grants and contracts from a range of public and private bodies, including the European Union (EU), Biotechnology and Biological Sciences Research Council (BBSRC) and commercial and charitable organisations
About BBSRC
The Biotechnology and Biological Sciences Research Council (BBSRC) invests in world-class bioscience research and training on behalf of the UK public. Our aim is to further scientific knowledge, to promote economic growth, wealth and job creation and to improve quality of life in the UK and beyond.
Funded by Government, BBSRC invested over £509M in world-class bioscience in 2014-15 and is the leading funder of wheat research in the UK (over £100M investment on UK wheat research in the last 10 years). We support research and training in universities and strategically funded institutes. BBSRC research and the people we fund are helping society to meet major challenges, including food security, green energy and healthier, longer lives. Our investments underpin important UK economic sectors, such as farming, food, industrial biotechnology and pharmaceuticals.
For more information about BBSRC, our science and our impact see: http://www.bbsrc.ac.uk For more information about BBSRC strategically funded institutes see: http://www.bbsrc.ac.uk/institutes