Providing a practitioners perspective at the 'Doing Science with Colombia' event on 7th December.
01 December 2017
Image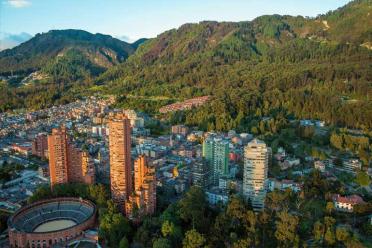 Prof. Federica Di Palma, will be a panellist at the upcoming 'Doing Science with Colombia' event
Earlham Institute former Director of Science, Federica Di Palma, will be a panellist at the upcoming 'Doing Science with Colombia' event where she will be providing an insight into the opportunities and challenges to be faced in preserving, restoring and managing Colombian biodiversity through her Growing Capacity rcuk project and as Director of the BRIDGE Colombia UK research Network.

Organised by the Colombian Embassy to the United Kingdom and partners, the event seeks to harness the increased interest in joint research efforts between Academic Universities, Research Institutes, Government and non-Government agencies as well as businesses in the UK and Colombia. Through discussing the research and innovation priorities within both countries, recognising opportunities for specific collaboration and gauging interest in collaborative programmes, organisers hope to position Colombia as a solid partner for UK Scientists and academics.

As a panellist in the 'practitioners perspective' session, Federica will be talking about her experiences and expertise in developing the BRIDGE Colombia UK research network and recent awarded funding of £6.5 million received through the RCUK's Global Challenges Research Fund. This four year project, funded by the UK Government, will enable the Earlham Institute and its partners in Colombia and the UK, to build and integrate new academic, business, government and civil society networks under a shared vision of characterising preserving and managing Colombia's biggest heritage, its biodiversity, while also developing its agri-industry and bio-economy for the benefit of Colombia.

Federica said "I am thrilled to participate in this great networking event sharing experiences of our work in Colombia which has been truly transformative and life changing with respect to the way we carry out research. The Global Challenge Research fund is an important and game changing fund: It promotes multidisciplinary research, partnerships and multi-sectoral perspectives that are needed to truly tackle today's challenges of developing countries and to contribute effectively to policy making and implementation. But equally, these funds provide a tremendous platform to build capacity in the UK by training a new generation of scientists and managers who will be capable of crossing disciplines and contributing actionable programmes for the translation of SDGs as well as adding new opportunities, experiences and achievements that will add to the UK's knowledge and capabilities".
Notes to editors.
The Doing Science with Colombia event is taking place on 7th December 2017, 08:30am at the Natural History Museum.
Tickets can be booked through https://www.eventbrite.co.uk/e/doing-science-with-colombia-tickets-39443351125

For information on BRIDGE Colombia visit http://www.bridgecolombia.org/

Contact:
Stuart Catchpole
Head of Business Development and Communications, Earlham Institute (EI)
About Earlham Institute
The Earlham Institute (EI) is a world-leading research institute focusing on the development of genomics and computational biology. EI is based within the Norwich Research Park and is one of eight institutes that receive strategic funding from Biotechnology and Biological Science Research Council (BBSRC) - £6.45M in 2015/2016 - as well as support from other research funders. EI operates a National Capability to promote the application of genomics and bioinformatics to advance bioscience research and innovation.
EI offers a state of the art DNA sequencing facility, unique by its operation of multiple complementary technologies for data generation. The Institute is a UK hub for innovative bioinformatics through research, analysis and interpretation of multiple, complex data sets. It hosts one of the largest computing hardware facilities dedicated to life science research in Europe. It is also actively involved in developing novel platforms to provide access to computational tools and processing capacity for multiple academic and industrial users and promoting applications of computational Bioscience. Additionally, the Institute offers a training programme through courses and workshops, and an outreach programme targeting key stakeholders, and wider public audiences through dialogue and science communication activities.