Space-inspired speed breeding for crop improvement
16 November 2018
Image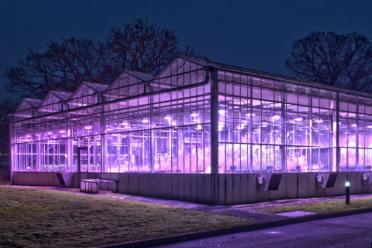 Technology first used by NASA to grow plants extra-terrestrially is fast-tracking improvements in a range of crops.
Scientists at the John Innes Centre, Earlham Institute, and Quadram Institute in Norwich, UK, and the University of Queensland have improved the technique, known as speed breeding, adapting it to work in vast glass houses and in scaled-down desktop growth chambers.
The ability to work at these scales gives scientists greater opportunities than ever before to breed disease resistant, climate resilient and nutritious crops to feed a growing global population. The research is published in the peer reviewed journal Nature Protocols.
Speed breeding uses enhanced LED lighting and day-long regimes of up to 22 hours to optimise photosynthesis and promote rapid growth of crops. It speeds up the breeding cycle of plants: for example, six generations of wheat can be grown per year, compared to two generations using traditional breeding methods.
By shortening breeding cycles, the method allows scientists and plant breeders to fast-track genetic improvements such as yield gain, disease resistance and climate resilience in a range of crops such as wheat, barley, oilseed rape and pea.
Being able to do this in a compact desktop chamber enables affordable, cutting-edge research on a range of crops to take place before the experiments are scaled up to larger glass houses.
The latest advances come at a crucial time for European crop development. They follow a decision this summer by the Court of Justice of the European Union which ruled that crops improved using modern gene-editing techniques should be classed as genetically modified organisms.
The decision was greeted with dismay among many leading plant scientists, breeders and farming industry leaders in the UK, because it frustrates efforts to meet the challenge of a growing world population.
Dr Brande Wulff, a wheat scientist at the John Innes Centre and one of the lead authors on the paper, explains that European crop research and breeding will become more dependent on speed breeding in the light of these developments.
"Speed breeding allows researchers to rabidly mobilise the genetic variation found in wild relatives of crops and introduce it into elite varieties that can be grown by farmers. The EU ruling that heavily regulates gene editing means we are more reliant on speed breeding to grow sturdier, more resilient crops."
Dr Wulff's team at the John Innes Centre has developed techniques such as rapid gene discovery and cloning that, alongside speed breeding, would allow crop improvements via a non-GM route.
Collaborators in Australia - currently experiencing one of the worst droughts on record - are using the technology to rapidly cycle genetic improvements to make crops more drought resilient.
Dr Wulff predicts the speed breeding technology will become the norm in research institutes: "We know that more and more institutes across the world will be adopting this technology and by sharing these protocols we are providing a pathway for accelerating crop research."
The refinements, outlined in this study, aim to optimise the technology as a research tool. Changes to soil/media composition, lighting, temperature, spacing of plants and premature seed harvest have led to the team cutting down the seed-to-seed generation time in wheat to just eight weeks.
This means the speed breeding technology allows six generations of wheat to be grown per year, compared to two generations using traditional breeding methods.
Sreya Ghosh, first author on the paper, from the John Innes Centre, highlights the benefit of making the technology accessible to more research communities.
"A lot of researchers want to speed up their crop breeding but do not have access to state-of-the-art growth chambers or large glasshouses. It was important to us that we develop something that could be bought quickly and set up with minimum skill.
"This scaled down growth cabinet means the technology is accessible and democratic. Researchers all over the world can set it up on their desk to get the benefits of speed breeding for their research programme."
Scientific computing specialist and co-author on the paper Luis Yanes from Earlham Institute, added: "We have developed open-access technologies, which means any other researchers or member of the public can use it to build their own speed-breeding chamber. This is a great example of how collaboration of expertise between institutions can lead to world-class, innovative research that makes an impact to the agri-industry and the consumer."
Generation time in most plant species represents a bottleneck in applied research programmes and breeding. Tackling this bottleneck means scientists can respond quicker to emerging diseases, changing climate and increased demand for certain traits.
Notes to editors.
For more information, please contact:
Hayley London
Marketing & Communications Officer, Earlham Institute (EI)
About Earlham Institute
The Earlham Institute (EI) is a world-leading research Institute focusing on the development of genomics and computational biology. EI is based within the Norwich Research Park and is one of eight institutes that receive strategic funding from Biotechnology and Biological Science Research Council (BBSRC) - £5.43m in 2017/18 - as well as support from other research funders. EI operates a National Capability to promote the application of genomics and bioinformatics to advance bioscience research and innovation.
EI offers a state of the art DNA sequencing facility, unique by its operation of multiple complementary technologies for data generation. The Institute is a UK hub for innovative bioinformatics through research, analysis and interpretation of multiple, complex data sets. It hosts one of the largest computing hardware facilities dedicated to life science research in Europe. It is also actively involved in developing novel platforms to provide access to computational tools and processing capacity for multiple academic and industrial users and promoting applications of computational Bioscience. Additionally, the Institute offers a training programme through courses and workshops, and an outreach programme targeting key stakeholders, and wider public audiences through dialogue and science communication activities.

About the John Innes Centre
Our mission is to generate knowledge of plants and microbes through innovative research, to train scientists for the future, to apply our knowledge of nature's diversity to benefit agriculture, the environment, human health and wellbeing, and engage with policy makers and the public.
To achieve these goals we establish pioneering long-term research objectives in plant and microbial science, with a focus on genetics. These objectives include promoting the translation of research through partnerships to develop improved crops and to make new products from microbes and plants for human health and other applications. We also create new approaches, technologies and resources that enable research advances and help industry to make new products. The knowledge, resources and trained researchers we generate help global societies address important challenges including providing sufficient and affordable food, making new products for human health and industrial applications, and developing sustainable bio-based manufacturing.
This provides a fertile environment for training the next generation of plant and microbial scientists, many of whom go on to careers in industry and academia, around the world.
The John Innes Centre is strategically funded by the Biotechnology and Biological Sciences Research Council (BBSRC). In 2014-2015 the John Innes Centre received a total of £36.9 million from the BBSRC.