UK-China Partnering Award to forge a long-term UK-China relationship in Agri-tech innovation and crop research
19 March 2018
Image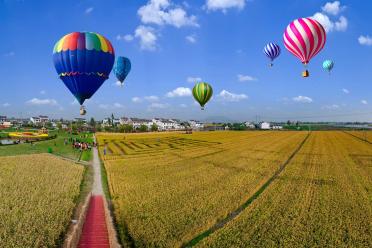 Earlham Institute (EI, UK) and the Nanjing Agricultural University (NAU, China) establish a long-term partnership to share and develop state-of-the-art resources and expertise in advanced plant phenotyping, Agri-tech innovation and crop research for rice and wheat - funded by the BBSRC International Partnering Award.
Faced with the task of feeding 10 billion people by 2050, modern agriculture is looking to technology to ensure that we can meet the increase in demand for food worldwide. However, there are technical limitations in how much we're able to transfer what happens in the lab to what happens in the field.
To address these challenges, EI and NAU will be sharing their state of the art, innovative Agri-tech technologies, helping to improve crop production and quality through closely monitoring different crop species in fields. EI will provide newly developed crop surveillance robots and machine-learning based analytic software solutions such as CropQuant, SeedGerm and AirSurf. In return, NAU provides large-scale Agri-tech equipment such as LiDAR, hyper-spectral imaging sensors, UAVs and light aircraft.
As part of the award, to which the BBSRC are contributing £30,249 to add to NAU's £124,448, NAU will have access to EI's state of the art genome sequencing platforms, while EI research groups will be able to access and use NAU's wheat germplasm and crop breeding pipelines.
One of the main outcomes of the research will be the co-development of long-term research programmes in crop phenotyping, precision farming, crop genetics and rice and wheat breeding and cultivation; focusing on solving real-world problems in Agri-food and precision agriculture.
EI project lead, Dr Ji Zhou, said: "This award provides an exciting and valuable opportunity for both EI and NAU. More widely, knowledge exchange between two leading global centres of excellence in next-generation phenotyping and genomics will improve best practice in two rapidly advancing fields of crop research in the UK, China and beyond."
This long-term partnership between the UK and China will be enabled through staff exchanges, training events and workshops, which represents an important international collaborative model enabling us to jointly address global challenges in crop growth and development, environmental stresses and disease resistance to benefit the wider scientific community.
NAU lead & Vice President Prof Yan-feng Ding, added: "We are gratified to initiate the establishment of a formal research collaboration between Nanjing Agricultural University (NAU) and the Earlham Institute (EI) through BBSRC's UK-China partnering award. Our collaboration in crop phenotyping and other crop related research will aim to jointly promote and lead the phenomics research in wheat and rice globally, which will also push forward the integration of biological sciences and the latest information technologies. NAU is confident that this collaboration will serve as a model for many other China-UK scientific and technological collaborative projects, contributing to the golden age of China-UK relationships."
EI Director and Co-PI on the project Prof Neil Hall, said: "At EI, we are driving technical excellence and capability in computational biology to give both researchers and industry breeders a better understanding and higher impact from their crop data. This strategic Partnership Award is a great example, enabling NAU and EI to work together to overcome technical limitations in crop production, crop genetics and breeding - making a substantial contribution to improving crop precision management in both the UK and China."
Notes to editors.
For more information, please contact:
Hayley London
Marketing & Communications Officer, Earlham Institute (EI)
About Earlham Institute
The Earlham Institute (EI) is a world-leading research institute focusing on the development of genomics and computational biology. EI is based within the Norwich Research Park and is one of eight institutes that receive strategic funding from Biotechnology and Biological Science Research Council (BBSRC) - £6.45M in 2015/2016 - as well as support from other research funders. EI operates a National Capability to promote the application of genomics and bioinformatics to advance bioscience research and innovation.
EI offers a state of the art DNA sequencing facility, unique by its operation of multiple complementary technologies for data generation. The Institute is a UK hub for innovative bioinformatics through research, analysis and interpretation of multiple, complex data sets. It hosts one of the largest computing hardware facilities dedicated to life science research in Europe. It is also actively involved in developing novel platforms to provide access to computational tools and processing capacity for multiple academic and industrial users and promoting applications of computational Bioscience. Additionally, the Institute offers a training programme through courses and workshops, and an outreach programme targeting key stakeholders, and wider public audiences through dialogue and science communication activities.
About BBSRC
The Biotechnology and Biological Sciences Research Council (BBSRC) invests in world-class bioscience research and training on behalf of the UK public. Our aim is to further scientific knowledge, to promote economic growth, wealth and job creation and to improve quality of life in the UK and beyond.
Funded by Government, BBSRC invested over £509M in world-class bioscience in 2014-15 and is the leading funder of wheat research in the UK (over £100M investment on UK wheat research in the last 10 years). We support research and training in universities and strategically funded institutes. BBSRC research and the people we fund are helping society to meet major challenges, including food security, green energy and healthier, longer lives. Our investments underpin important UK economic sectors, such as farming, food, industrial biotechnology and pharmaceuticals.
For more information about BBSRC, our science and our impact see: http://www.bbsrc.ac.uk For more information about BBSRC strategically funded institutes see: http://www.bbsrc.ac.uk/institutes