Understanding life on Earth
04 December 2014
Image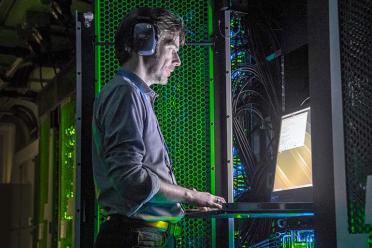 Earlham Institute (EI) uses Intel-powered super computers to collect and crunch complex data that is shaping the future of science.
Tackling problems like population growth and securing food supply are what Earlham Institute aims to contribute towards. Having a supercomputer that keeps up with the vast level of data delivered is crucial. The Institute's research output requires a significant amount of computing power to handle the hundreds of samples and millions of sequences analysed every day. In the human genome alone, there are three billion letters of DNA. At EI these super computers are used to categorise, process, and analyse the genome sequences of a diverse range of plants, animals, and microbes.
Five times larger than the human genome, EI have used their high-performance computing (HPC) capabilities to sequence and assemble one of the most complex genomes, the bread wheat genome. Their scientists have already sequenced and assembled 17 of the 21 chromosomes of the genome, by applying the Intel technology-powered SGI UV system.
The third most-produced cereal worldwide, bread wheat has over a 100,000 genes, compared to the human genome containing about 20,000, the sheer size of the genome, as well as the activation and relationship between the genes and tissue determine its vast complexity.
Our Bioinformatics teams at EI use the SGI UV2000 high-performance computing (HPC) system, the largest SGI-UV installation in the UK. Powered by the Intel Xeon processor E5-4650L product family, the system enables our scientists to analyse the genome sequences of crops, animals, and microbes to promote a sustainable bioeconomy and aid global food security.
Tim Stitt, Head of Computing at Earlham Institute (EI), said: "Intel are renowned for engineering innovative and leading-edge hardware and software solutions for scientific computing and without their technology our rate of discovery at EI would be much less. We are delighted to count on them as a valuable partner in our mission to advance the forefront of Bioscience."
Watch EI-Intel's video 'Understanding Life on Earth' below and read the full case-study. Please note that this video was produced before we rebranded to Earlham Institute, so it contains our previous name, The Genome Analysis Centre.
EI is strategically funded by BBSRC and operates a National Capability to promote the application of genomics and bioinformatics to advance bioscience research and innovation.
Notes to editors.
For more information, please contact:
Hayley London
Marketing & Communications Officer, Earlham Institute (EI)
About Earlham Institute
The Earlham Institute (EI) is a world-leading research institute focusing on the development of genomics and computational biology. EI is based within the Norwich Research Park and is one of eight institutes that receive strategic funding from Biotechnology and Biological Science Research Council (BBSRC) - £6.45M in 2015/2016 - as well as support from other research funders. EI operates a National Capability to promote the application of genomics and bioinformatics to advance bioscience research and innovation.
EI offers a state of the art DNA sequencing facility, unique by its operation of multiple complementary technologies for data generation. The Institute is a UK hub for innovative bioinformatics through research, analysis and interpretation of multiple, complex data sets. It hosts one of the largest computing hardware facilities dedicated to life science research in Europe. It is also actively involved in developing novel platforms to provide access to computational tools and processing capacity for multiple academic and industrial users and promoting applications of computational Bioscience. Additionally, the Institute offers a training programme through courses and workshops, and an outreach programme targeting key stakeholders, and wider public audiences through dialogue and science communication activities.
About BBSRC
The Biotechnology and Biological Sciences Research Council (BBSRC) invests in world-class bioscience research and training on behalf of the UK public. Our aim is to further scientific knowledge, to promote economic growth, wealth and job creation and to improve quality of life in the UK and beyond.
Funded by Government, BBSRC invested over £509M in world-class bioscience in 2014-15 and is the leading funder of wheat research in the UK (over £100M investment on UK wheat research in the last 10 years). We support research and training in universities and strategically funded institutes. BBSRC research and the people we fund are helping society to meet major challenges, including food security, green energy and healthier, longer lives. Our investments underpin important UK economic sectors, such as farming, food, industrial biotechnology and pharmaceuticals.
For more information about BBSRC, our science and our impact see: http://www.bbsrc.ac.uk For more information about BBSRC strategically funded institutes see: http://www.bbsrc.ac.uk/institutes