Norwich Testing Initiative: COVID-19 testing resources for universities

The Norwich Testing Initiative (NTI) was designed as a proof-of-principle study to investigate the laboratory, data and logistical requirements for a programme of regular COVID-19 testing in a population without symptoms.
Based on the learnings, the Earlham Institute is making its methodologies and programme resources available to provide a template for any academic or research organisation looking to set up their own programme of testing.
The Norwich Testing Initiative methodologies and results, providing details on the approach taken, are available online and are now published in the Journal of Public Health.
The Norwich Testing Initiative was delivered by the Earlham Institute, the University of East Anglia (UEA), the Norfolk and Norwich University Hospitals, the John Innes Centre, the Quadram Institute and The Sainsbury Laboratory - all based on Norwich Research Park.
During the study, a dedicated project management team comprised of people from across the Norwich Research Park successfully coordinated:
Communications to all staff and students on the Park
Development of an app for participants to register, record their details and receive results
Sourcing of swabs, reagents and secondment of experienced staff to deliver the project
Swab collection and drop-off, including guidance for self-swabbing and volunteers at the collection sites
Sample processing and analysis with a 24hr turnaround target
Delivery of test results and secure data management
Funding, ethics, project evaluation and reporting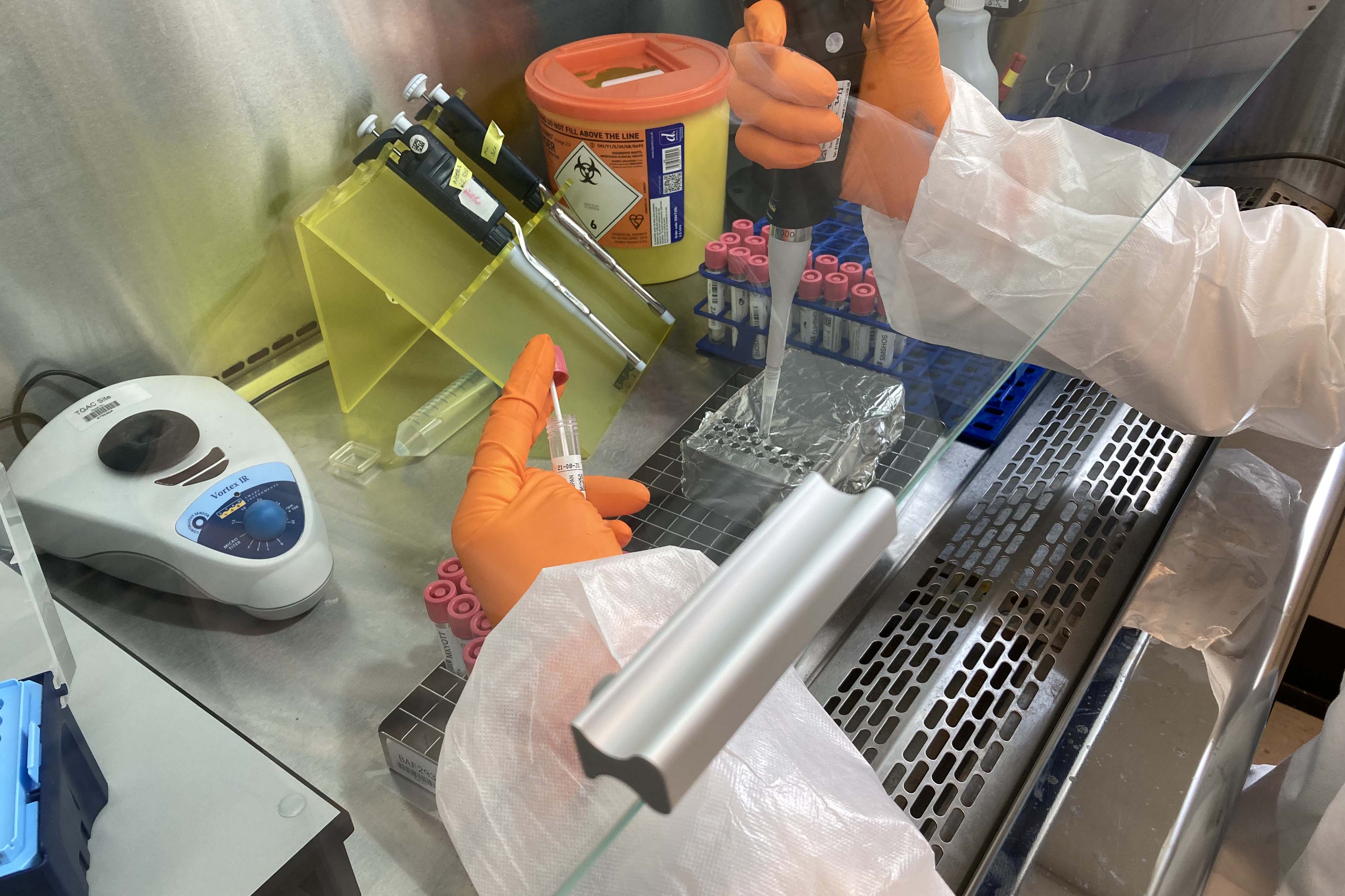 Having analysed over 3,000 samples from more than 800 people, the Norwich Testing Initiative provides a template for others looking to introduce a programme of testing for a fixed population who are asymptomatic.
This website will act as a hub for resources that can be used directly or modified to help you establish your own programme of testing. For now, the team behind the NTI are happy to be contacted to discuss the initiative, share materials and to offer advice based on their learnings.
Please contact Greg.Jones@earlham.ac.uk with any initial queries.
Summary and Background Information
Disclaimer: The Norwich Testing Initiative partners, including the Earlham Institute, cannot guarantee that the content or use of materials, advice or information provided here in connection with the NTI will not constitute or result in infringement of third-party rights. We accept no responsibility for any use of these resources, and accept no liability for any unauthorised modifications or amendments, or use of the materials for the purpose other than described in the Norwich Testing Initiative.
The Norwich Testing Initiative
was a pilot study designed to test the technical and logistical processes needed to deliver a programme of regular community testing.

The study carried out more than 3,000 tests from around 800 Norwich Research Park staff and students.

Participants self-administered nose and throat swabs twice a week from home, dropping off samples at collection points on the Park, which were analysed in secure facilities at the Earlham Institute. Around 85% of participants returned all four samples during the pilot.

The majority of samples were processed within 24 hours, with some participants receiving a result just 9 hours after dropping their sample off. No positive samples were detected during the study.

SARS-CoV-2 testing has been radically scaled up since the start of the pandemic, cheaper and quicker tests are being developed, and labs across the country are in a position to contribute to the national effort.

Results from the NTI help to inform how coronavirus community surveillance testing might be targeted in response to localised outbreaks of the virus, as well as providing a template approach for others to adapt and apply in their regions.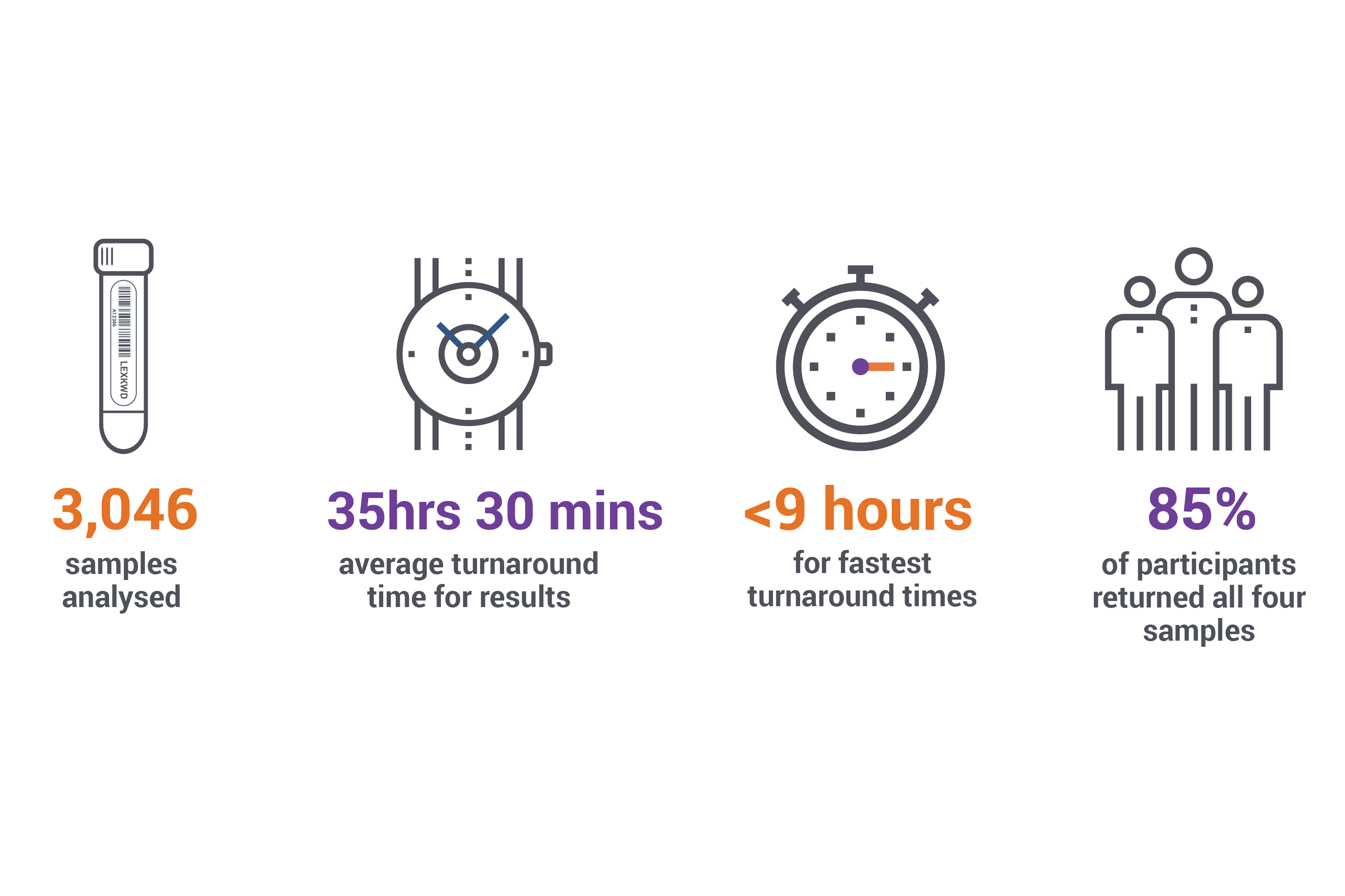 Why do we need community testing?
The Office for National Statistics has estimated that 60-80 per cent of cases are asymptomatic or presymptomatic. Waiting for symptoms to appear means we are always one step behind the virus and less able to disrupt transmission chains.
The evidence so far suggests that younger people are far less likely to show symptoms when infected with the virus. This makes university campuses an ideal place to establish regular testing.
False positives have been raised as a potential issue, particularly for mass testing programmes. But every untested 'silent spreader' is effectively a false negative.
Why Norwich Research Park?
Norwich Research Park boasts a large national infrastructure of world-class bioscience facilities, along with leading scientists from across the spectrum of life science research.
The institutes on the Park have already worked with the Norfolk and Norwich University Hospitals to scale up clinical testing to help meet Government targets, and many also have active Covid-19 research projects underway.
The ambition of the Norwich Testing Initiative
The NTI had a number of ambitions, including:
Provide early identification (and isolation) of pre-symptomatic virus carriers, as well as asymptomatic carriers that would otherwise not know they were infectious
Reduce the burden on the NHS diagnostic testing provision
Allow the trialling of new testing processes which could drive up capacity and reduce costs
Investigate the regularity of testing for optimum virus containment
The Norwich Testing Initiative was overseen by a project management team, with representation from all of the partners across the Norwich Research Park. Seven workstreams were established, each managed by an appropriate lead.
In the case of the NTI, partnership agreements were established to ensure all parties were aware of their roles, responsibilities and expectations.
The project management team met regularly during the planning and delivery phase, with the programme requiring a significant amount of time spent away from day-to-day work. This is an important consideration for those looking to establish and manage their own testing programmes.
Workstream
Focus
Key Deliverables

Technical planning

to specify and deliver the technical process from receipt of sample to final analysis of the result

Resource requirement – provision of equipment, consumable and staffing costs for the project in units and GBP

Operating plan – detailing process, SOPs, risk management and highlighting necessary external resources (i.e. clinical input, communications, etc)

Logistical planning

to specify and deliver all operational requirements outside the technical lab process

Resource requirement - provision of equipment, consumable and staffing costs for the project in units and GBP

Operating plan - detailing process, SOPs, risk management and highlighting necessary external resources (i.e. clinical or public referral, communications, etc)

PR/Communications

to build and deliver the communications plan

Communications Plan - identification of key stakeholders, requirements of the projects, channels and tactical plan

Ethics and oversight

to ensure suitable ethical review and ongoing risk management

Ethical approval or equivalent - application and approval

Risk management - risk register for project board review

Finance and funding

to establish the costs of the project and source sufficient funding

Budget

Funding Statement

Data system management

to design, create and maintain a system in line with Data Protection Requirements, and store relevant data to deliver the project, and provide communication with participants as necessary

Data System

Data compliance and control

SOPs

Project evaluation

to provide evaluation of the project and resultant data

Data analysis

Project impact analysis
Sterilin eSwabs were used to test for the presence of SARS-COV-2 using a qPCR assay that was developed in March 2020 by staff in the Medical School at the UEA in collaboration with the Earlham Institute who automated the pipeline. The pipeline was validated by the Norfolk and Norwich university hospital's diagnostic team. The pipeline is currently being used by the NHS.
During the project a total of 3,046 tests were conducted at EI. The lab results were recorded in the LIMS and uploaded into the project database using an API, which were then delivered to participants via a bespoke web application (negative or inconclusive results) or by phone (positive results).
85% of participants returned all four swabs. A tiny number returned insufficient samples or failed to package their samples in a safe or sterile way for processing.
Most samples were processed in the lab within 24 hours. The average turnaround time for results was over 24 hours, which was largely down to lab working hours during the pilot, the logistics of sample drop-off and collection, and the process for data transfer to deliver results to participants.
Based on the learnings, an optimised process could easily deliver same-day results.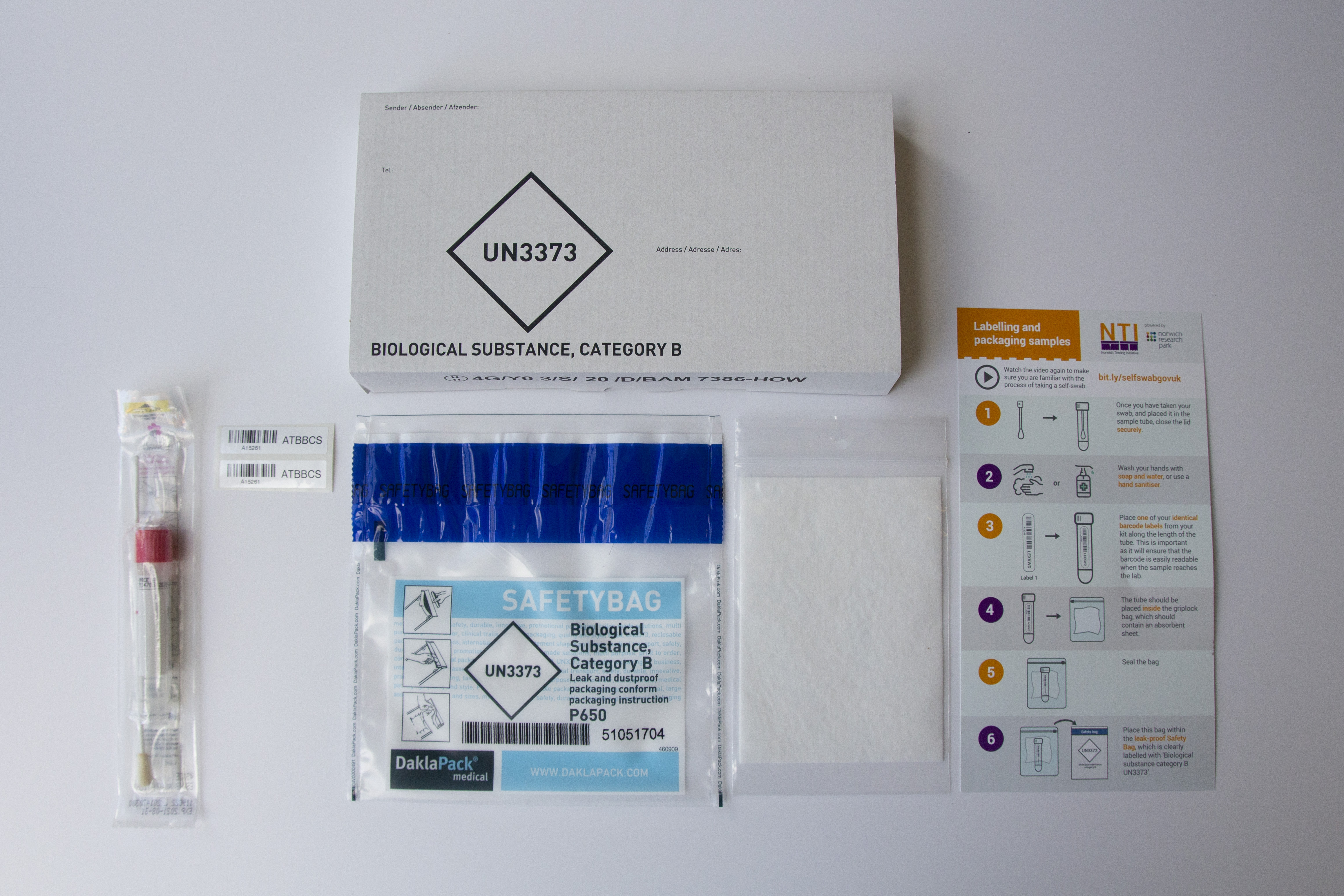 SOPs are being formatted for upload onto this page and will be made available as soon as possible. In the meantime, please refer to the lab operations overview section or contact Greg.Jones@Earlham.ac.uk with any queries.
Please refer to the disclaimer in relation to the use of any materials used here.
Participant registration:
All staff and students living or working on the NRP were eligible to participate in the NTI. They were invited first to register their interest and then sign-up to join the study, all of which was communicated directly by email.
Signing up to participate was managed through a secure web application, created by UEA's School of Computing Sciences specifically for this project. User accounts were verified by email, at which point the participant was considered to be enrolled in the study.
Pre-trial and main trial
In order to check the lab protocols and logistics, a pre-trial was run ahead of the main study. This allowed the team time to identify any unforeseen challenges before the bulk of samples arrived. A total of 180 people participated in a pre-trial, during which they returned two swabs over the course of a single working week.
For the main study, participants were asked to return a total of four swab tests, dropping them off at pre-agreed slots spread equally over a two week period. This helped to ensure the lab wasn't overwhelmed with samples at any time or on any single day, allowing the team to better plan their workflow and meet the target turnaround times.
Participants collected swab kits from the Earlham Institute, self-administered the swab at home and returned the test during the pre-booked return slots.
Participants were also able to watch this video of how to package their samples for returning.
Swab processing
During the study, swab processing was carried out by a dedicated team working normal office hours, Monday to Friday. Please refer to Table 2 in the NTI paper for details of resource and costs.
Please note: We have provided the details of any equipment or materials used in the NTI lab processing. We have received no payment for presenting the information and include it here to inform others and not as an endorsement of the manufacturers.
Copan Liquid Amies Elution Swabs (Eswabs) were used for all participants. The returned swabs were processed in dedicated lab facilities at the Earlham Institute. Participant samples were tested for the presence of SARS-COV-2 using a quantitative polymerase chain reaction (qPCR) assay:
Nasopharyngeal swab samples were pre-treated with a lysis buffer (Cytiva) that disrupts human cells and viral particles to release nucleic acid into solution.
Following inactivation, RNA was extracted using SeraXtracta Virus/Pathogen Kit (Cytiva) on a liquid handling platform (Beckman NXp).
RNA extracts were amplified for detection of the target genes using a set of optimised primers and probes (2019-nCoV CDC EUA Kit, IDT), and enzymes (qPCRBIO Probe 1-Step Go No-ROX, PCRBioystems) in a real-time PCR system (Quantstudio5, Thermofisher).
The assay is qualitative, with results assessed based on a threshold cycle (Ct value) to determine the outcome. The result for each sample was determined using a combination of Ct value for the viral target (N1) and human internal control gene (RPP30) genes.
Positive and negative controls were included in every RNA extraction and qPCR run for quality control. Controls were provided by the Norfolk and Norwich University Hospitals NHS Foundation Trust.
Results
Sample data was managed at EI using Exemplar LIMS® from Sapio Sciences. Results data was processed from these samples using Python 3 scripts developed at EI and running on virtual infrastructure provided by the CyVerse UK cloud.
Validated participant results were then sent to the information systems at UEA using secure web services. Three possible outcomes were defined in the study; positive, negative, or insufficient.
Negative results were sent to the online accounts for the participant. Any sample with a result of 'insufficient' was retested before being sent to the online account of the participant. FAQs made available to all participants included information on the most likely reasons for an insufficient result and reassurance on what it meant.
A protocol was developed for managing any positive results, though none were detected during the study. This protocol involved notifying participants via telephone rather than their online accounts, offering support on next steps and advising them to share their results with their GP, as well as flagging the result to NHS Track and Trace.
Samples received in the morning had the best chance of rapid turnaround times – avoiding inherent delays overnight and from weekends
Lab processing can be optimised to <9 hours
Resourcing the labs appropriately (early/late shifts and weekends) will increase number of results returned within 24hours
Sample drop-off time, collection logistics and data transfer will impact on turnaround times for patients almost as much as lab processing times
Use of lighthouse labs for testing will therefore increase time for receiving results
A secure web application was developed by UEA's School of Computing Sciences.
The app was used to manage participant sign-ups, assign time slots for returning samples, and to return negative or inconclusive test results.
User accounts were verified by email, at which point the participant was considered to be enrolled in the study.
The app enabled the NTI project management team to send communications directly to participants enrolled in the pilot, avoiding the need for separate email lists and unnecessary data storage.
Once the data was securely uploaded from the lab, results were returned instantly to participants' online accounts, with additional encoding and encryption protocols deployed to maintain data security.
Norwich Testing Iniative Data Flow Chart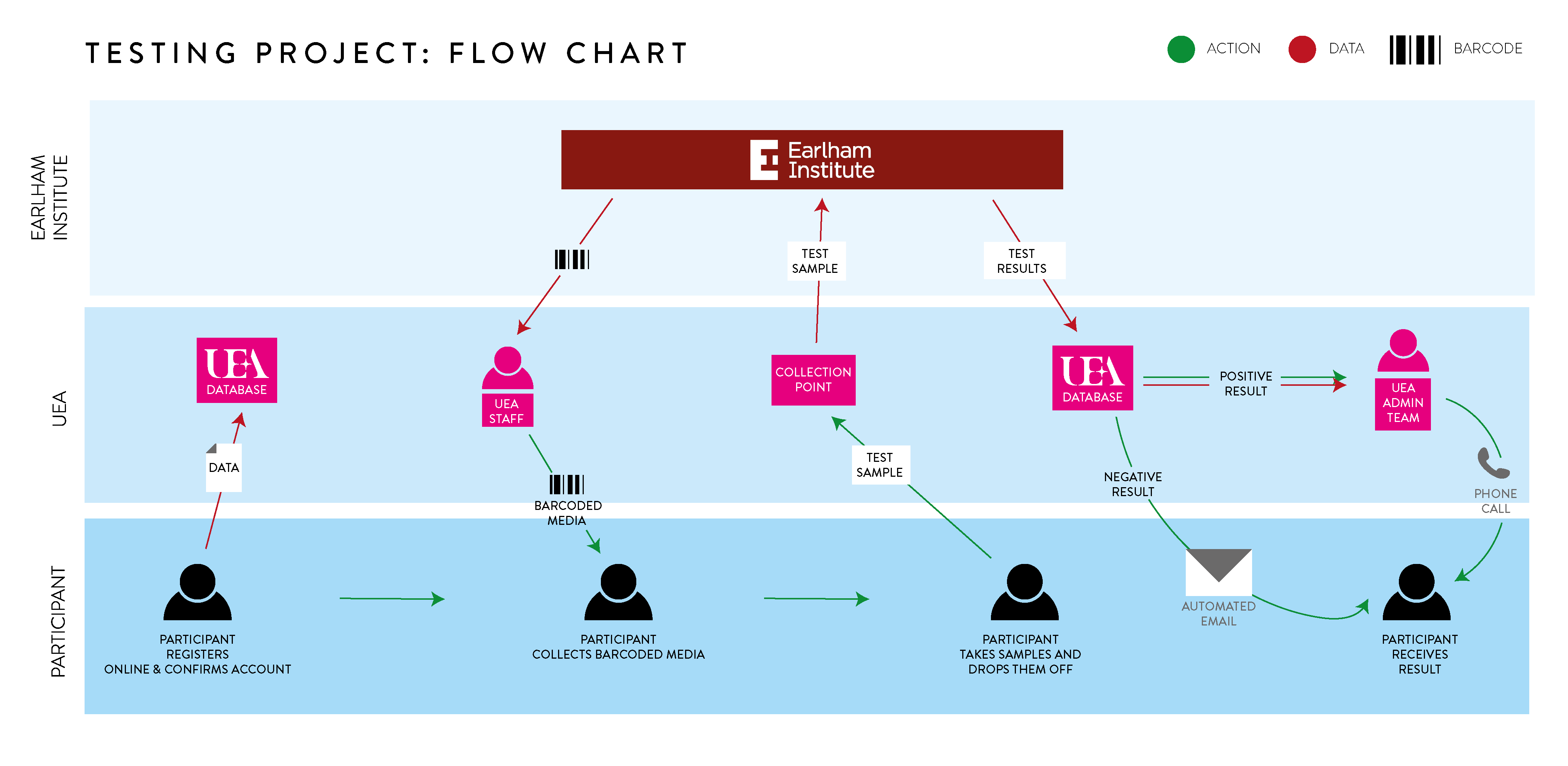 Web application usability, the support for multiple types of mobile devices and different browsers can be enhanced by adding modern UI technologies to improve end user's experience
Data input can be improved by using non-case sensitive approach
Booking can be improved by providing more time slots per day, with consultation needed with the lab processing team to find the optimum approach
Sign up process can be improved by adding checking systems to reduce the errors caused by user input, which will in turn reduce the admin time having to deal with participant queries
The release of results were instant for all cases. The process can be improved (particularly for any positive cases) by employing an embargo so the relevant project management staff can take any action required - for example, contacting participants - before the participants are automatically informed of their results.
For more information, please contact Dr Jeannette Chin at the UEA School of Computing Sciences - J.Chin@uea.ac.uk
The feasibility study presented here was designed to test the technical and logistical processes needed to deliver a programme of regular community testing.
The key processes were:
Determining the process i.e. type of test, regularity of testing
Sourcing equipment, including self-swabs & safe packaging
Volunteer registration
Distributing self-swab testing kits
Collecting swabs at secure drop-off points
Getting samples to the lab
Getting results to participants
Overall, around 800 staff were asked to perform four self-swabs of the throat and nose over a two week period.
It took around 150 staff hours to package all self swabs, instructions and biosecure packaging into kits, which participants collected from a single location. This was done alphabetically over the course of a week prior to the trial commencing. All four self swabs were collected at the same time.
Self-swabs were returned at multiple, signposted drop-off locations. Locations were chosen to allow participants to drop off samples by car or on foot, and to reduce the risk of queues or groups congregating around the drop-off sites. Participants booked time slots for sample drop-off in advance.
It required over 850 staff hours to provide stewards for each drop-off point. It was noted in the project evaluation that having stewards present created a sense of community spirit. 85% of participants returned all four samples.
Securely packaged samples were placed into clearly labelled wheelie bins, which were delivered by an independent transport team to the Earlham Institute labs at regular times each day for processing. The morning collection allowed the majority of results to be returned within 24 hours, often on the very same day. The quickest turnaround was under 9 hours.
The total cost for the Norwich Testing Initiative was estimated to be £170,000. This included an estimated £76,000 in direct costs, and another £94,000 in-kind.
Funding for the initiative came primarily from the partner organisations, with UEA receiving support from local charities and philanthropists.
It should be noted that much of the direct costs were 'setting up' costs, therefore a continuation of the scheme would see costs per sample reduce significantly.
It was vital to secure ethical approval before going ahead with the testing scheme, with all documents - including draft emails to staff and expression of interest forms - and procedures signed off by the UEA Faculty of Medicine and Health Sciences Research Ethics Committee before commencement.
Clear communication was key to the success of the project.
At the outset, all partner institutes issued an email with a link to a central 'expression of interest' form. The email gave a summary of the NTI project and the results of the expression of interest, created on Microsoft Forms, indicated there was a strong desire from the community to take part.
The expression of interest form was followed with communications on how to register to take part in the NTI, with a deadline for registration and clear instructions.
It was important to ensure procedures and information were as clear and easy to follow as possible. To support the logistics workstream, a dedicated participant web page was designed, as well as branded maps and signage for drop-off locations and instructions for packaging swabs. An FAQ document was also created and regularly updated.
A dedicated email address was set up for participants to ask questions during the trial, helping to centralise queries and avoid different partners offering conflicting advice.
The feedback from participants on the communications they received was very positive.
For more information, please contact Greg.Jones@Earlham.ac.uk
Examples of our signage and instructions used can be accessed below:
The NTI involved a number of processes, each of which required careful risk assessment - particularly around the risk of coronavirus infection and transmission.
A template risk assessment for the logistics is provided. This is designed to prompt considerations around risk associated with the specific logistical details of the programme you establish, many of which will be unique.
Most institutions will have their own risk assessment templates and guidance.
Assembly of kit packs was labour intensive and used a total of 150 person hours
Some participants seemed to have issues with correctly sealing the biohazard bag for their swabs. This appeared to be related to the design but clear instructions - including video demonstrations - might help to improve this​
There appeared to be a small reduction in participation as the trial went on. I.e. subsequent swabs less likely to be returned, potentially due to holiday, absences​ or participant fatigue or disinterest after receiving the first negative result
Approach to drop-off sites and packaging allowed for samples to be dropped into collection bins without interaction with stewards​
Issue with a small number of kits led to time spent identifying the source of the error, tracking erroneously packaged kits and replacing those that had already been collected by participants​
Collection of kit packs streamlined to single location to ease the load for stewards and transport
To spread collection of kits across the week, a system was employed to direct participants to a specific day of the week, though this was not as flexible.
Multi-location drop-off worked well, and allowed people to travel by car or on foot, though it required significant numbers of stewards across the testing period
Lack of familiarity of location caused some minor disruption
Sample drop-off slots not entirely flexible as the choices offered to participants were always for a set pair of days and times of the week, e.g Monday a.m. with Wednesday p.m​