Sustaining and improving rice in the face of climate change
Protecting the future of this vital staple food by generating genomics data and training breeders.
Led by: Jose De Vega
Project Funders:
UKRI Biotechnology and Biological Sciences Council (BBSRC) Grant Award BB/N013735/1
The British Council's Newton Fund Institutional Links (Project 172732508)
Almost half of the world's burgeoning population relies on rice for staple calorie intake. However, climate change is threatening the availability of this healthy, versatile, and cheap carbohydrate.
In Vietnam, rice production is of enormous value - both as an export commodity and a daily food staple for the more than 96 million people who live there. Vietnam's unique geography makes it particularly vulnerable to the effects of climate change. With most of the highly productive rice-growing regions found on the coast, rising temperatures and sea levels mean it is imperative that we can breed varieties more tolerant to salt and drought.
Researchers at the Earlham Institute are helping to sustain rice crops and farming in the face of climate change through multiple channels. This vital work includes generating improved genomic data, in order to help breed more resilient rice crops, and working with international partners to help train Vietnamese breeders in bioinformatics and molecular breeding techniques.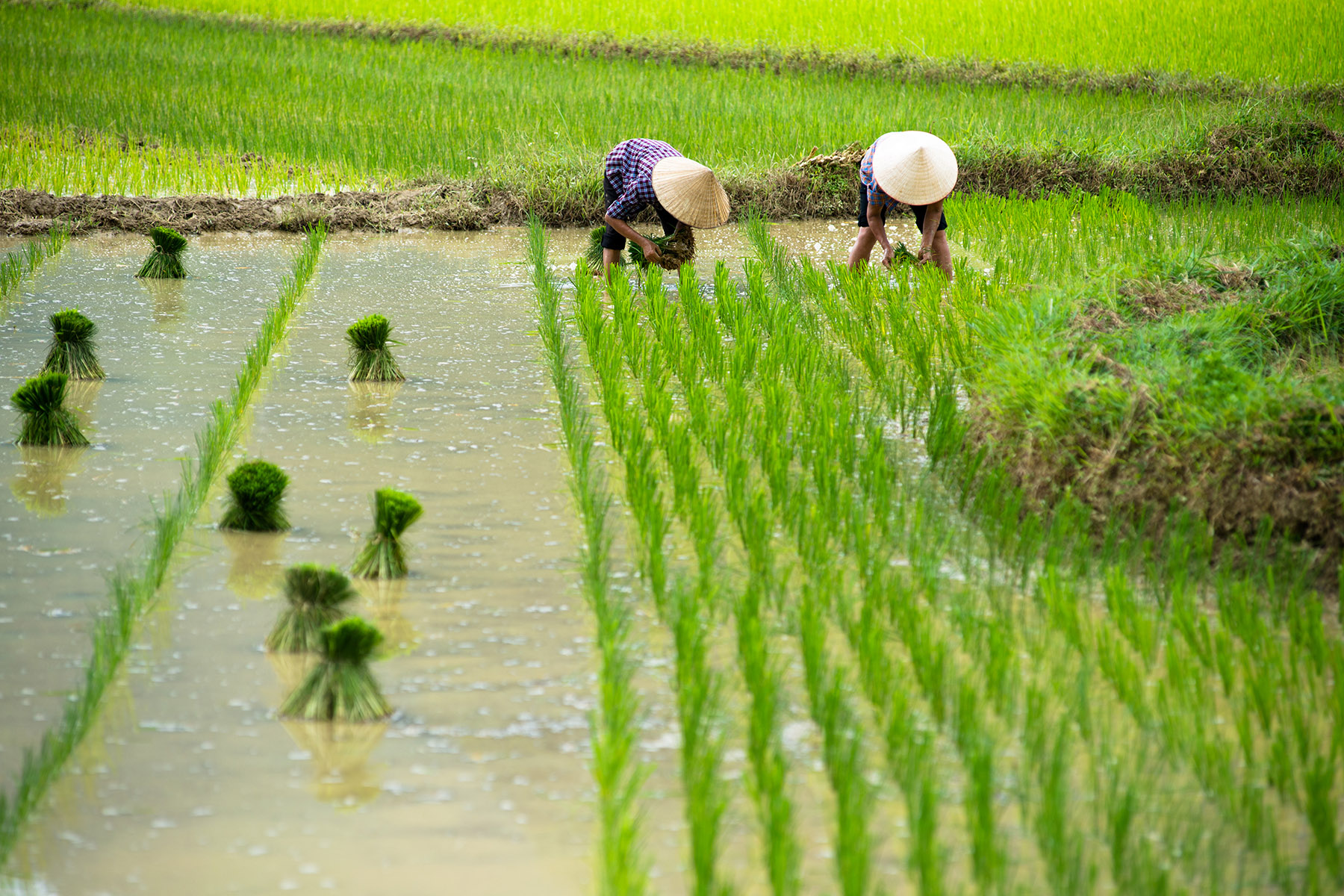 Training the next generation of rice breeders in Vietnam
Scientists from the Earlham Institute, in partnership with Agricultural Genetics Institute (AGI), have begun their bioinformatics training programme in Vietnam.
The advanced training will equip Vietnamese scientists with the skills in bioinformatics and genomics for crop analysis, and ensure future knowledge for their peers.
The EI team visited Vietnam several times during 2017 and 2018, funded by the Newton Fund through the British Council. They carried out training workshops in advanced bioinformatics tools to achieve precision breeding techniques for much larger rice yields, and at the same time to learn the techniques and diversity involved in rice breeding in Vietnam. This collaboration also created opportunities to work alongside world-leading scientists with experience in rice breeding and agronomy.
Exploring the diversity of traditional rice varieties in Vietnam for improved crop resilience
Earlham Institute researchers are part of an international collaboration with genebanks and rice breeders in Vietnam aiming to identify varieties that can survive an increasingly unpredictable climate.
The unparalleled geography and history of Vietnam, together with its diverse range of ecosystems and latitudinal range, mean it has been blessed with a vast diversity of rice landraces.
To fully understand the uniqueness and potential of this native crop diversity, the research team analysed 672 Vietnamese rice genomes; 616 were newly sequenced, which encompass the range of rice varieties grown in the diverse ecosystems found throughout the country.
The team of scientists discovered a previously overlooked 'I5 Indica' large rice subpopulation in some regions of Vietnam, which had not been used before to produce the more common elite rice varieties resulting from previous rice improvement studies.
These locally adapted rice varieties provide a potential source of novel genes that carry important agronomic traits, which can potentially be leveraged by future rice breeding programmes.
This will help with a new generation of 'Green Super Rice', designed to lower production input while enhancing nutritional content and suitability for growing on marginal lands - resulting in a sustainable and resilient rice to better withstand extreme weather conditions.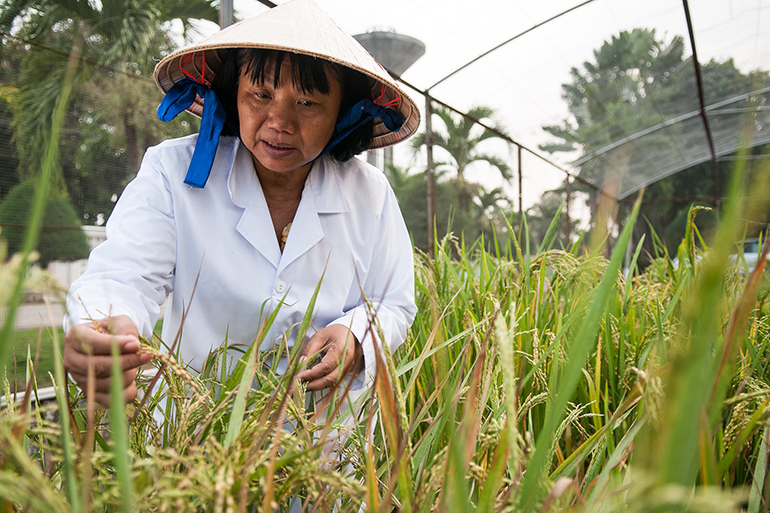 Above Pictures Credit: ©2014CIAT/GeorginaSmith
NIAB
Mario Caccamo
Agriculture Genetics Institute (AGI), Hanoi, Vietnam
Tran Dang Khanh, Khuat Huu Trung, Tran Duy Duong & Le Huy Ham
Plant Resource Center, Hanoi, Vietnam
La Tuan Nghia
Rice is a staple crop in some of the most severely food-stricken regions of the planet, providing a significant proportion of the calorie intake for some of the world's poorest people.
The new genomic data we are generating will significantly support efforts to breed more resilient rice crops, contributing to global food security.
People working on the project.