Rice, rice baby! Training Vietnamese rice breeders
In Vietnam, rice is considered a 'gift from God'. By training Vietnamese rice breeders in bioinformatics, we're helping to keep it that way.
In Vietnam, rice is considered a 'gift from God'. By training Vietnamese rice breeders in bioinformatics, we're helping to keep it that way.
Vietnam is the world's second largest exporter of rice, with the Mekong Delta boasting over 1,600 varieties yielding 20 million tonnes. The region is home to 17 million people, of whom 80% grow rice, which makes up 50% of the national diet.

It's more than just food – it's a culture, a national economy and a way of life.

It's not only Vietnam. Almost half of the world's burgeoning population relies on rice for staple calorie intake, and countries neighbouring Vietnam are increasingly competing in the rice export market, particularly in premium-quality grains.

In the face of a changing climate, with pests and pathogens spreading to new areas and sea levels rising, not to mention rampant commercialisation of land – Vietnam's abundant rice yields are under threat.

With most of the highly productive rice-growing regions to be found on the coast, amidst sea level rise, there is a sheer necessity to breed more salt-tolerant varieties.
Vietnamese rice breeders are working hard to maintain food security for their country. Credit: Shutterstock / beboy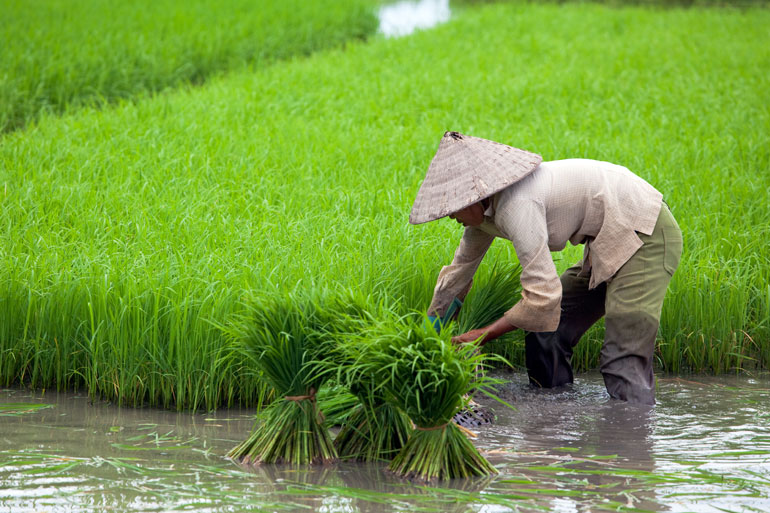 Training future trainers.
At EI, we are dedicated to driving forwards genomics research on a global scale, with a commitment and enthusiasm for promoting open science and innovation.

Our expertise in bioinformatics, as well as enabling us to skillfully and accurately assemble genomes of diverse species, also allows us to deliver world-class training in diverse fields from metagenomics and introductions to bioinformatics to NGS workflows and De Novo sequencing.

With support from the Newton Fund (http://www.newtonfund.ac.uk/), EI scientists are participating in an international exchange with Vietnamese breeders, in order to train them to eventually perform their own bioinformatics analysis and pass on their knowledge to wider networks in Vietnam, and the breeders of the future.

In return, our scientists will receive expert training in Vietnam relating to rice phenomics and classical breeding techniques.

Leading EI's involvement in the project will be José De Vega, Acting Head of our Crop Genomics Group.
Where's José? Follow our journey from Norwich – Vietnam.
May 2016 – Big Data
In the last week of May, José, along with a colleague from NIAB, will travel to Hanoi in order to deliver a week-long workshop to introduce bioinformatics to breeders in Vietnam.

There, Jose will show breeders how to get to grips with the basics of big data analysis.

He will guide them through using online platforms such as Galaxy – a free platform enabling researchers to analyse, reproduce and share data, as well as iPlant (CyVerse) – a computational infrastructure for plant sciences.
August 2016 – Rice toolkit
Later in the year, six breeders from AGI will then visit EI.

Here, they will receive further training in how to perform bioinformatics, especially pertaining to rice.

They will also get the chance to spend time in the EI labs, spending a week with Platforms and Pipelines Team Leader Darren Heavens, to see first-hand how we perform cutting-edge next generation sequencing.

This visit will be of particular importance, as we hope to provide our visitors with the necessary toolkit to be able to go back to Vietnam and pass on the skills they have acquired while working with our expert bioinformaticians.
January 2017 – Teaching breeders
It is paramount that we ensure the sustainability of the collaboration going forwards, and to do this we not only have to teach breeders how to perform bioinformatics but also how to best disseminate this knowledge to peers and students.

Therefore, in early 2017, Vietnamese breeders will again visit EI in order to learn how to teach, as part of a "Train the Trainer" workshop delivered by our Scientific Training and Education team.
February – March 2017 – Pay it forward
To round off the year-long project, four researchers from EI and NIAB will then return to Vietnam to consolidate our collaboration with AGI and to reinforce the bioinformatics education that we are passing on.

This time, there will be a mix of scientists involved in both genomics and phenomics.

Not only can we help to ensure that our bioinformatics training can have a positive effect on Vietnamese rice breeding, we can also receive expert guidance on rice phenomics from our collaborators at AGI, which will help to inform our own research at EI.
Our collaboration with AGI, along with scientists from the John Innes Centre, has previously allowed us to sequence 36 wild varieties of Vietnamese rice for the first time.

This initial work has acted as a springboard, with genetic data that can be used to inform breeding practises in order to produce higher yielding rice varieties with greater resistance to a suite of biological and environmental stresses.

After the success of this initial phase, we are extending the project to include 600 rice genomes, to better develop genomic markers to assist us in identifying disease resistance and salt tolerance.
Fighting against climate change.
Overall, this collaboration shows the desire to cooperate on a global scale to help answer the varied challenges presented by a changing climate and an ever-increasing global population.

Vietnam is a good case in point; sea level rise will have a significant impact on major agricultural areas, reducing available land for farming while rendering soils far less hospitable for crops.

The benefits of research into the genomics of multiple wild relatives that can increase both the speed and efficacy of crop breeding programmes cannot be overstated – and will help us to maintain healthy populations in a burgeoning world.