How Earlham Institute influenced my career path
Nuffield Research Programme student Sophie Kirkwood tells us what it was like to work at EI and how it has influenced her decision to embark upon a STEM career.
Sophie Kirkwood participated in our Nuffield Research Programme in 2016 that engages perspective future scientists in the field of genomics. The STEM placement gives over 1,000 sixth-form students each year the chance to work alongside professional scientists, technologists, engineers and mathematicians across the UK.
Sophie tells us what it was like to work with our EI scientists and how it has influenced her decision to study a Masters in Mathematics and overcome her fears of embarking upon a STEM career …
In August 2016, I undertook a Nuffield Placement involving mathematics, biology and physics. During my time at the Earlham Institute (EI) I learned a lot about what it is like to work in a scientific environment and about what it feels like to be doing research. I went into my project thinking these subject areas were very closed-off but the project I worked on at EI allowed me to learn and discover new mathematics, biology and physics.
Problem-solving with bioinformatics.
When starting, I was very nervous as I didn't know what my project would be and how challenging I would find it. I enjoyed the whole experience more than I expected; I learned a lot about some very interesting topics such as quantum computing, high-performance computing and genomics, and met some extraordinary people.
Researching the higher level of mathematics and computing influenced my choice of career path. Before my placement, I had decided that studying mathematics at university was something I would like to do; I just didn't want it to narrow my options as I enjoyed all sciences.
After researching mathematics, biology and physics to try and solve a specific problem during my time at EI has made me want to study mathematics more, knowing my knowledge can be used to solve such a wide array of problems.
Influencing women in science.
The people at EI also influenced my decision to study mathematics. I worked mostly with Dan Mapleson, Katie Barr and Luis Yanes. Katie Barr really influenced my decision to go on to study MMath. Seeing women succeed in male dominated subjects, such as computing and mathematics, is very inspiring. Working with Katie helped me gain confidence both in pursuing a career in STEM and in my studies at school where I would often feel inferior for being female.
Luis Yanes' role, in particular, I really took a liking to. His role as Scientific Computing Specialist seemed very interesting. I want to learn more about computing while I carry on with my education, perhaps do more programming. I would really like to learn how to use the matrix-based MATLAB language – I think it would really be useful for my mathematics and just be fun to play around with, in general.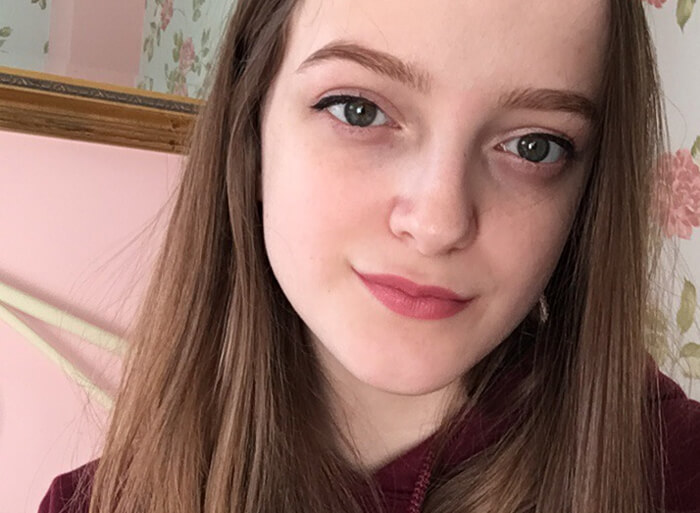 STEM subjects are becoming more accessible for women to get into but I still think we have a long way to go (despite how far we have come).
I felt afraid to try to pursue a STEM career because I thought people would find it amusing or that I would not be treated as an equal to my male counterparts. I felt afraid because I didn't want to be pushed out of doing something I love because I was female and feeling that pursuing a career in mathematics just isn't what females do.
We may have lessened the physical barrier of women getting in STEM subjects but the mental barrier is still very much there. I want young women to be able to study STEM subjects and not let the thoughts and opinions of other people stop them from pursuing their career – particularly those who think women are inherently inferior and will never be as successful as their male counterparts.
Being at the Earlham Institute, even though it is just one scientific environment, has removed those fears, and consequently, I am currently doing mathematics, further mathematics and chemistry at A-Level to get into a mathematics degree.
Deciding to do a Nuffield placement was the best decision I made and it has been the greatest educational experience I have had for a long time. It helped me overcome what was stopping me pursue a STEM career and opened my eyes to many other career options.
I have applied to study mathematics for four years (MMath) and have received four offers from amazing universities. I hope to go to The University of Nottingham to study mathematics but whatever happens I will be studying mathematics at a university of my choice in September.
I'm not sure what I will be doing after studying mathematics but I have always liked the idea of staying in education, so would like to carry on and gain a PhD. I am the first person in my family to be going to university and no one in my family has a STEM career. This makes pursuing a STEM career even more daunting, and, before I did my placement at the Earlham Institute, I really had no idea what to expect when working in that kind of environment.
Previously, I wanted to be a teacher at secondary level (GCSE and A-Level). I am still open to this as I have always liked being able to help people and expand their knowledge, which I find very satisfying. I have been mentoring people throughout my education and I enjoy it very much. I also like the idea of being a research scientist, more so now than before my project at EI, since I had very little knowledge about what being a research scientist involved.

Deciding to do a Nuffield placement was the best decision I made and it has been the greatest educational experience I have had for a long time.
My EI project was 'Using quantum physics to solve biological problems'. To understand the problem well enough, I needed to be introduced to many new concepts including quantum computing and multiple sequence alignment.
We aimed to align multiple large sequences in a reasonable amount of time. To do this, I helped create an algorithm that would eventually run on the D-Wave's device, a quantum annealer. Not only would this help in the field of multiple sequence alignment, but also could help make advances in the field of quantum computing; identifying whether this could be used to solve other computational problems in life sciences.
What our Faculty thought …
EI Nuffield placement lead, Dr Graham Etherington, said: "Sophie's Nuffield application and CV really stood out. Although Sophie's interests lay out of my area, her enthusiasm of science and her related interests really made me want to find a project for Sophie at EI. I'm so pleased that Sophie enjoyed working with her project supervisors and am delighted that she's pursuing a career in science."
"It was great fun working with such a bright and motivated student, and I am delighted that I have helped her feel more confident in pursuing a STEM career, as Sophie has great talents in this area, said Katie Barr, Software Developer at EI. "I worked with Sophie mostly at the start of the project, to get her up to speed on the basics of quantum computing, after which she took the project and ran, making remarkable progress. By the end of the project, she was making genuine contributions to our work. I'm pleased that the project was so productive for both sides."
Daniel Mapleson, Analysis Pipeline project Leader at EI, added: "It was an absolute pleasure to work with Sophie on this project. She quickly got to up to speed with some complex concepts, such as quantum computing, optimisation problems and multiple sequence alignment remarkably quickly. She made a valuable contribution to the project and helped us double check our maths throughout. On more than one occasion she was able to identify and correct mistakes in our formula! I'm delighted that she has been accepted to study Maths at Nottingham and is keen to pursue a STEM career."