Flying the flag for UK science in Colombia
22 June 2018
Image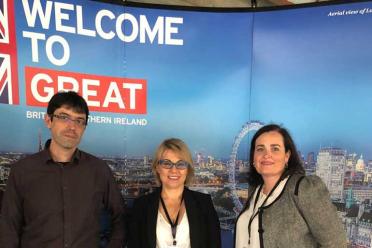 Earlham Institute flies the flag for UK science at this week's International Environment Fair (FIMA) in Bogota, where the UK is honoured as the guest country, helping Colombia to conserve its natural capital and achieve lasting peace and sustainable economic growth.
At the 2018 International Environment Fair (FIMA) in Bogota this week, the UK is credited as the official guest country, highlighting the UK's investment in Colombia and how UK-based academics are helping to build capacity in Colombia for science research.
As part of panel interventions featuring many high profile names across government and academia, the Earlham Institute represented the UK and spoke of the importance of research for decision making and how she founded BRIDGE: a high impact, international, multidisciplinary network of academic and government research institutes as well as industry partners and NGOs. This important contribution to international science was highlighted in a speech by Colombia's Minister of Environment Luis Gilberto Murillo Urrutia.
Born out of this groundbreaking collaboration, Earlham Institute is profiling the £6.5million Global Challenges Research Fund project known as "GROW-Colombia", introduced by Prof Di Palma on the EI Institute stand at the event, complemented by talks by Dr Wilfried Haerty and other important partners (see notes to editors).
Speaking at FIMA, Prof Di Palma said, "We are spearheading an international, multi-partner, capacity-building project to conserve Colombia's precious megadiversity whilst finding new, sustainable ways to develop the country's bio-economy. As the country transitions to a new government, we are working with researchers in Colombia and the UK to help Colombia enroot the fragile shoots of peace and progress towards social equity, prosperity and environmental protection."
At FIMA, Earlham Institute is leading the UK academic presence at events that champion innovative solutions to stimulate green growth.
Working closely with Luis Calzadilla at the British Embassy in Colombia, Director of Operations Sarah Cossey is organising workshops, seminars and commercial engagement events alongside Dr Mauricio Diazgranados Cadelo from Kew Gardens, Dr Blanca Huertas of the Natural History Museum and other partner organisations in Colombia.
Colombia is the second most biodiverse country in the world. This wealth of natural diversity is threatened by commercial exploitation, the illicit drug trade and climate change. During his time in office, the outgoing President, Juan Manuel Santos, won the Nobel Peace Prize for his efforts negotiating a peace treaty to end the conflict that lasted more than 50 years. Last week Ivan Duque won the Presidential election. Hopes remain high that the peace process will evolve and stabilise under his leadership.
ENDS
Notes to editors.
For more information, please contact:
Dr Peter Bickerton
Scientific Communications & Outreach Manager, Earlham Institute (EI)
peter.bickerton@earlham.ac.uk
About Earlham Institute
The Earlham Institute (EI) is a world-leading research Institute focusing on the development of genomics and computational biology. EI is based within the Norwich Research Park and is one of eight institutes that receive strategic funding from Biotechnology and Biological Science Research Council (BBSRC) - £5.43m in 2017/18 - as well as support from other research funders. - as well as support from other research funders. EI operates a National Capability to promote the application of genomics and bioinformatics to advance bioscience research and innovation.
EI offers a state of the art DNA sequencing facility, unique by its operation of multiple complementary technologies for data generation. The Institute is a UK hub for innovative bioinformatics through research, analysis and interpretation of multiple, complex data sets. It hosts one of the largest computing hardware facilities dedicated to life science research in Europe. It is also actively involved in developing novel platforms to provide access to computational tools and processing capacity for multiple academic and industrial users and promoting applications of computational Bioscience. Additionally, the Institute offers a training programme through courses and workshops, and an outreach programme targeting key stakeholders, and wider public audiences through dialogue and science communication activities.
The mission of the EI is tackling global challenges through life science research. EI's research brings together a wealth of expertise in biosciences, bioinformatics, high-performance computing and biotechnology to understand complex biological systems in plants and animals and their interaction with the environment.
EI is supported by UK Research and Innovation Councils to ensure that biological science in the UK has access to a skill base in genomics technologies and bioinformatics to deliver programmes leading to improved food security, advances in industrial biotechnology and improved human health and wellbeing.
The institute is located on the Norwich Research Park (NRP) and also houses the Earlham DNA Foundry for accelerating progress in synthetic biology.
Academic and governmental panels at FIMA
CONSTRUYENDO EL CAMINO PARA EL 2030, ODS
Margarita Marino de Botero (moderadora), Luis Fernando Mejía - Director of the Departamento Nacional de Planeación (DNP), Jimena Puyana - Chief of the Área de Ambiente y Desarrollo Sostenible del Programa de Naciones Unidas para el Desarrollo (PNUD), Federica Di Palma - Director of Science, Earlham Institute, Matilde Ceravolo - Joint head of the Cooperación de la Unión Europea, Willer Guevara Hurtado - Deputy minister Políticas y Normalización Ambiental.
INVESTIGACIÓN AMBIENTAL PARA LA TOMA DE DECISIONES
Lida Patricia Rodríguez - Expert delegate of the European Union, Francisco Armando Arias Isaza - Director General INVEMAR, Instituto de Investigación de Recursos Biológicos, Alexander von Humboldt, Luz Marina Mantilla Cárdenas - Director of the Instituto Amazónico de Investigaciones Científicas (SINCHI), Federica Di Palma, Director of Science - Earlham Institute, UK, William Klinger - Director IIAP Omar Franco - Director IDEAM
About BBSRC
The Biotechnology and Biological Sciences Research Council (BBSRC) is part of UK Research and Innovation, a non-departmental public body funded by a grant-in-aid from the UK government.
BBSRC invests in world-class bioscience research and training on behalf of the UK public. Our aim is to further scientific knowledge, to promote economic growth, wealth and job creation and to improve quality of life in the UK and beyond.
Funded by government, BBSRC invested £469 million in world-class bioscience in 2016-17. We support research and training in universities and strategically funded institutes. BBSRC research and the people we fund are helping society to meet major challenges, including food security, green energy and healthier, longer lives. Our investments underpin important UK economic sectors, such as farming, food, industrial biotechnology and pharmaceuticals.
About Global Challenges Research Fund
The Global Challenges Research Fund (GCRF) is a £1.5 billion fund announced by the UK Government in late 2015 to support cutting-edge research that addresses the challenges faced by developing countries. Alongside the other GCRF delivery partners we are creating complementary programmes that:
promote challenge-led disciplinary and interdisciplinary research, including the participation of researchers who may not previously have considered the applicability of their work to development issues
strengthen capacity for research, innovation and knowledge exchange in the UK and developing countries through partnership with excellent UK research and researchers
provide an agile response to emergencies where there is an urgent research need.
GCRF forms part of the UK's Official Development Assistance (ODA) commitment, which is monitored by the Organisation for Economic Cooperation and Development (OECD).
The GCRF delivery partners are: UK Research and Innovation, Scottish Funding Council, Higher Education Funding Council for Wales, Department for Education Northern Ireland, Academy of Medical Sciences, Royal Society, British Academy, Royal Academy of Engineering and UK Space Agency.
The Fund is advised by a Strategic Advisory Group and a UKRI International Development Peer Review College forms part of the GCRF global engagement strategy for Official Development Assistance (ODA) research.
About GROW
A £6.5million Global Challenges Research Fund multidisciplinary programme, led by EI Director of Science Federica Di Palma, aimed at strengthening Colombian research capability in the biological sciences, computational biology, and socio-economics to develop robust coordinated activities under a shared vision centred on biodiversity as a means to achieve sustainability and peace. Colombia's biodiversity is not only important for the country's natural heritage and the preservation of unique species in the world, it is also essential for the improvement of human welfare, social equality and economic development.
The project involves UK and international organisations: the Earlham Institute, IBERS, University of East Anglia, Royal Botanic Garden Edinburgh, the Natural History Museum, Sydney University, and the Eden Trust.
In partnership with COLCIENCIAS and Colombia BIO, national institutions and research organisations are committed to the protection of Colombia's biodiversity and development of the country's bioeconomy. The Colombian Organisations comprising this Network on initiation are: Instituto Alexander Von Humboldt, CORPOICA, Universidad Nacional de Colombia, Universidad de los Andes, Universidad EAFIT, Universidad del Rosario,, Universidad Industrial de Santander, CIAT, CENICAÑA, Cenicafe, CorpoGen, and Jardín Botánico de Cartagena.