In December, the Colombian Embassy to the UK hosted a diplomatic event at the Natural History Museum to celebrate the UK's support for "Doing Science with Colombia". Scientists, academics, NGOs and policy makers from both countries spoke to an audience of nearly 300 people. All of them welcomed the emerging and strengthening partnership between the UK and Colombia to grow scientific research collaboration.
Earlham Institute's former Director of Science, and Director of the BRIDGE Colombia UK Research Network, Federica Di Palma, joined other academics in a panel discussion and gave an insight into the opportunities for the new RCUK funded project; Preserving, restoring and managing Colombian biodiversity through responsible innovation. Federica outlined the multidisciplinary and integrated approach that is key to the Earlham Institute's work in Colombia in addressing multiple challenges in post-conflict Colombia. The four-year project, will enable the Earlham Institute and its partners in Colombia and the UK, to develop and assimilate new academic, business, government and civil society networks under a shared vision of characterising, preserving and managing Colombia's biggest heritage, its biodiversity, while also developing its agri-industry and bio-economy for the benefit of Colombia.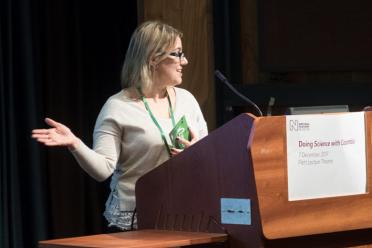 At the same event the Colombian Ambassador to the UK, Néstor Osorio Londoño welcomed the UK's developing partnership with Colombia. He highlighted that the two countries' scientific collaboration is driven by their shared principles of democracy, human rights and the free market economy. He asserted that investment in science will contribute to economic growth and stability in Colombia by strengthening the prospects for peace and security. Second only to the USA, he said that the UK is the most popular destination for Colombian students to further their education. The Ambassador thanked the UK Government for their support in creating a solid base for Colombia's growing sustainable biotech industry.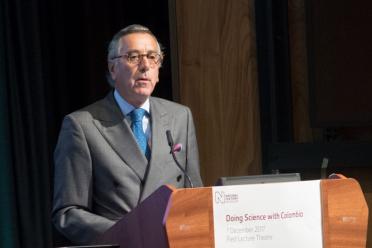 Dr Cesar Ocampo, General Director of Colciencias, one of the Earlham Institute's partners in Colombia, echoed Ambassador Osorio's belief that the UK is a critical partner in what lies ahead in achieving sustainable human development in peace. Colciencias' vision is for Colombia's future economic prosperity to be inclusive, environmentally sustainable, transparently achieved and guided by knowledge to facilitate a dignified life for all its inhabitants. Dr Ocampo spoke of the need for science to inform sustainable prototype communities in ex FARC combatant areas to produce a model for post-conflict economic and social development.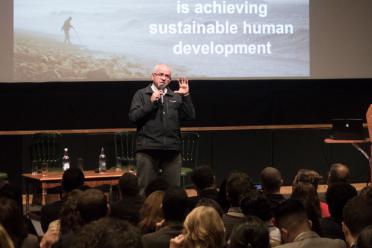 Other speakers highlighted the need for science to inform policy making and for legislation in Colombia to keep up with scientific understanding. They spoke of the challenges of socio-economic inequalities and the vacuum of power, particularly in rural communities, created when paramilitaries withdrew following the recent peace process. There was broad agreement between all the speakers that building Colombia's scientific capacity will help to address these challenges and enable Colombia to be more resilient to other physical threats such as climate change, pollution, flooding, and habitat and biodiversity loss. They agreed that science needed to help Colombia make rapid progress in ensuring that stability and prosperity permeate throughout Colombia, particularly into communities that have previously been isolated from the country's wealth and development.
Article author: Saskia Hervey