Genome sequence of a polar alga explains adaptation to extreme climates
17 January 2017
Image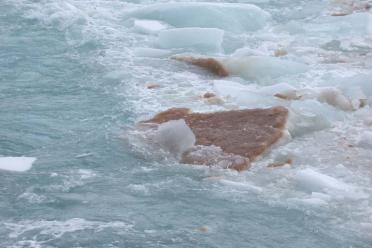 An international team of researchers has identified the genetic mutations which allowed microalgae (phytoplankton) from the Southern Ocean to adapt to extreme and highly variable climates – a step towards understanding how polar organisms are impacted by climate change.
The team led by Prof Thomas Mock from the University of East Anglia (UEA) School of Environmental Sciences investigated the evolutionary genomics of the polar diatom Fragilariopsis cylindrus, which has evolved to thrive in the Southern Ocean but also occurs in the Arctic Ocean. Genome sequencing was carried out at the U.S. Department of Energy Joint Genome Institute (Walnut Creek, US) and the Earlham Institute (EI) (Norwich, UK).
How phytoplankton have evolved to cope with polar marine conditions of strong seasonality, sub-zero temperatures and extended periods of darkness was largely unknown. The genome sequence from Fragilariopsis cylindrus represents the first complete genome of a polar eukaryote – a 'higher' organism with complex cells.
Fragilariopsis cylindrus is a key species especially in the Southern Ocean and thrives in sea ice, underpinning one of the most unique food webs on Earth feeding krill, penguins, seals and whales.
Most phytoplankton in the Southern Ocean face inclusion into sea ice every winter and are released again in summer when most of the sea ice melts. Species such as Fragilariopsis cylindrus have evolved adaptations to cope with these drastic environmental changes.
The researchers found that they do this by varying their alleles, which has not been shown in any marine organism before. Alleles are variant forms of a gene, which are located at the same position, or genetic locus, on a chromosome. Fragilariopsis cylindrus is a diploid organism because it has two alleles at each genetic locus.
Prof Mock said: "Our study identified that almost a quarter of the genome contained allelic variants. These alleles were differentially expressed across important environmental conditions, and we found evidence that those conditions were causing the allelic differentiation. As the effective population size of this polar diatom is huge, there is an allele for every occasion, which seems to make this organism extremely adaptable to changing environmental conditions."
The study, published today in the journal Nature, is a significant step in understanding how polar organisms have evolved to cope with their extremely variable environmental conditions and therefore, their potential to adapt to environmental changes induced by human activity. Limited research is carried out into polar organisms because of the many challenges presented by working in polar regions and by working with these organisms in the laboratory and this work has taken more than nine years from the initial idea.
Scientists at EI used cutting-edge genomics technology and bioinformatics expertise to carry out additional studies on the original genome assembly provided by the Joint Genome Institute (US). With funding from an Institute Development Grant1, Dr Mark McMullan, Dr Pirita Paajanen in the group of Dr Matt Clark (Technology Development) used the latest PacBio long-read sequencing and assembly software to generate a new genome assembly and assign the allelic variations to separate chromosomes.
Dr Paajanen said: "This is the first time at EI that a genome of this type was assembled into chromosomes. It is only very recently that the technology has been developed to cope with such a highly heterozygous organism and the data show that this diatom does actually have a large amount of variation within their genes. This result adds weight to the theory that this is important to help the organism deal with the extreme environments in the ocean around the Antarctic continent. Using our assembly, we showed that the original genome assessment was correct, and were able to prove it, due to EI's strengths in advanced sequencing technology and high-performance computing."
Dr Clark, added: "This was a very interesting biological question that the latest technologies make much easier to address. Using long DNA sequencing and assembly methods to assemble both the allelic copies of a gene helped demonstrate the unusual genome biology necessary for this species to succeed in the Southern Ocean surrounding the Antarctic continent."
The work is also relevant to the biotechnology industry, which has an interest in extremophiles – organisms which thrive in extreme conditions and are a potentially valuable source of industrially important enzymes.
Funding for this work come from the U.S. Department of Energy's Office of Science, Biological and Environmental Research Program, the Natural Environment Research Council (NERC), the Biotechnology and Biological Sciences Research Council (BBSRC), the Royal Society and the Earth & Life Systems Alliance (ELSA).
"Evolutionary genomics of the cold-adapted diatom Fragilariopsis cylindrus" is published in the journal Nature on 16 January 2017.
Image shows: Sea-ice flows from the Ross Sea (At McMurdo Research Station), Southern Ocean. Brown colour is caused by dense populations of mainly, diatoms at the interphase between sea ice and sea water including the species Fragilariopsis cylindrus. Credit: James A. Raymond.
Notes to editors.
For more information, please contact:
Hayley London
Marketing & Communications Officer, Earlham Institute (EI)
About Earlham Institute
The Earlham Institute (EI) is a world-leading research institute focusing on the development of genomics and computational biology. EI is based within the Norwich Research Park and is one of eight institutes that receive strategic funding from Biotechnology and Biological Science Research Council (BBSRC) - £6.45M in 2015/2016 - as well as support from other research funders. EI operates a National Capability to promote the application of genomics and bioinformatics to advance bioscience research and innovation.
EI offers a state of the art DNA sequencing facility, unique by its operation of multiple complementary technologies for data generation. The Institute is a UK hub for innovative bioinformatics through research, analysis and interpretation of multiple, complex data sets. It hosts one of the largest computing hardware facilities dedicated to life science research in Europe. It is also actively involved in developing novel platforms to provide access to computational tools and processing capacity for multiple academic and industrial users and promoting applications of computational Bioscience. Additionally, the Institute offers a training programme through courses and workshops, and an outreach programme targeting key stakeholders, and wider public audiences through dialogue and science communication activities.
About BBSRC
The Biotechnology and Biological Sciences Research Council (BBSRC) invests in world-class bioscience research and training on behalf of the UK public. Our aim is to further scientific knowledge, to promote economic growth, wealth and job creation and to improve quality of life in the UK and beyond.
Funded by Government, BBSRC invested over £509M in world-class bioscience in 2014-15 and is the leading funder of wheat research in the UK (over £100M investment on UK wheat research in the last 10 years). We support research and training in universities and strategically funded institutes. BBSRC research and the people we fund are helping society to meet major challenges, including food security, green energy and healthier, longer lives. Our investments underpin important UK economic sectors, such as farming, food, industrial biotechnology and pharmaceuticals.
For more information about BBSRC, our science and our impact see: http://www.bbsrc.ac.uk For more information about BBSRC strategically funded institutes see: http://www.bbsrc.ac.uk/institutes