New Investigator Award to help arrest global cereals killer
01 September 2016
Image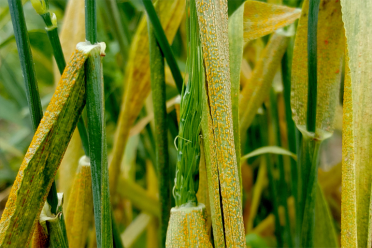 Dr Ksenia Krasileva, Group Leader at the Earlham Institute (EI) and The Sainsbury Laboratory (TSL), has been awarded a New Investigator award from the Biotechnology and Biological Sciences Research Council (BBSRC) to find and breed plants that can better fend off this disease, and potentially reduce the use of pesticides.
Harnessing the latest, most up-to-date wheat genome produced at EI and other national and international wheat genomics tools, Dr Krasileva will be leading the research project to vastly reduce the time taken to identify disease resistance to wheat yellow rust, from 15 - 20 years down to only two to three.
Occupying nearly 25% of world agricultural land, wheat is the most prevailing cultivated plant worldwide. With annual production at more than 650 million tons globally, the key crop provides a quarter of all calories and a fifth of protein supply to humanity, and yet the annual yield increases are critically below the rate required to feed our growing population.
Wheat rust can cause devastating crop losses, which means that currently fungicides are used in an attempt to control the disease, which is costly both for farmers and for the environment.
By applying the latest DNA sequencing technologies to wheat breeding, it is possible to produce plants with much better natural defences faster, therefore, reducing an over-reliance on harmful chemical sprays. This will also help farmers in the developing world, who often cannot afford to protect their crops and can suffer huge losses.
Project Lead Dr Krasileva, said: "Wheat, like humans, has an advanced immune system. Funding from the New Investigator Award will help to harness this aspect of wheat to improve the health of the plants and our planet. Growing wheat varieties resistant to diseases is an economical and environmentally friendly solution to increase yield on available agricultural land while reducing production costs."
Through EI identifying new resistance traits by studying a variety of wheat plants and the diseases that affect them, breeders will be better informed to introduce defences in the most widely grown varieties around the world.
Dr Dina Raats, postdoctoral scientist on the project at EI, added: "Isolation of novel rust resistance genes that are derived from cultivated wheat will make these economically important traits immediately available for ongoing wheat breeding programmes.
"Knowing the genomic locations of new disease resistance is key to accelerate this process. The gene isolation approach developed here will be applicable to any genetic trait of interest."
Overall, this research will help to minimise both losses of a crop that is of vital importance in feeding a growing population, as well as the negative environmental impacts of intensive pesticide use.
The BBSRC New Investigator Scheme aims to assist early-career researchers in obtaining their first major element of research funding. As well as funding the main bulk of the research into wheat disease resistance, this grant will allow for the cross-disciplinary training of the postdoctoral scientists who carry out the work, and enhanced research capacity for industry and non-profit organisations.
Notes to editors.
For more information, please contact:
Hayley London
Marketing & Communications Officer, Earlham Institute (EI)
About Earlham Institute
The Earlham Institute (EI) is a world-leading research institute focusing on the development of genomics and computational biology. EI is based within the Norwich Research Park and is one of eight institutes that receive strategic funding from Biotechnology and Biological Science Research Council (BBSRC) - £6.45M in 2015/2016 - as well as support from other research funders. EI operates a National Capability to promote the application of genomics and bioinformatics to advance bioscience research and innovation.
EI offers a state of the art DNA sequencing facility, unique by its operation of multiple complementary technologies for data generation. The Institute is a UK hub for innovative bioinformatics through research, analysis and interpretation of multiple, complex data sets. It hosts one of the largest computing hardware facilities dedicated to life science research in Europe. It is also actively involved in developing novel platforms to provide access to computational tools and processing capacity for multiple academic and industrial users and promoting applications of computational Bioscience. Additionally, the Institute offers a training programme through courses and workshops, and an outreach programme targeting key stakeholders, and wider public audiences through dialogue and science communication activities.
About The Sainsbury Laboratory
The Sainsbury Laboratory (TSL) is a world-leading research centre focusing on making fundamental discoveries about plants and how they interact with microbes. TSL not only provides fundamental biological insights into plant-pathogen interactions, but is also delivering novel, genomics-based, solutions which will significantly reduce losses from major diseases of food crops, especially in developing countries. TSL is an independent charitable company and receives strategic funding from the Gatsby Charitable Foundation with the balance coming from competitive grants and contracts from a range of public and private bodies, including the European Union (EU), Biotechnology and Biological Sciences Research Council (BBSRC) and commercial and charitable organisations
About BBSRC
The Biotechnology and Biological Sciences Research Council (BBSRC) invests in world-class bioscience research and training on behalf of the UK public. Our aim is to further scientific knowledge, to promote economic growth, wealth and job creation and to improve quality of life in the UK and beyond.
Funded by Government, BBSRC invested over £509M in world-class bioscience in 2014-15 and is the leading funder of wheat research in the UK (over £100M investment on UK wheat research in the last 10 years). We support research and training in universities and strategically funded institutes. BBSRC research and the people we fund are helping society to meet major challenges, including food security, green energy and healthier, longer lives. Our investments underpin important UK economic sectors, such as farming, food, industrial biotechnology and pharmaceuticals.
For more information about BBSRC, our science and our impact see: http://www.bbsrc.ac.uk For more information about BBSRC strategically funded institutes see: http://www.bbsrc.ac.uk/institutes