New legislation granted to progress plant gene editing in UK
20 January 2022
Image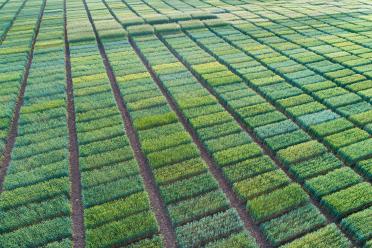 Following the UK's departure from the EU, DEFRA has put into place new legislation to cut bureaucracy for gene editing in plant research. The new rules will make it easier for plant scientists to develop more nutritious and resilient crops with less pesticide use - working towards delivering climate change and biodiversity goals.
With the ambition to help the UK to become a global science superpower by 2030, the Government's new rules put sustainable, climate-friendly farming at the forefront of food production, while driving progress towards net zero and protecting nature.
Those leading the work say it will open the UK to a more scientific and proportionate approach to the regulation of genetic technologies and will push forward innovation while supporting scientists and farmers. Plant research can harness nature's genetic resources through gene editing technologies, creating new opportunities to breed more resilient crops.
This will significantly reduce or eliminate the use of pesticides and herbicides to protect pollinators and encourage wider use of organic produce - with the potential of making crops more resistant to adverse weather and climate change.
By empowering UK researchers to use gene-editing technologies, farmers and the food industry will be able to produce plants at a higher quality and quantity. This will unlock opportunities to grow similar, natural varieties at a more efficient rate than traditional breeding methods but with increased nutrition and fewer chemical pesticides.
In response to the new legislation simplifying rules around UK gene editing plant research, Synthetic Biology Group Leader Dr Nicola Patron at the Earlham Institute based on Norwich Research Park, comments: "At the Earlham Institute, we use gene editing to investigate the function of genes and to develop plant traits that aim to improve the sustainability of agriculture. Field trials are an essential part of the research process, and we welcome DEFRA's announcement that promises to make this process more accessible.
"For our research to have a positive impact on farming, the environment, and consumers, we need a clear pathway from the laboratory through to market. It's encouraging to see this commitment to review the regulation of genetic technologies and will allow our research to excel in supporting sustainable crop production and protecting our environment."
Full notification of the new rules can be found as part of DEFRA's announcement.
Notes to editors.
Further Reading
For more information, please contact:
Hayley London - Media and Communications Officer, Earlham Institute
hayley.london@earlham.ac.uk
07760 438218
About Earlham Institute
The Earlham Institute (EI) is a world-leading research Institute focusing on the development of genomics and computational biology. EI is based within the Norwich Research Park and is one of eight institutes that receive strategic funding from Biotechnology and Biological Science Research Council (BBSRC) - £5.43m in 2017/18 - as well as support from other research funders. EI operates a National Capability to promote the application of genomics and bioinformatics to advance bioscience research and innovation.
EI offers a state of the art DNA sequencing facility, unique by its operation of multiple complementary technologies for data generation. The Institute is a UK hub for innovative bioinformatics through research, analysis and interpretation of multiple, complex data sets. It hosts one of the largest computing hardware facilities dedicated to life science research in Europe. It is also actively involved in developing novel platforms to provide access to computational tools and processing capacity for multiple academic and industrial users and promoting applications of computational Bioscience. Additionally, the Institute offers a training programme through courses and workshops, and an outreach programme targeting key stakeholders, and wider public audiences through dialogue and science communication activities.