Open source innovation from the Norwich Research Park up for early-career award
01 May 2019
Image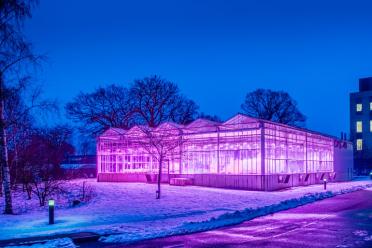 A young team of innovators based on the Norwich Research Park have made the final of the BBSRC Innovator of the Year 2019 Awards. Their open source project has made a technique called <a href="/newsroom/space-inspired-speed-breeding-crop-improvement">speed breeding</a> more accessible to the research community.
A young team of innovators based on the Norwich Research Park have made the final of the BBSRC Innovator of the Year 2019 Awards. Their open source project has made a technique called speed breeding more accessible to the research community.
This OpenPlant-funded venture fosters interdisciplinary collaboration to develop hardware and software for biological applications - the team from the Earlham Institute, Quadram Institute Bioscience, the John Innes Centre and the University of Oxford have taken their innovation to the next level.
Team members Oscar Gonzalez-Navarro (QIB), Ricardo H. Ramirez-Gonzalez (JIC), Sreya Ghosh (JIC), Luis Yanes (EI) and Marcela Mendoza-Suarez (University of Oxford) are all postdoctoral research scientists or PhD students and together they undertook a BBSRC/EPSRC-funded project to create a "Bench-top Controlled Environment Growth Chamber for Speed Breeding and Crop Transformation".
The team produced a growth chamber that is more affordable and comes with free instructions that enable users to customise how they use the equipment and the associated software. The growth chamber allows the control of light, photoperiod and temperature to accelerate the growth rate of certain crops. This leads to a reduction in how long it takes to grow the crops but at a lower cost.
Oscar Gonzalez-Navarro said of the work, "This exciting project has already been published as part of a Nature Protocols article (Ghosh et al., 2018) where instructions on how to build it and perform speed breeding in small-scale are provided. As a result of this, 37 people from 13 countries, including four developing countries are assessing the opportunities our technology could provide them."
Sreya Ghosh highlighted the importance of the technique, "Our speed breeding cabinet technology could help to increase agricultural productivity in the next four decades to feed the growing global population. By shortening the breeding cycle, the speed breeding cabinet offers an affordable and portable platform for researchers and breeders in resource limited environments to rapidly develop new climate-resilient high-yielding crop varieties to address future food security challenges."
Luis Yanes, a scientific computing specialist at EI, coded the software behind the machine: "Our software is publicly available, so anyone wanting to build a growth chamber can use it and adapt it. It was fantastic to work on a project involving researchers from three institutes on Norwich Research Park and Oxford University, as we learned from each other the whole way along. It shows how a little bit of funding in the right hands can have a big impact."
The full team will travel to London on 15 May 2019 where 12 finalists will compete at the Science Museum to be named Innovator of the Year.
Notes to editors.
For more information, please contact:
Hayley London
Marketing & Communications Officer, Earlham Institute (EI)
About Earlham Institute
The Earlham Institute (EI) is a world-leading research Institute focusing on the development of genomics and computational biology. EI is based within the Norwich Research Park and is one of eight institutes that receive strategic funding from Biotechnology and Biological Science Research Council (BBSRC) - £5.43m in 2017/18 - as well as support from other research funders. EI operates a National Capability to promote the application of genomics and bioinformatics to advance bioscience research and innovation.
EI offers a state of the art DNA sequencing facility, unique by its operation of multiple complementary technologies for data generation. The Institute is a UK hub for innovative bioinformatics through research, analysis and interpretation of multiple, complex data sets. It hosts one of the largest computing hardware facilities dedicated to life science research in Europe. It is also actively involved in developing novel platforms to provide access to computational tools and processing capacity for multiple academic and industrial users and promoting applications of computational Bioscience. Additionally, the Institute offers a training programme through courses and workshops, and an outreach programme targeting key stakeholders, and wider public audiences through dialogue and science communication activities.